Do you ever have one of those days???
Misguided people think that everything is always rosy and runs smoothly on our homestead. Ha ha! They should have been here today. It started out pretty normal. I was finishing up on my latest building project, siding our chicken coop with pieces left over from our new greenhouse/porch addition. Those short pieces of 2″x6″ tongue and groove lumber were just too nice to be sawn up for firewood. Mmmm. So I had this idea to piece them together and side the chicken coop. For the last few days I've been sorting and fitting them together, nailing them over the old OSB sheets. Not only is it turning out nice looking, but will make the coop sturdier and more weather tight.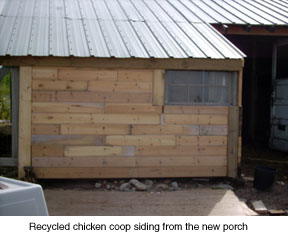 Then, because my corn is about done, I decided I'd better pick it to can this afternoon. That was a good idea until it started raining. Now I'm not complaining about the rain; we've been in drought all summer. (The day before yesterday it broke and we got 5″ all at once!) But I wanted to get that corn done today. So I picked in the rain. Oh well. I don't melt.
So I picked the corn; two baskets full. That's about all we'll have left. The heat and drought stopped the plants growth and made them ready for fall…..three weeks early. I brought the corn in and sat on the porch, watching the rain fall, shucking those wonderful ears.
I got them all canned up, too. Eight pints and nine half pints; not much, but it is better than a kick in the pants, when combined with the other three cannings earlier.
Then the trouble started in earnest. Our main generator is having fuel issues; we think a fuel pump is shot; it blows gas out of the muffler; not a good thing! It's still under warrantee, but we have to take it to Virginia, 25 miles south of us to get it worked on and they aren't open on the weekend. So we started running our #1 backup generator. Until the lights went out and the generator was still running! Eeeek. A circuit board had went. It was running but not generating.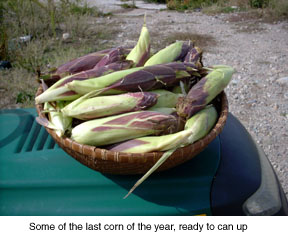 David came home about then, when I was switching generators with a flashlight in my teeth.
He backed the truck up the drive while I walked, up to the old mobile home where our old #3 generator sat. He got almost up there and the truck died and wouldn't start. That was unusual; it's a dependable truck. David had just opened the hood when I asked him if he'd bumped the gas tank switch. We only put gas in the rear tank because the front one leaks.
Ahhh. That was it! OKAY! So the truck roared to life and we brought the generator back down to the generator shed where the yard was becoming littered with dead generators. So he went to plug it in and discovered that the generator outlet was not the same as our main plug. I pointed to the adaptor on the wall and he grabbed that and made the connection.
He started it with a few pulls and we plugged in the house; no power! What??? Then he unplugged the adaptor and looked at it. One of the wires had come loose. Cool. Easy to fix. Well by then, we were both flustered and he quickly shoved the wire in and screwed down the screw. Power again. But why were the house lights SO bright????
I told David to run in and turn on the faucet to run water into the storage tank while we had a genarator running because it was low and we're having Bill and Kelly up for his birthday tomorrow, along with my sister, Sue and her son, Sean. No water would not be fun.
But David came boiling out of the house in two seconds, tore to the generator and shut it off quicker than I can tell about it. "Come on, Mom!" he said, running for the house. "Oh crap!" I thought, quickly following him, "We're burning the house down."
Well it wasn't that bad but the TV in the living room was smoking. No we didn't catch fire, but basically what had happened is that in his hurry, David had hooked the ground wire to a hot outlet. Oops! So he went to check out the adaptor again by flashlight. I suggested checking the other end to see what the wires were hooked to and he did…..and succeeded in pulling ALL the wires out of the female end of the adaptor. It was one of those days!!!
Luckily, our friend Tom was home when David called and David was able to drive to Cook and get help in re-wiring the adaptor. And when he got home an hour later, we got the generator home and I'm busily blogging. At 12 midnight. But the computer didn't fry and neither did David's video games or VCR. Hooray! All's well that ends well.
I've printed readers' questions with my answers below.
Beets in brine
How long should beets remain in brine before they are eaten? We are bottling pickled beets for the first time.
Paula Beer-Eligh
Pictou Nova, Scotia Canada

Generally I like to wait at least 3 weeks before trying any pickles; it takes a while for the vegetables to absorb the spices and vinegar that make them taste pickled. At 3 months, the beets have reached their ultimate taste, where they will remain until eaten. — Jackie
Red an green cabbage
I got a lot of red and green cabbage sprouts and wandered if u had any recipe ideas and can I mix them together? I have never cooked hem before,oh and I love your column your awesome.
Tonya L. Sumner
Bloomingburg, Ohio

By red and green cabbage sprouts, I'm assuming you mean "sprouts" as in sprouted cabbage seeds? Sure you can mix them together; the color would be great! You could do so much with them! Toss them raw together with celery seed, vinegar and honey or sugar for a tasty salad type side dish, add them to stir frys for texture, color and taste, sprinkle them over a caserole and top with shredded cheese, add them to pita sandwiches, fry them up with bits of ham; the possibilities are endless! — Jackie
Canned bruschetta topping
With an abundance of tomatoes right now, I am always looking for new ways to preserve them. My family loves my homemade bruchetta ( tomatoes, basil and olive oil). Can I can this is a similar fashion to homemade sauce? Will the texture remain the same? Any thoughts would be greatly appreciated.
Eileen
Philadelphia, Pennsylvania

There is no reason you can't home can your bruschetta topping; it would be just like salsa; chunky and wholesome. But the spices would be different. The texture won't be the same as when you make fresh bruschetta, but it'll sure taste good in the winter! — Jackie
Can't make white flour at home
Hi, love your articles. My question is can you make white flour at home? I'm sorry, but I hate whole wheat bread.
Dan Wicker
Howell, Michigan

Sorry Dan, you can't make white flour at home. We don't have the capabilities to bleach the wheat like the processing plants do. Nor can we remove most of the nutrients in whole wheat. Maybe if you'd use part white flour and part whole wheat your taste buds would learn to love whole wheat. Home made whole wheat bread and rolls are a whole lot better than store bought. It's still "gooshy bread"! — Jackie
Keeping canned sauce from darkening
I'm in my 60's and make an old family recipe called 'Chile Sauce' every autumn. The recipe calls for tomatoes, onion, peaches, pears peppers, spices, sugar and vinegar. I'm always very careful to cook
the fruits and veggies well, simmering to a nice thick sauce. I jar it into hot, sterile jars and then process in a hot water bath. My problem is that after a few months the top of the sauce in the jars
turns dark and I end up throwing out about half of the jar when I open it. I've wondered if it is possible to freeze the jars after processing to keep the color or if you have another idea to keep the color.
The other question I have is whether or not I could use a metal tea ball to hold the spices instead of making a bag.
Carrol Howie
Calgary, AB. Canada

I think maybe you're getting the jars a bit too full. I've done this and the chemical reaction between the vinegar and the lids makes the bottom of the lids black and the contents dark and unappetizing. Try filling them a little less full. Yes, you can freeze the jars after you can them, but be sure to allow extra room for the jars to expand when the contents freezes. If you don't the lids will pop open or the jars will break.
Keeping the jars in a very dark corner of the pantry our under a kitchen cabinet may also help prevent this darkening. Sometimes it happens when certain foods are exposed to light, whether from a window or from a light bulb. — Jackie