Our first major snow storm is on the way
My sister called me tonight to remind me that we are under a winter storm warning, the first of the season. We've had a couple of inches of snow before this, but it all melted.  Now it's snowing and blowing big time.  It's gorgeous; big flakes, all sparkly and fluffy, whirling here and there, piling up.  We're supposed to get six inches with wind.
But, luckily, yesterday and the day before were on the weekend and David was home.  So the two of us got busy and did a lot of our pre-winter winter getting ready stuff.  Friday he hauled 100 square bales of hay with the help of our good friend Jim Bonnette.  And they stacked and tarped them nicely.  We also cut firewood.
Saturday, we backed the pickup to the pile and started splitting wood.  We split a load, then David drives it around back of the house, backs up to the walk-out of the basement, then tosses the wood up onto the porch, to me, and I throw it in a pile next to the house logs.  Of course, the floor and logs are protected by old sheets of plywood and OSB.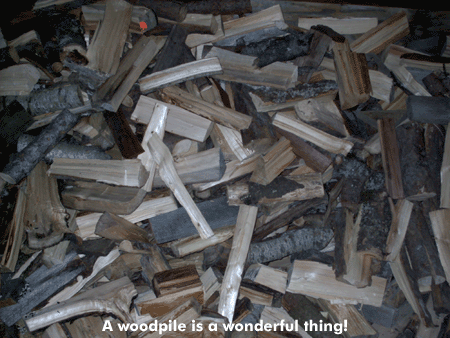 We did that most of yesterday, watching the pile grow.  Then toward dark, we grabbed some steel T posts and went to pound posts in the new pheasant pen and where the donkey corral will be enlarged to twice its present size.  I'd been putting it off, but the temperatures have suddenly dropped drastically.  Like the HIGH for the next week will be something like 9 degrees.  You don't want to know what the LOW is going to be!  That equals FROST in the ground.  And when that happens it is nearly impossible to pound steel posts.
Oops.  We waited a couple days too long.  It was a brutal job.  We got seven in and both of us ran out of steam.  David is fighting a long lasting cold and just ran out of energy.  We quit and tonight in the snow, finished the last two posts.  Luckily, we found a grassy spot where they pounded down fairly well.  Except the rocks they hit.  Oh well, it's done.
So by flashlight, we gathered tools we might lose in the snow (like for all winter), picked up coiled garden hoses and went in the house with snow swirling around us.  Four inches, already.
I went out onto the porch and grabbed an armload of our split firewood, all nice and dry.  After poking up the fire,I added a couple of sticks and watched it catch.  Oh, how nice it is that we got that wood up!