Wednesday, May 21st, 2008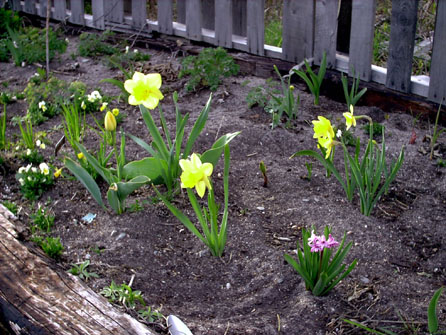 With Mom in the hospital, doing fairly well, and my two sisters visiting her today, I stayed home to get caught up. I had a table full of dirty dishes, tomatoes that needed planting in their Wall'o Waters, two roses and a tub peach, plus some perennials that sadly needed planting. So to keep busy and keep my mind off Mom's problem, I started in this morning doing "normal" things. It eases my worries like nothing else does.
By noon, I'd planted six tomatoes, the roses, perennials and even some glad bulbs. Then I tilled another strip of garden and planted another ten tomatoes. I'm so happy with my Wall'o Waters, as they let me plant my tomatoes and peppers a whole month early. (I could have even planted them earlier, but I kind of got behind.) Last year my son, Bill, planted their tomatoes in the Walls, where his in-laws planted their tomatoes the same day without them. In a month, his plants were literally twice the size and they were the same variety of tomatoes!
This afternoon, I wandered through my flower gardens for a break and marveled at how beautiful the daffodils and other spring flowers looked. EVERYTHING is popping up rank and gorgeous. There are peonies, lilies, columbine, penstemons, daylilies, violas, tulips and a whole lot more. Even my on-sale clematis from last year are shooting up like they mean business. This is despite the late spring snows and hail we've had lately, too!
I topped my day off by playing with Ladyhawk, my new Friesian filly. She's so friendly and responsive, not to mention drop dead gorgeous. I can hardly wait to start her training.
Tomorrow, it's off to the hospital again, but I'm grateful for my respite of a day to regroup.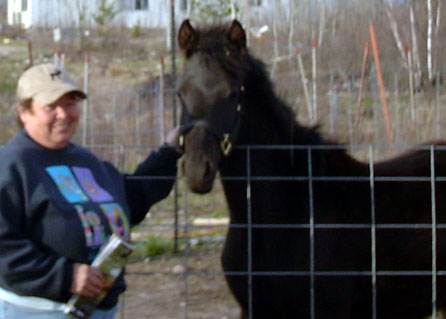 Readers' questions:
Old glass-top canning jars

I was recently fortunate enough to come into over 200 of the old style glass top canning jars (free!). Once cleaned and sterilized (and with new rubbers) are these safe to can with? I've been told not to trust 'em but I figure they worked for everyone else for umpteen years and hey, the price was right. Also, since I'm new to canning I don't currently have a pressure canner. Do you have any suggestions on brand or size? One more question – when are you going to write a book?! My wife and I look forward to your column every issue and would absolutely love to have our very own "Jackie" reference book for recipes, gardening tips and great anecdotes.
Allen Foster
Northfield, New Hampshire

Wow! You really got a find, there. But, unfortunately, they really aren't safe to can many foods. They probably would be okay for pickles, jams, jellies and preserves; the worst that could happen is that they might (but probably won't) get moldy if they don't seal.
They definitely aren't good for pressure canning; there's no flex to the lid like there is with a modern two piece lid/ring. And you would have no way of knowing if the jar was sealed or not like you do with the two-piece lids. These jars are quite pricey at antique and flea markets. If I had that many, I'd save a few dozen for storing dry foods, then sell the rest and buy my new pressure canner and several cases of good, modern, used jars. You'll probably still have enough left for a celebration dinner!
And, yes, I have thought seriously about doing a book. Right now, with taking care of Mom, I have less time than I need already. But someday…. — Jackie
Dried egg shells

Since the compost piles need plenty of moisture anyway, why is it important to let eggshells dry out before putting them in the compost piles? I have a tiny kitchen and love to add kitchen stuff to the compost piles but once I fill up a bowl, I want to go ahead and get it out of the kitchen.
A friend of mine has her used eggshells in the stove/oven bottom drawer drying out but my stove/oven is small.
Joanna Wilcox
Boone, North Carolina

I think the reason that some folks dry egg shells before composting them is to dehydrate any clinging egg from the shells so they don't smell up the pile like rotten eggs. Personally, I don't compost my egg shells; I dry them on the counter in a bowl, crush them and save them up to plant under my tomatoes in the spring (helps prevent blossom end rot because of the calcium) or feed them back to the chickens.
If you want to dry your egg shells before composting them, just put them in a bowl on the counter; they'll dry fine without additional heat. — Jackie
Canning cornish rock chickens

First of all I would like to thank you for sharing with us all the knowledge that you do! I also think that its great that your son David is such a help. Just think of the things he knows to help him as he enters adulthood! If all our teens were prepared the way he is our world would certainly be a much different place!
Anyway, I am going to be raising our annual batch of 50 cornish cross chickens. Instead of being dependent on our freezer I would like to can many of them preferably off the bone. What is the most effecient way to can those? I usually butcher 10/day since I butcher alone mostly. Could I safely cook them down in a nesco roaster or boil them in a huge kettle to get the meat off the bone? I would also like to can the broth since it's so hard to get broth at the store that is low in sodium.
Thank you for taking the time to share with us all. I am making many improvements to our garden this year and expanding with the way the economy is. We have a very limited income so we epend on this food. Plus my husband has serious heart disease and can't eat many of our grocery store foods that are filled with high fructose corn syrup, msg and saturated fats. So your column is always thought provoking and inspiring !! Plus it gives us all hope that there are alternatives we can do with a little hard work! Thanks!!
Cindy Hills
Wild Rose, Wisconsin

Yes, I'm very appreciative for having David's help. Perhaps we "let" him do too much at a young age, but he loves it and yes, it is preparing him for a variety of jobs/useful lifeskills in adulthood.
I prefer to butcher only 3 chickens a day, as it takes me a day to process the birds…only 3 cut up fit in my largest stock pot to boil down. You can also roast them; the main thing it to cook them to get the meat off the bone. I've found that the stock pot leaves the meat more tender and less dry, but a covered roaster does fine, too; just don't over-cook the meat.
I cool the stock pot down enough to handle the meat, then dip a bone-in piece at a time out and debone it. Some of the meat, I leave whole, such as the large breast pieces and heavy thighs. But much of it, I dice up because it's so useful that way in so many different recipes. The smaller pieces, I cut up small to use in half pints or in quarts with stock with rice/onions/carrots as a soup base.
After the meat is deboned, the broth is cooled and I skim off most of the fat that forms on the top. Then I reheat the broth and meat and pack the jars.
By doing 3 chickens a day, allowing overnight to cool the carcasses, I can process a whole lot of meat in a week's time. Of course something always comes up, and I don't always get 3 done EVERY day, so butchering time kind of gets spotty. But the important thing is that it gets done.
I'm raising 25 Cornish Rock chickens again this year; they're very efficient meat producers even though they don't seem to be "real" chickens (leg problems because of huge weight). — Jackie
Recycling trash

Jackie, I am reading ANIMAL, VEGETABLE, MIRACLE by BARBRA KINGSOLVER and I thought of you when I read the words – "I have seen women looking over jewlery ads with a misty eye and one hand resting on the heart, I only know what they are feeling because that's how I read the seed catalogs in January."
My question – Do you do much recycling with everyday trash? If so, what is your routine?
Joanna Wilcox
Boone, North Carolina

Well, kind of. I try not to buy stuff in plastic, wrapped or whatever. Then I try not to buy things in glass that can not be reused for canning or food storage. I can most of my vegetables and meat, so there isn't much for tin cans, either. The ones that I do have get put into a separate shopping bag. There's another one for aluminum cans hanging on the same nail. All edible "garbage" except for meat/grease goes to the chickens. The meat/grease goes to the dogs. Bones are burned in the kitchen range, along with newsprint and other decent burnable paper. Junk mail, old catalogs and magazines are either recycled or with the magazines, given to places that can use them.
I've found that the less you buy, the less you have that needs to be recycled. Only in our affluent society do you see a need for recycling! We've become a throw-away society and I hate it. Why can't we bring our clean glass bottles to be filled with milk, juice or whatever? Why can't we do the same with peanut butter, cheese and other products? Why can't meat be wrapped in paper like it used to be? Plastic, plastic, plastic. Gee, I wonder why the cost of petroleum products is going up. Maybe it's NOT the gas for our cars, but the plastic we are wrapped in! — Jackie
Baking soda and beans

My foster mother, a semi nutritionist, told me never to use soda in cooking baked beans because it will destroy the vitamins in the beans. Today, I checked and sure enough: Read this:
http://nutrition.about.com/od/askyournutritionist/f/bakingsodabvit.htm
She was right. Since I read about you canning beans, I have found the beans are much nicer, and handy to use. They do not require soda to soften them.
Bruce Clark
Interlaken, New York

I didn't know that about baking soda. But it isn't used to soften the beans, but to reduce the "bad" effects beans have on some folks. If baking soda reduces the nutrition of the beans, people might substitute using epazote (the herb) in their beans. It has the same benefit and I don't think it would damage the nutrition. — Jackie
Canning frozen vegetables

I want to can frozen veg. What is the procedure?
Jimmy Crawford
Monticello, Georgia

To can frozen vegetables, heat them just until they are thawed and hot; don't boil. Then just proceed as if they were hot packed fresh veggies. I've canned a lot of them in the past when our power failed and I was in danger of losing my food. Now I just can and dry it all! — Jackie