I'm packing for the NPSA Conference…with a little help
Tomorrow, I'm flying to Aberdeen, South Dakota, for the Northern Plains Sustainable Agriculture conference so today I'm madly packing (www.npsas.org/news-events/winter-conference.html. Click on the conference schedule button on the right of the page to see when I'm speaking). Will brought his wheeled travel bag downstairs for me to use to carry the books I'm bringing to (hopefully) sell. Mittens, our teen-kitten, thought it made a terrific playhouse. He spent more than an hour in and out of that bag, popping the flap open to ambush Spencer, then hiding back in the bag. What fun! I let him play until he was bored, then started loading it up, keeping the 50-pound checked baggage limit firmly in mind. I don't mind flying a bit, but all the security and the fees for baggage DO make me cringe!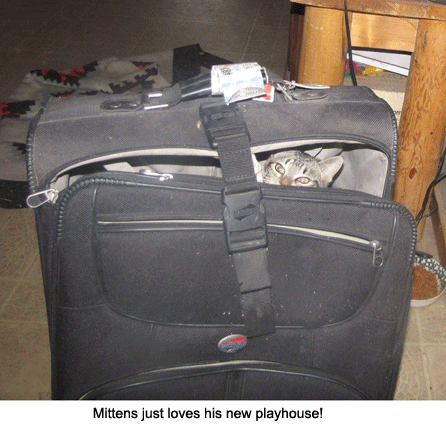 Hope to meet some of you at the conference! Please come over and say hi!
Oh, just an update: Several readers questioned our building a pig pen from used pallets, thinking the pigs would dig under, lift them up, or jump over them. Here's a photo I took yesterday in the snow storm of our pigs IN the pallet pen.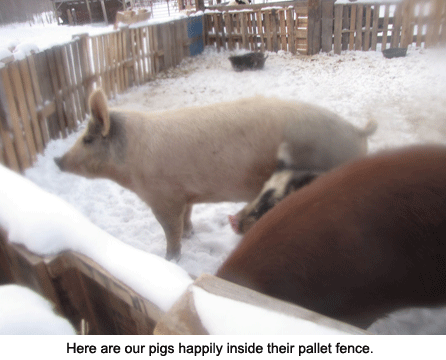 We have yet to have an escapee. Pallets make great fences! And they're free. — Jackie