It's a small, small world!
We decided to sell five of our black Angus cross heifers that we bottle raised as Will and I hate to butcher good heifers. So I advertised them on Craigslist and a lady called and we worked out a deal.
Sunday, Will and I loaded Shy Girl (she hopped right in the trailer!) and we hauled her 95 miles to a farm near Swatara, Minnesota. What a surprise when I got out of the truck to discover that the couple are Backwoods Home subscribers! We had a real nice visit with Cindy and Darryl and got a tour of their pretty homestead.
Will had been real busy for two solid days, working frantically to get the sheet metal on the barn roof before real winter hit and he was ready for the break. Before hauling the cow, he had all of one side done and two thirds of the other. Hopefully there'll be nice weather tomorrow so he can get the last five big sheets on then do the smaller pieces along the bottom and the trim.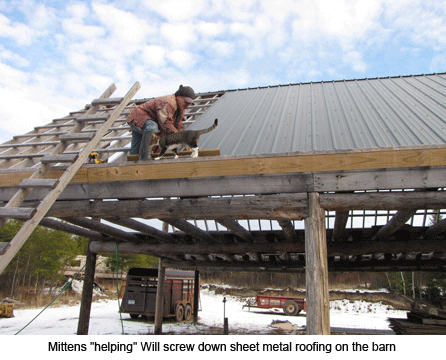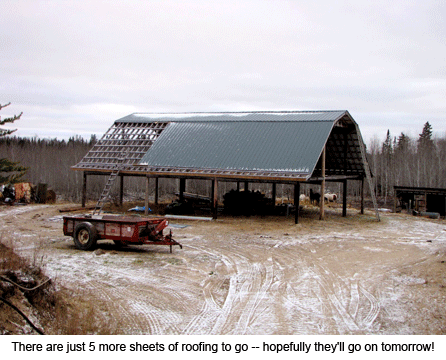 Meanwhile, I've been continuing to can up all sorts of cabbage; the last batch was pickled cabbage and carrots. (Maybe I won't plant SO much cabbage next year!)