Rain, rain, go away; little Jackie wants to play
Yep, it's raining again. (At least our orchard, grapes, and berry patch will go into the winter well-watered!) Luckily, we have our front porch. I've started shelling our corn varieties, having gotten the Painted Mountain well started with about five pounds done and today it'll be the Bear Island Chippewa. The Bear Island Chippewa is a lot like Painted Mountain but has thicker cobs and fatter kernels. As it's a Northern Minnesota Native corn, it's also very early for a larger corn. We really love it. It's basically a flour corn but can be eaten as "green corn" when just in the milk stage. (Not as sweet as sweet corn but has a good, old-timey corn taste.) Then I'll move on to the Seneca Round Nose. I really like this new-to-us old Native corn! Big, long cobs with nice fat kernels. And the strongest roots of any corn I've seen growing.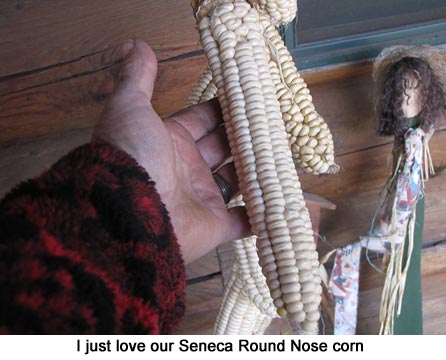 I just seeded a big Atlantic Giant pumpkin. (Big for us, this year.) No, it didn't weigh over a ton as the current recordholder did. But, hey, we didn't baby it or feed it a scientific diet. It did weigh 100 pounds, though and had VERY thick meat! David took it home for a Halloween Jack o' lantern and I kept the seeds. I really like those giant pumpkins. — they're so much fun to grow. Maybe some day I'll get a HUGE one.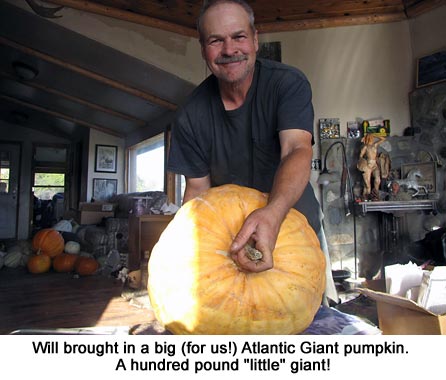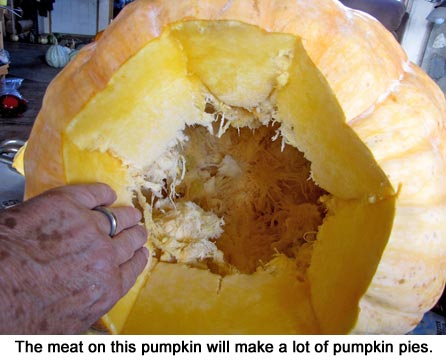 I've got more carrots to get in. My friend Jeri only took one five-gallon bucket full and there's still about two more buckets still growing in the garden. Plus the ones we'll store in the basement in a cooler. Oh well, we're so grateful for such a good growing year! Did all of you have one too? I'd love to hear what you all got harvested and put up. — Jackie