Tuesday, February 28th, 2017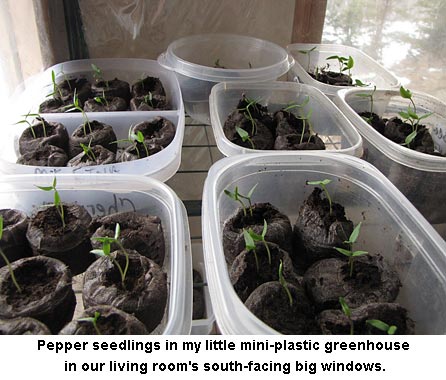 Although we had temps of -2 last night, we are excited that our first pepper seedlings are up and looking great. We start them in peat pellets, soaked in hot water to puff them up, and then plant two seeds per pellet so we can choose the strongest plant to let grow. Sometimes we gently tease one plant out and transplant it while very young into its own peat pellet to grow on. Once a small container of one variety has been planted and labeled, I stick them in plastic bags or bread wrappers to hold in moisture and place them on the shelves behind and beside the wood stove where it is very warm. (Peppers germinate best in temps of 80-85 degrees!) Ours come up within five days or less and pop up very strong.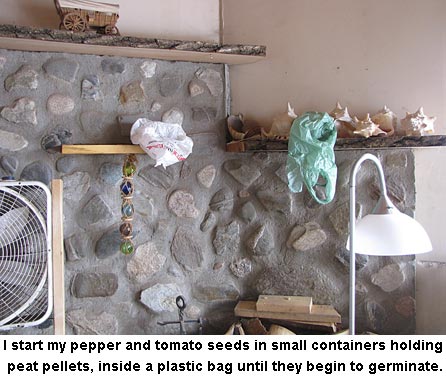 This year we're trying some different ones, as usual. We're adding Franks (a green sweet bell pepper from Sand Hills Preservation Center that's early and hugely productive), a "bootlegged" hot pepper from Venice a reader sent us, which we've named "Bootleg," Medusa, a container-type decorative mild multi-colored wild pepper we love the look of and New Mexico Big Jim, a large, medium heat chile pepper from, yep, New Mexico!
And beans! We have some VERY neat, new beans from all over the world to try — beans from Africa, South America, Poland, Finland, Native American tribes all across the country, some from the Old South, some from the far north. What fun the garden will be this year! I can't wait. All those new looks and tastes. — Jackie