By now, most of you with internet have gotten the message from Dave Duffy, saying that with the Nov/Dec 2017 issue of BHM, the magazine will cease publication of the print magazine. I'm sure this came as much of a shock to you as it did to me (I've been with the magazine since 1998). So we had a few sleepless nights figuring things out.
However, Self-Reliance will keep publishing and you'll still find me writing for it as well as the Kindle version of Backwoods Home, which will continue. And I won't abandon you with my blog. We're still trying to figure out things regarding that and the Ask Jackie feature and I'll keep you posted as the "powers that be" let me know.
On a brighter note, our little homestead seed business, Seed Treasures, is taking off as our catalog is now out and return customers from all across the country are sending in orders. (If you want a catalog, just let me know at seedtreasures@yahoo.com) Will gets up early and packages seeds. I do the mailing, so if you should get the wrong item or miss a pack, please let me know. Doesn't happen often, but hey, we all make mistakes.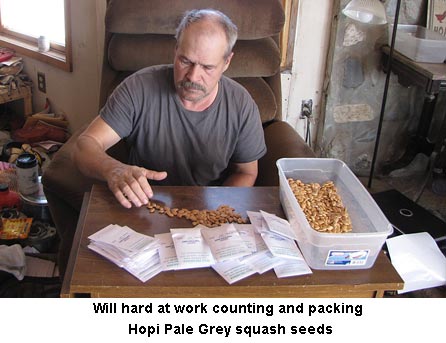 I just ordered a bunch of rare beans for us to try, from the Rare Seed Consortium. They are pricey but pretty cool. So we'll try a bunch and offer them next year, if they make the grade with us.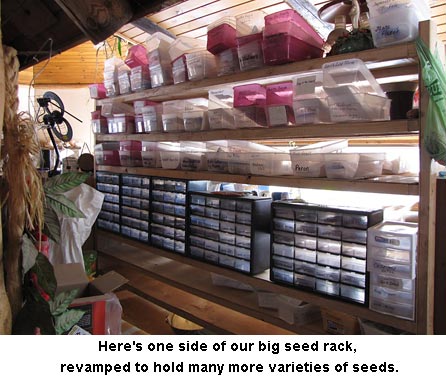 I'm ready to plant peppers and am trying to make final decisions on which varieties to plant this year. It's hard! We have many lively discussions around here about plant varieties and we tease Will that he'll have to fire up Old Yeller, our bulldozer, to make some new garden spaces.
We are even talking about building a separate Seed Treasures building as the business is taking up a whole lot of the house now. But that's the way a new home business gets and we are glad things are going well. — Jackie