Wednesday, June 13th, 2012
The Mark Twain House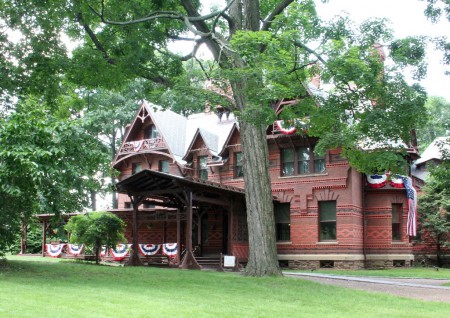 Sam Clemens, aka,  Mark Twain, and his wife Olivia moved to Hartford in 1870. They rented a house for a short period and later purchased land on Farmington avenue, in the Nook Farm neighborhood on Hartford' s west side. The Nook Farm area is a residential neighborhood of large homes built on park-like grounds bordered, back then, by the Park river. The river has since been rerouted through an underground conduit. Construction on the house began in 1873, but suffered from delays and steadily increasing costs. Sam  became frustrated trying to manage the details of building and decorating this 11,500 square foot house with 25 rooms. His wife, Olivia, however, loved the challenge. She drew many sketches and actively sought the advise of friends on her designs. Much of the finished house reflected her personal tastes .  They moved into this magnificent house on September 19, 1874 before many of the interior details were completed.
The splendor of this house, inside and out, must be experienced first hand to be appreciated. It is a classic example of Gothic architecture. Any visitor to the house walks through the front door into a grand reception hall loaded with  rare examples of Victorian decorative art.  A complete tour of the house takes about 45 minutes. During the tour everyone in my family adopted a favorite room. My favorite is the magnificent billiard room on the third floor that served as Sam's office. The house also features some modern innovations that were unique for the time. All seven bathrooms were designed to feature hot and cold running water and flush toilets. In 1878 Sam had an early model telephone was installed in the kitchen. The house was designated a National Historic Landmark in 1963. Formal restoration of the house  began that same year, and continues to this day.
A visit to the Mark Twain House is must for everyone that travels to New England. You can learn more about the life of Mark Twain and the house that he loved dearly by visiting the Web site: marktwainhouse.org .
Harriet Beecher Stowe House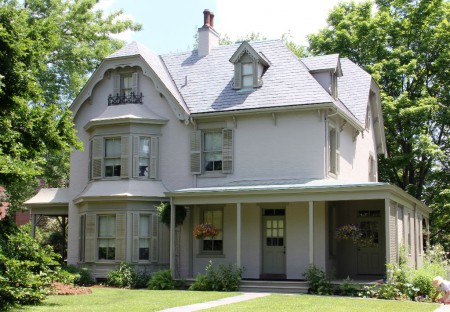 This house is another classic example of  Gothic architecture on a slightly smaller scale. It is around the corner on Forest Street, and is adjacent the Mark Twin House. It is surrounded by Victorian style gardens and shaded by arching trees.  The house was built in 1871, and Harriet purchased it in 1873. She lived here until her death in 1896. By design, it is smaller than other homes in the Nook Farm neighborhood, but it still boasts an interior of 4500 hundred square feet with 14 rooms. Harriet is best known for her classic work Uncle Tom's Cabin, a book that forever changed how America viewed slavery. Twenty four houses were built in the  original Nook Farm neighborhood. Six of these homes and two carriage houses are still there today. Eleven of the original homes were torn down to make room for the construction of Hartford Public High School, the second oldest high school in the country. There is still controversy, in Hartford, concerning that project. The Harriet Beecher Stowe web site features a walking guide of this historic neighborhood along with a painting of the Park River.
First Colt Armory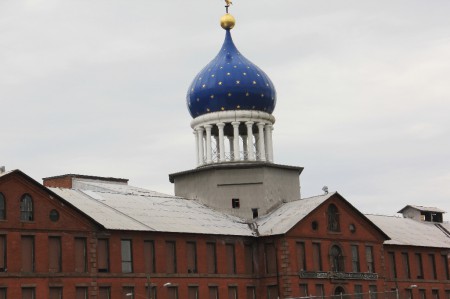 In 1848 Sam Colt purchased land along the Connecticut River and built his first factory, in Hartford, overlooking the river. It was here that Colt introduced an innovative and efficient assembly line procedure that made the mass production of firearms using interchangeable parts throughout the product line commercially viable. This set the stage for more than a decade of phenomenal  success for his company Colt Patent Firearms Manufacturing. To attract skilled German workers to his new plant he built housing behind the factory. He named this area Coltsville. In July 2008 Coltsville was designated a National Historic Landmark. Unfortunately, restoration efforts for this proud old building and it's iconic blue dome are currently suffering frustrating delays; a result of the chronic political malaise that hangs like a fog Hartford, the state of Connecticut and Washington. There is, however, recent support to designate this area as a national park. Time will tell.
The Samuel Colt Memorial in Hartford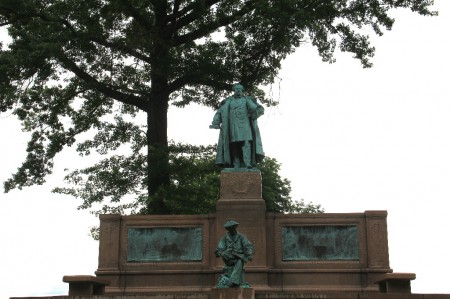 Sam Colt was born in Hartford Ct on July 19,1814. He lived in Hartford until his death at age 47.  This granite and bronze memorial was erected at the entrance to Colt Park. The park houses Dillion Stadium, a 20,000  seat sport  facility that was home to two minor league football teams in the 1960s. To make this memorial possible Sam Colt's wife, Elizabeth, donated 106 acres of land to the city of Hartford.
Armsmear
Samuel Colt House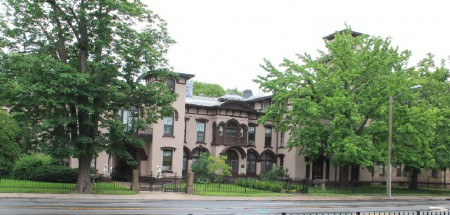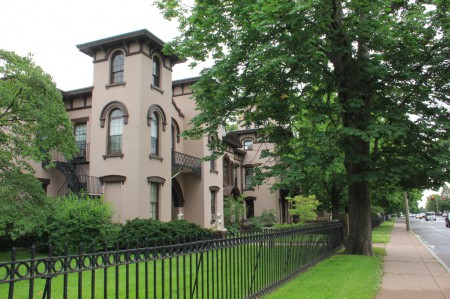 Built in 1857 on Wethersfield Avenue, Armsmear is considered one of the one of the grandest residences in Hartford.  It's design is that of a classic Italian villa, like many other houses in this neighborhood. As a result of renovations, over the years, it no longer features an ornate ogee dome, similar to the one on the Colt armory. Even without the dome, it is an impressive piece of architecture. Today it is a 51 unit apartment complex for retired women.