Saturday, July 21st, 2012
This is the time, during  the growing season, when the efforts of serious gardeners begin to stand out from the crowd. The gardens shown here are on the northwest end of Kolp Gardens. Most of the plots in this area measure 2500 square feet. All of them are worked by serious gardeners with years of experience. These photos were taken on the third day of a rainless heat wave that sent temperatures, in the gardens, to about 100 degrees. During times like this the cool, clean water of Farmington River makes gardening at this level possible. Some of the gardeners use long hoses attached to powerful water pumps powered by gas generators. With these rigs they pump water, from the river, to large containers set up in their gardens. This is one area where the atmosphere of family cooperation is very evident. The closest garden in the overview photo is worked by a gardener named Luke. It is actually three 2500 square foot plots maintained  as one by Luke and his family. Luke often works with other gardeners; helping them solve problems with planting and harvest. During long dry spells he will share his water resource with neighboring gardeners.  A close look at the gardens in this area reveals that his plan is working. The container shown below was set up by Luke; it holds at least 300 gallons of water.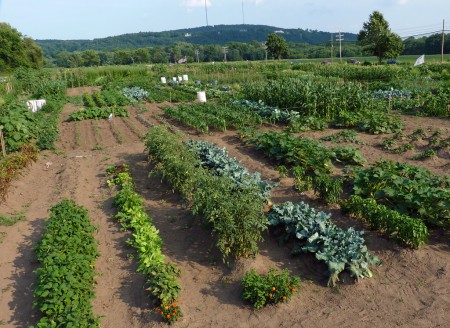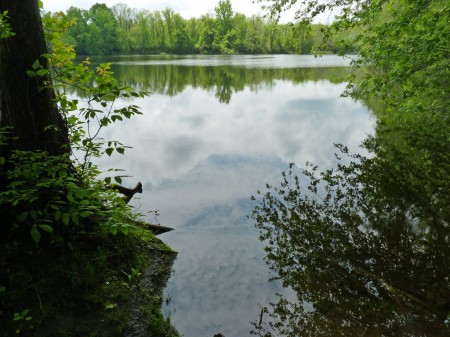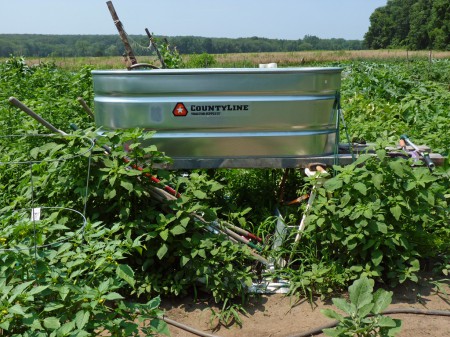 Every year the lilies in my garden act as barometer for the growing season at the Gardens. Here they are in full bloom awaiting a visit the annual visit from a migrating Monarch butterfly. Their development also tells me that the mid season harvest is under way.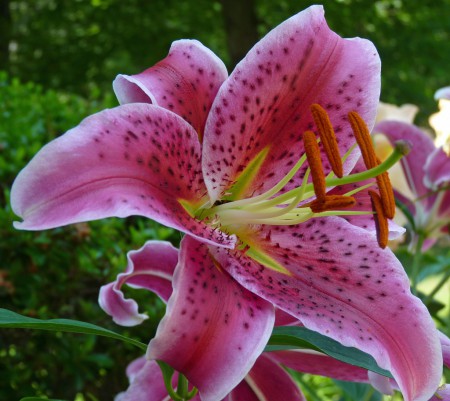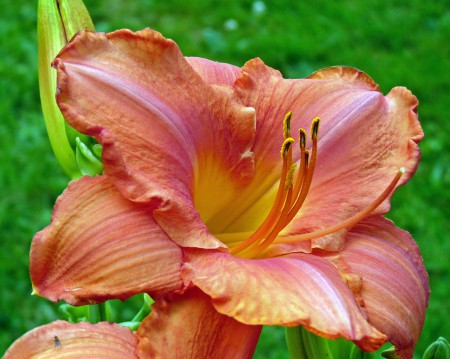 Lou, one of the gardeners in this area takes a few minutes from his harvest to call home and let his family know that he stopped by the gardens, after work to pick some lima beans and broccoli. He will fill these baskets two or three more times during the growing season.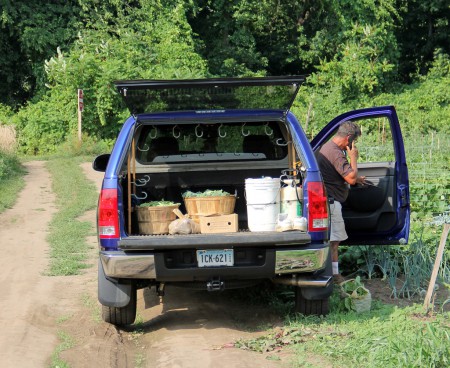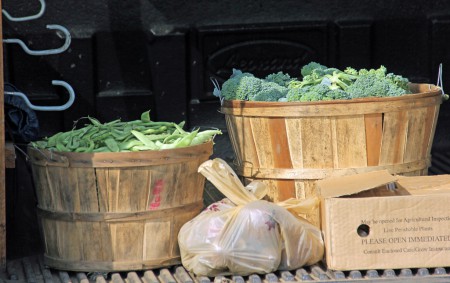 Below is one of the most productive gardeners in this area. Along with her family she maintains two large plots. This year she has planted Thai basil, chili peppers, snap beans, squash, onions and at least two varieties of hardy greens. In this photo she is tending several rows of summer squash. Pictured below is her adjacent plot containing ,what I estimate to be, over 100 flourishing chili pepper plants.  Her family will often help her with her gardens, but she is without a doubt, the gardener in charge. Nothing happens in these gardens without her approval.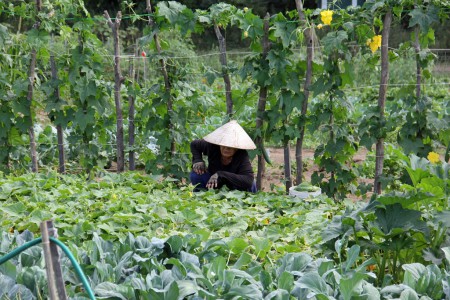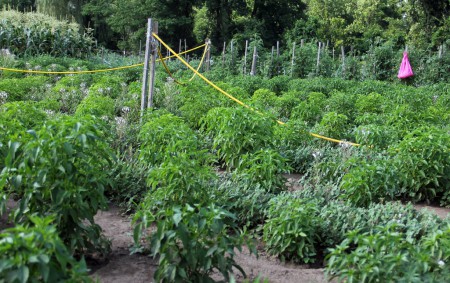 In spite of the dry hot weather that has plagued the gardeners for the past few weeks; Master gardener, Terri , continues to demonstrate her talent for planning, planting and maintaining an extraordinary garden. In my next update, I will list the flower varieties pictured here.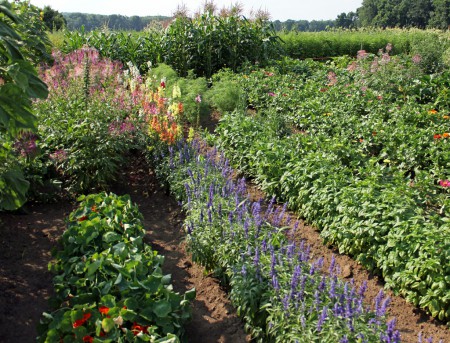 There are several gardeners named Lou working plots in this section of the gardens. The Lou pictured below is working in what appears to be a tropical forest.  Actually,he  has planted his garden in growth of wild giant sun flowers.  He tells me that the  flowers provide shade for both him and his plants during the hot months. When the plants mature he removes the heavily seeded flowers and hangs them in his back yard to feed the birds and other small animals gather food for the winter months.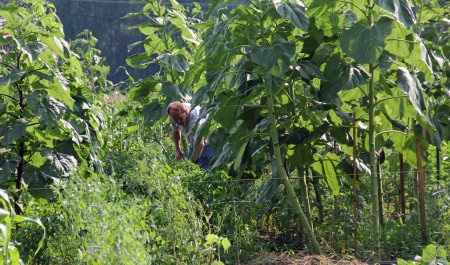 The flowers pictured here are at least 8 feet tall. Since these flowers are somewhat a hindrance to the professional farmer who plows the gardens at the end of the growing season; Lou chops down and removes remaining stalks and removes them from the fields.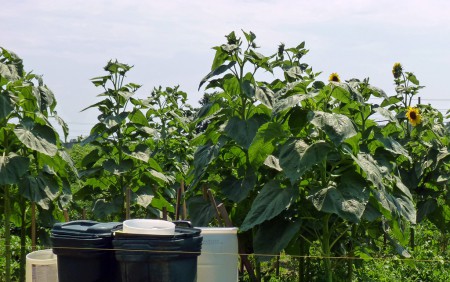 While walking through Luke's family garden, he directed me to a long row of fruiting tomato plants. He pointed to a plant at the beginning of the row that  looked a little out of place, and asked me if I knew what kind of tomato it was. I recognized it as a Tomatillo (pronounced, toh-MAH-tee-yo), a close relative of the tomato. The Aztecs are believed to have domesticated this fruit in 800 B.C. It contributes a tart but refreshing flavor to a variety of Mexican green sauces like Salsa Verde  This green sauce is a combination of roasted or boiled tomatillos combined with onions, fresh chili peppers, fresh garlic, olive oil, fresh cilantro,  lightly processed  with a little fresh lime juice. The tomatillo can also be used in a variety of sauces for meats, added to  a variety of stews or eaten raw. This fruit is not always  available  in supermarkets in this area. It is my hope that Luke will be willing to share a little of this new found bounty.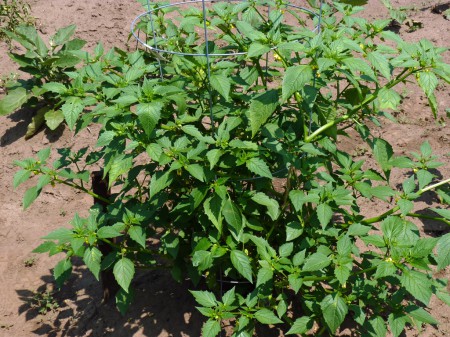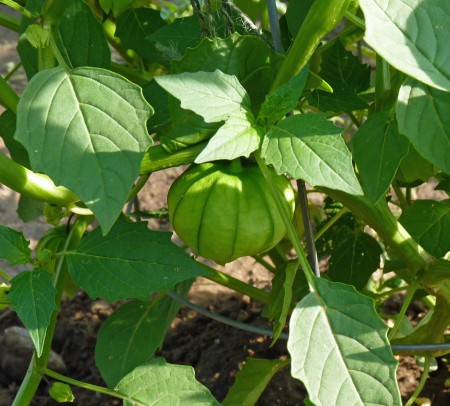 In the next update we will see some the late season crops like melons, potatoes, squash and onions. Several interesting varieties of the vegetables are planted  throughout Kolp Gardens