Sunday, August 26th, 2012
The Arnold Arboretum is a 265 acre botanical garden located in the Jamaica Plain and Roslindale neighborhoods of Boston. It is owned by the city of Boston and leased to Harvard University for 1000 years beginning in 1882. This park is the second largest link in the Emerald Necklace, featuring a rolling landscape with meadows, forests, and ponds with 4000 different varieties of woody plants and 15000 varieties of trees, shrubs and vines. The Arboretum was founded in 1872 when the president of Harvard University became the trustee of a portion of land owned by a wealthy New Bedford whaling merchant. The  land was deeded to the city of Boston in 1882  and incorporated into the Emerald Necklace in the same year. The first president of the Arboretum, an American botanist, Charles Sprague Sargent. working together with Fredrick Olmsted designed the road and pathway system and outlined the collection areas, in the Arboretum, by plant family and genus.
The Arboretum is a free, safe and accessible resource that is open to the public every day of the year. As a university based living collection, the Arboretum shares a wealth of knowledge with the public in a way that is engaging and substantive. My mother-in-law  lived her entire life just a few miles from the Arboretum. Through her life she, her family and a group of close friends and neighbors made regular visits to the Arboretum. She often spoke about touring the Arboretum on Lilac Sunday with the whole family, which included my father-in law, Arthur, my wife, Tricia, her two sisters and her brother.  Of the thousands of flowering plants in this magnificent garden, only one, the lilac, is singled out for a day long celebration. On this special day my mother-in-law, her friends and thousands of others from all over New England gather to picnic, watch English Morris dancing, (a form of English folk dance) and tour the Arboretum's extensive lilac collection.
For my tour I followed a path often described during my conversations with Gertrude as one of her favorite walks. I entered the Arboretum at the main gate near the Hunnewell Visitor Center. After a brief visit at the center to get directions, I started walking along Meadow road to Linden path heading toward my first stop– the Leventritt Shrub and Vine Garden. From there, a short path led me to my second stop, the Larz Anderson Bonsai Collection.  Continuing along Linden path to Bussey Hill road led me to my final destination, the Explorers Garden on top of Bussey Hill. To return to main entrance, I followed Bussey Hill road down to Meadow Road. Along the way back, I snapped photos of trees most often mentioned in conversations with Gertrude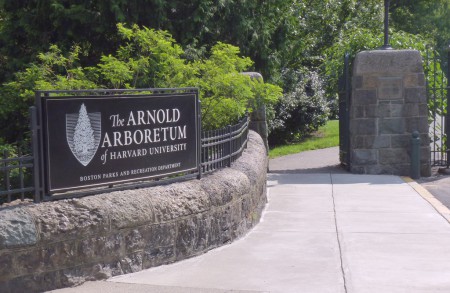 The main entrance gate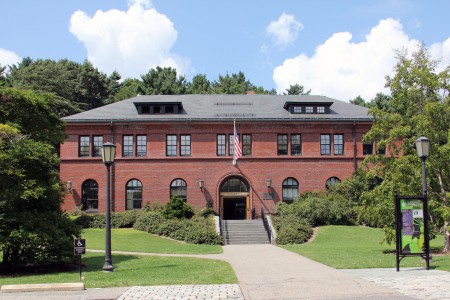 The Hunnewell Visitors Center building was donated to the Arboretum by Horatio Hunnewell, a railroad financier, armature botanist and one of the most prominent horticulturists in the nineteenth century. He is believed to be the first person to cultivate and popularize rhododendrons in the United States.
b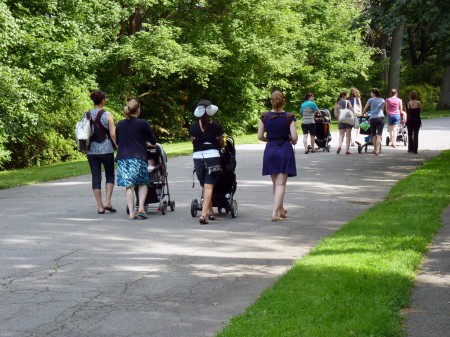 I began my tour at 10 in the morning. This is only one of the several family groups were there when I arrived.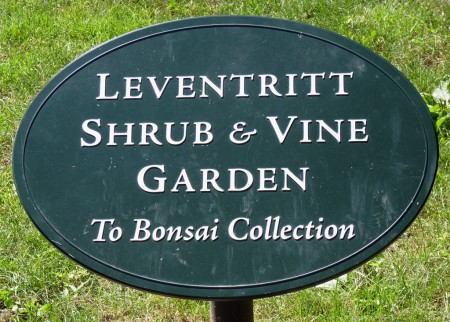 Leventritt Garden is is a three acre garden that showcases 737 conifers, shrubs and vines. It was made possible through the generosity of Frances Leventritt and her son and her son Danial.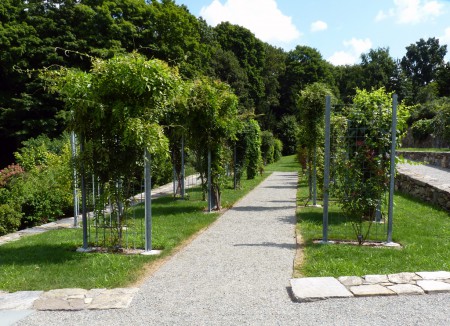 This is one of the artistic linear planting beds in this garden. It is bordered by terrace walls constructed of New England field stone.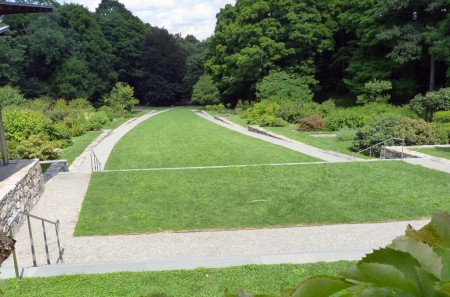 This shot was taken from an open air pavilion that provides a gathering place for visitors and a planting area for flowering vines.  It shows the gentle winding path that visitors follow from Meadow road to Leventritt gardens.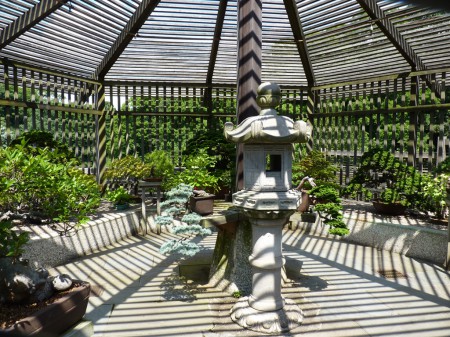 The Larz Anderson Collection of Japanese Dwarfed Trees
Larz Anderson served as the United States ambassador to Japan for ten weeks in 1912. He resigned the post when Woodrow Wilson replaced Howard Taft as president. Along with an impressive collection of horse-drawn carriages, sleighs and vintage motorcars, he also owned a collection of 40 bonsai trees. When he died in 1937 his wife Isabel Anderson donated most of the plants to the Arboretum.The core of the collection consists of  seven specimen of hinoki cypress purchased from the Yokohama Nursery Company, estimated to be between 150 to 275 years old. The exhibit is open from mid April to November. Special care is taken to house the plants during the winter months in a concrete block structure that is maintained at temperatures between 33 and 36 degrees Fahrenheit to protect them during the cold months.
From the Bonsai exhibit I head back down the path to Bussey Hill Road and begin the gentle climb to the top to  the Explorers Garden. This garden is a horticultural hot spot. It is located on the south side of Bussey Hill, which rewards it with the greatest amount of sunlight and warmth. The gentle slop of the hill caused cold air to move down hill rather then settle into deadly frost pockets. These features make it an ideal spot for plants that require mild growing conditions. The garden features an impressive display of rare and interesting trees that, unfortunately, were not available for viewing because of important tree maintenance  being  performed in the area. I am told that October is the best time to visit this garden. I will be there with camera in hand.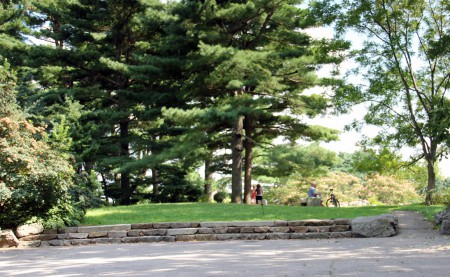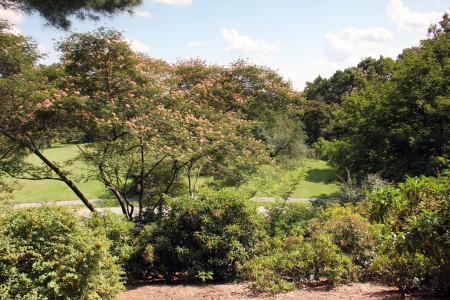 On my way back to the main entrance I was able to snap shots of some trees that my mother-in-law often mentioned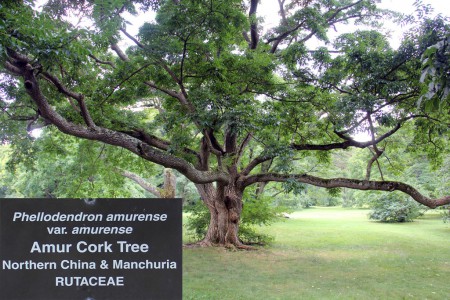 The Amur Cork Tree is one of the fifty fundamental herbs used in traditional Chinese medicine. It produces petrochemicals, a discovery that has attracted considerable scientific attention over the past few years.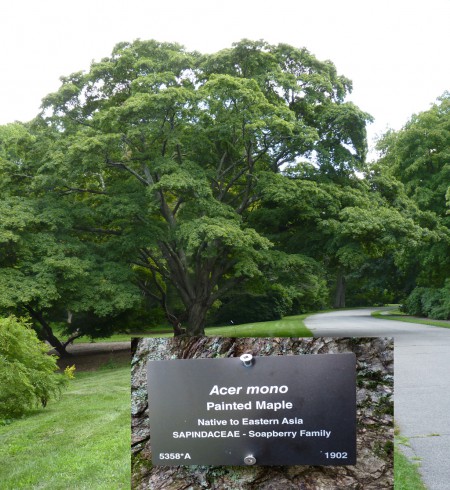 Gertrude loved this painted maple because it's leaves remained bright green, even in very hot summers. In the fall the leaves turn bright gold wit crimson fall color.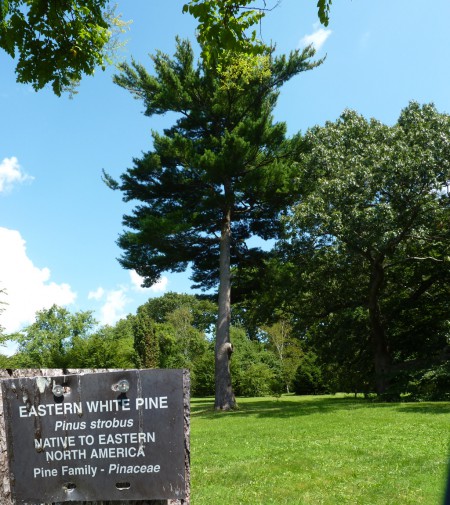 The White Pine is no stranger to us living on the East coast. In fact, there is a 70 foot specimen across the street from my house. Every three to five years this tree produces an abundance of pine cones that blanket my lawn from October through  following May. Gertrude and Arthur also had a White Pine in there yard small back yard. During peak pine cone production, Arthur had a special name for this tree, which will not be repeated on this page. White pine forests once covered most of the northeast, only about one percent of the original trees remain untouched by the extensive logging operations of the 18th century. Virgin stands of White Pine still exist in Great Smokey Mountain National Park and in the Huron Mountains located  on Michigan's Upper Peninsula.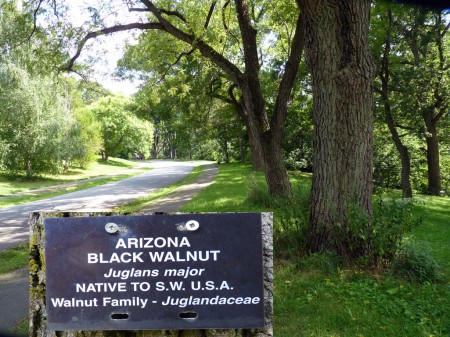 Pictured above is a stand of Black Walnut trees bordering the right wide of  Meadow road. These trees can be found  from Massachusetts to Georgia and west to the great plains.The Black Walnut is an imposing tree with a long history of use by people. I grew up in a neighborhood that had one  large Black Walnut .  In October the yellow-green husked fruit would ripen and fall to the ground. Me and a couple of friends would gather these fallen nuts and attack then with hammers in an attempt to get at the oily fruit inside. The nuts were so difficult to crack that we usually abandoned the effort after opening two or three. We would also soak the nuts in a bucket of water overnight. The next morning the water would be a dark brown. We would take this water to an out of sight spot on the Franklin Park golf course and dump the water on the grass. In a few minutes earth worms would start popping to the surface to be scooped up and used for bait our fishing trip.
The dark, chocolate brown heartwood of this tree the most sought after native American wood. The world wide demand for the wood is so high that this tree has become rare in nature. Unfortunately, we harvest more Black Walnuts than we plant,  and a newly planted tree needs, at least, 60 years in the ground to produce a reasonably large trunk. It is my hope that this all-American tree will continue to be appreciated by those who recognize it's beauty. The Black Walnut is not currently in danger, but they are becoming less common on the American landscape.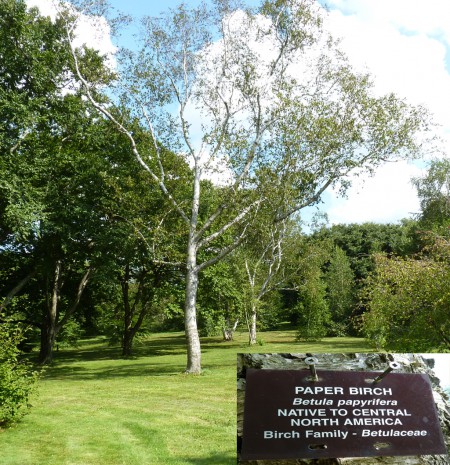 The wood of the Paper Birch has many uses. It used to in the manufacture of furniture, flooring,  toys and Popsicle sticks. Yet these trees offer another resource that is largely untapped here in New England–the sap.  Birch syrup production is an emerging cottage industry in Alaska. In spite of the fact that sugar maples are plentiful on the East coast, we also have plenty of birches scattered around. It would be nice to see some enterprising Yankee tapping birch trees for syrup production. Occasionally, when I can afford, it I buy a bottle of birch syrup to enjoy on the blueberry pancakes that my wife, Tricia, makes with  blueberries that she harvests from the two bushes in our front yard. My mother also loved this syrup. She often said that it had a more distinctive  flavor than maple syrup. Unfortunately, birch syrup, is expensive; an 8 ounce bottle can cost 20 dollars. This is because it takes about 100 gallons of sap to make one gallon of syrup. It is probably one of the rarest gourmet food products in the world, and the most difficult to make. Marketing New England made birch syrup might be a tough sell, but with a little education it is possible.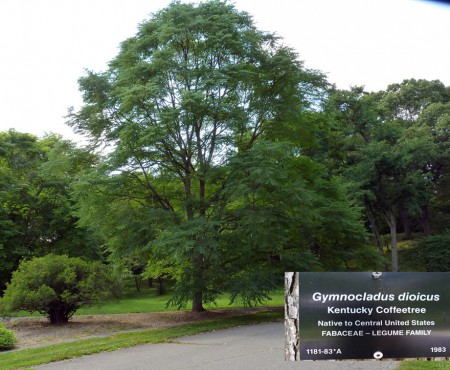 This tree was formally the state tree of Kentucky. I first saw this tree growing along the path leading to George Washington's house while on tour of Mount Vernon several years ago. It is native to the mid west, and is generally planted in parks and city streets for ornamental purposes. The tour guide said that the seeds of this tree can be used as a substitute for coffee beans. He also added the caveat that the seed is also toxic in large quantities. It is a handsome and relatively fast growing tree that sheds it's leaves in the early fall, leaving with a bear and almost dead looking branches for over six months of it's growth cycle. The Greek genus name for the Coffee tree translates as " naked branch".
This tour covered only a small portion of a very large and beautiful park. I will return in October to record the spectacular fall foliage show.