Friday, August 10th, 2012
I've been busy with several things that have made me put off posting to this blog. Among those distractions have been taking photos. I can't post while I'm shooting. And the thing I'm most apt to be stalking and shooting are ospreys. They are simply my favorite birds.
I never tire of photographing them, but the "premium" shots, to me, are those in which the ospreys are actively engaged in fishing. But getting good photos is part luck, part technique, a lot of gas driving from place to place looking for the little buggers, and a lot of hard work crawling over the rocks on the jetties.
The ospreys make a lot of dives and come up empty-handed on most of them. But they have the kind of persistence that pays off.
On August 2nd (which happened to be my son's 30th birthday) I was on the mouth of the Rogue and caught this fellow in his act.  I didn't bring the camera into position until after he hit the water, but when he emerged, both his persistence and my own paid off.
In the future I plan on running a lot of the unsuccessful dives because the birds can be really beautiful coming out of the drink with water spraying off of them.
The sequence was shot with my Canon 5D Mark III and my Canon EF 400mm f/5.6 USM.
Shutter speed 1/1000     f/6.3     ISO 160     focal length 400mm
Shutter speed 1/1000     f/6.3     ISO 160     focal length 400mm
Shutter speed 1/1000     f/6.3     ISO 160     focal length 400mm
Shutter speed 1/1000     f/6.3     ISO 160     focal length 400mm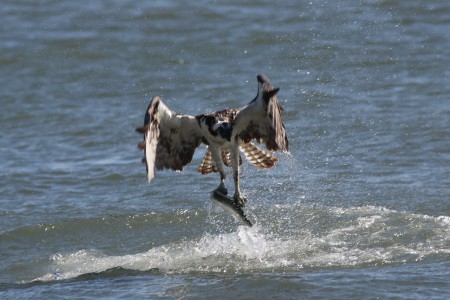 Shutter speed 1/1000     f/6.3     ISO 160     focal length 400mm
Shutter speed 1/1000     f/6.3     ISO 160     focal length 400mm
Shutter speed 1/1000     f/6.3     ISO 160     focal length 400mm