Wednesday, September 19th, 2012
I have been a frequent visitor to the six Emerald Necklace parks  for more than fifty years. I grew up in a neighborhood about a two miles from the largest one– Franklin Park. Unfortunately, like many other Bostonians, I knew very little about the man whose  visionary genius created this wonderful park system.  Last week while touring Olmsted Park,  located just north Jamaica Pond; I decided to visit Olmsted's estate, which is less than a mile to east of the park. I wanted to learn a more about the man whose visionary genius made these parks possible. I went on two  guided tours of Fairsted conducted by the Park Department. These tours helped me to better understand the man and the  complex  systems that he employed in the designed of the Emerald Necklace and other  park systems. Many of the concepts that he employed in his urban parks have been incorporated into the 1.74 acre landscape of Fairsted. I also did a little research that revealed some interesting facts about this remarkable man.
In the fall of 1937  Frederick Olmsted was preparing to enter Yale University.  An unfortunate a side effect of  sumac poisoning  severely weakened his eyesight and  prevented  him from attending his planned course studies.  In the twenty years  that followed he embarked on a variety of endeavors that helped create a new profession— landscape architecture. During this period he worked in a dry-goods store, took a year-long voyage in the Old China Trade and ran a farm on Staten Island from 1848 to 1855. He also studied surveying, chemistry, engineering and scientific farming. In 1850 he took a walking tour of Europe and the British Isles. During this adventure he visited numerous parks and private estates nestled in Europe's scenic countryside. He later published a book of this adventure–Walks and Talks of an American Farmer in England. By the time he began his career as a landscape architect he had developed a set of values that gave special purpose to his design work. He had a strong belief in community and the importance of public institutions of culture and education. He developed a firm commitment to developing visually compelling and accessible green space that nurture the body and spirit of all people , regardless of their economic circumstances.  His believed that the restorative value of landscape and parks which provide recreational opportunities, would help establish a greater sense of community, especially in urban areas. This vision began when he and Calvert Vaux, a young architect from London, submitted their winning "Greensward" plan for the design of Central Park in New York City. Together, these two men of genus would help change the face of America's cities and elevate the practice of landscape architecture to a respected profession. In later years they worked together on some very special projects, which included the restoration of the Niagara Reservation, a narrow strip of land along the Eastern shore of the Niagara River at the site of the American falls. In 1885 this site was designated  New York's first national park.It is and the oldest state park in the United States.
With his work in New York nearing completion and his involvement in the development of Boston's Emerald Necklace in full swing, Olmsted  moved his family to the Green Hill section of Brookline, Massachusetts.   He purchased an 1810 farm house owned by two sisters, Sarah and Susanna Clark who had lived on the two acre estate their entire lives.  He later built another house, for the sisters , on an adjacent piece of land. This picturesque neighborhood  and its residents provided fertile ground for Olmsted to cultivate ideas that he had been espousing his entire life. One prominent horticulturist described the area as,"a kind of landscape garden". He named his new home "Fairsted". It was here that he formed the landscape architectural firm that continued to operate from Brookline until 1979. In 1980 the house, office and land were purchased by the National Park Service, and appointed as a  National Historic Site. In 1991 the Park Service created a "period plan" to restore the somewhat dilapidated house and grounds  to their circa 1930 appearance. The restoration effort continues today, but the site is open to the public, and free guided tours are conducted by knowledgeable Park Service representatives.   What follows are what I think are some of the most popular and distinctive features of the estate.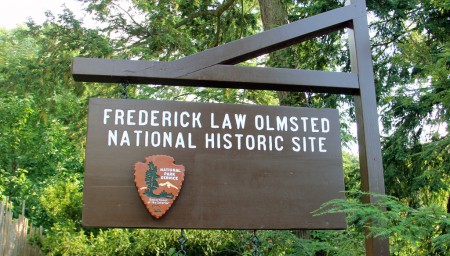 Guided tours of the site are conducted Wednesday through Sunday at 10 am, 11 am, 1 pm, 2 pm , 3 pm and 4 pm. This is the group that toured with me last week. As you can see, the groups are usually small, and the tour guides welcome all questions from tour participants. Also, if you visit the site, don't forget your camera. There is plenty to see and photograph.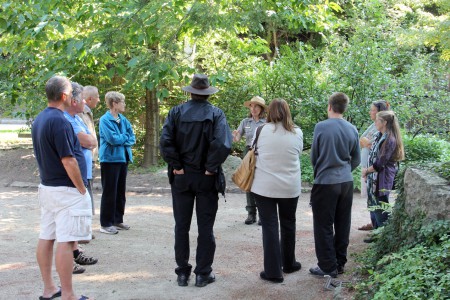 The Carriage Turn entrance is enhanced by a hillock in the center, on which Olmsted planted a Canadian Hemlock along with and assortment of creepers and vines. This is a miniature version  of  formal gates followed by rustic scenery found in some of his large parks. When he redesigned this entrance, he  replaced a linear drive with this circular drive to make it possible for horse-drawn carriages to  enter, drop passengers at the front door and exit without backing up
The hillock is positioned to make the main entrance to the house barely visible from the street.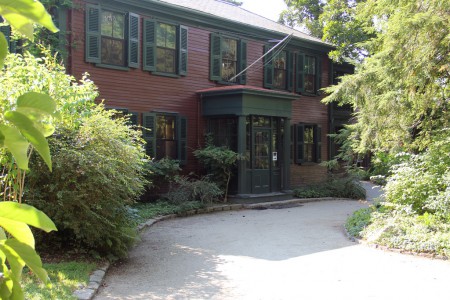 As you go by the main house on the Carriage Turn, a shaded garden named the Hollow comes into view on the left.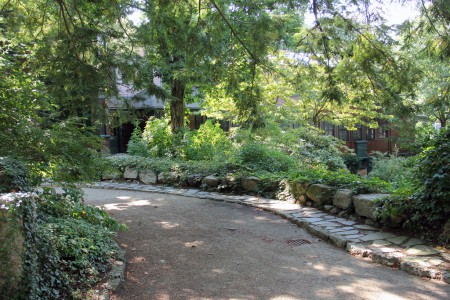 A stairway carved from Roxbury puddingstone located at corner of the house marks the decent into the Hollow. This is a small shaded garden tucked into a sunken corner between the office wing and the street. Puddingstone is a bedrock formation underlying part or all of Brookline and many of the surrounding towns.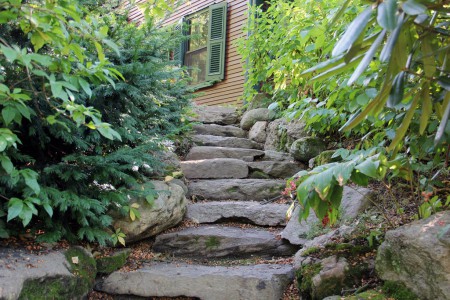 The Hollow teems with greenery of various forms, textures and values of color. This area can best expressed in Olmsted's terms. "Scenery'" does not apply to any field of vision in which all that is to be seen is clear and well defined in the outline. It must contain either, "considerable complexity of light and shadow near the eye, or obscurity of detail further away". As you stroll through Olmsted's many parks it is difficult to focus on an single outstanding patch of greenery. It far more enjoyable to the appreciate the whole vista as it unfolds in front of you. The first photo of one end of the Hollow below reveals exposure of puddingstone. The second photo is the opposite end near the office wing.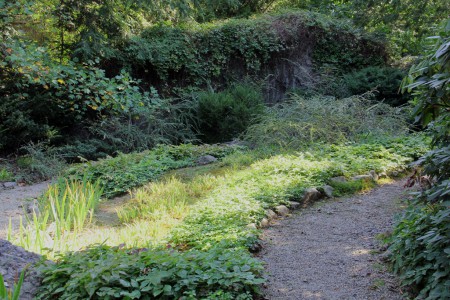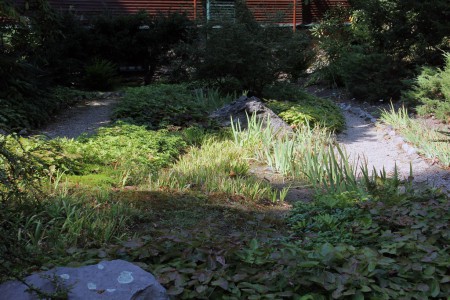 Retracing or steps up from the Hollow and across the Carriage Turn we cross a narrow path that leads to a shady corner of Fairsted called the Rock Garden. Paths like this are a prominent feature in many of Olmsted's parks. These natural looking paths are designed to transport the visitor out of the city and into the woods. There are many paths like this in Franklin Park. My friends and I would sometimes wander along these paths for hours picking wild blueberries that grew in spots that were sunny enough for them to flourish. This trail also shifts from a shady wooded path to  open sunny meadow. I looked for blueberries, but didn't find any.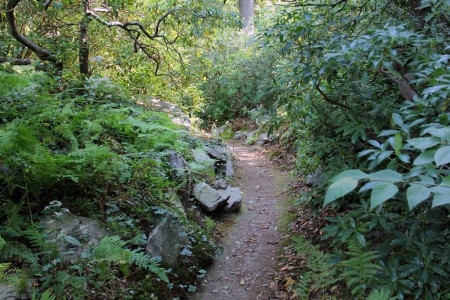 As we leave the Rock Garden we are greeted by a large meadow known as the South Lawn. When Olmsted purchased the estate the South Lawn was a dilapidated apple orchard. He had all of the trees removed except one, a magnificent  American Dutch elm. The tree graced this area  until it was removed by the Park Service 2011. Dutch Elm disease and core rot had severely weakened the tree making it unstable and in danger of falling. At the far end of the house, on the right side was, I am told, Olmsted's favorite room. He called it his outside room.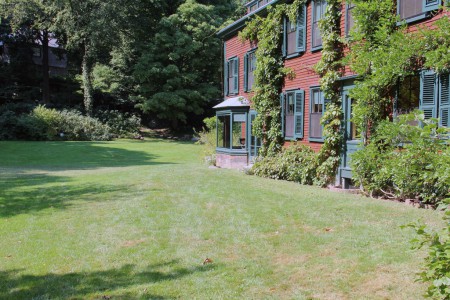 There are several photographs of the South Lawn that were taken before the American Elm was taken down by the Park Service. This large color photo is the most popular. It was hanging on a wall at a perfect height  for me to take my own shot. Olmsted loved this tree because it reminded him of his boyhood in Connecticut. An attempt to propagate cuttings from this tree at the Arnold Arboretum failed, but arborists  also took genetic material with the hope of growing a clone on the same spot.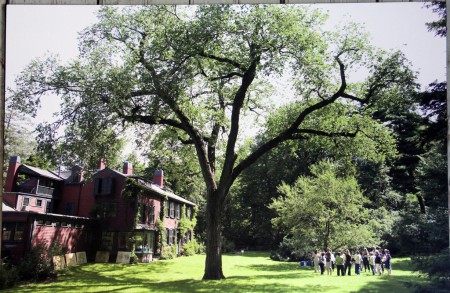 Looking out to the South Lawn from the from the "outside room".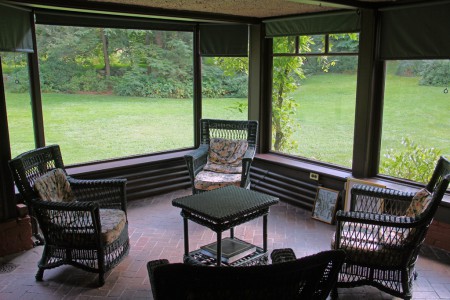 In 2009 The national Park Service launched it's Witness Tree project in cooperation with the Rhode School of Design. Witness trees are long standing  trees that have witnessed key events, trends and people in American history. The Park Services arranges for fallen trees to be shipped from an historic site to RISD. There, students interpret the history the tree has witnessed and fashion relevant objects from the wood. I was fortunate to arrive at Fairsted a few days before these objects were scheduled for exhibit, and The Park Service kindly gave me permission to photograph the items pictured below. My favorites are the longbow and walking stick in the first picture and the camera and tripod in the second picture. The students that crafted these objects deserve recognition for their masterful work.  Fredric Law Olmsted would appreciate this level of precision.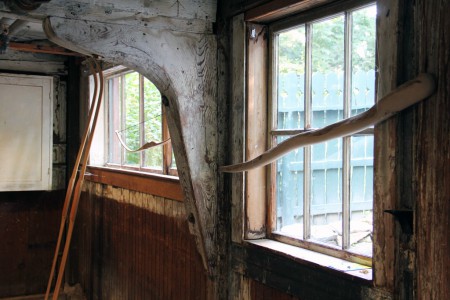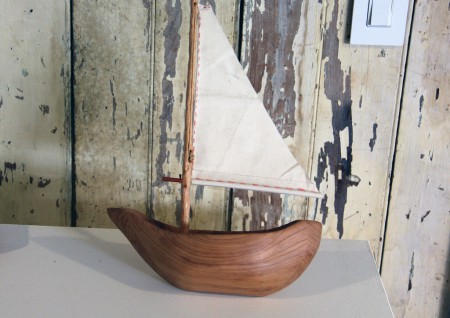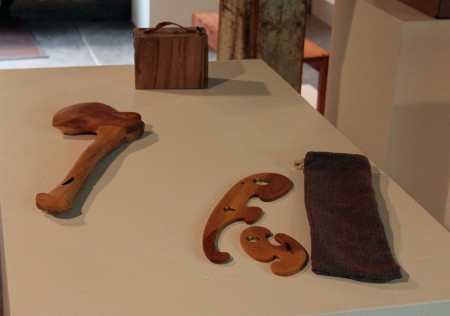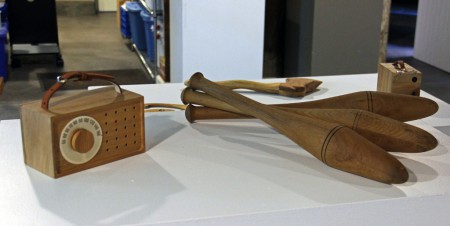 This is the plant room where varies types of greenery was propagated and tested in an effort to determine if would suitable for planting in a park.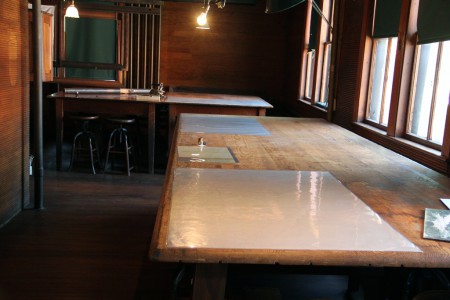 This is the engineers room and table where many of Olmsted's project plans were developed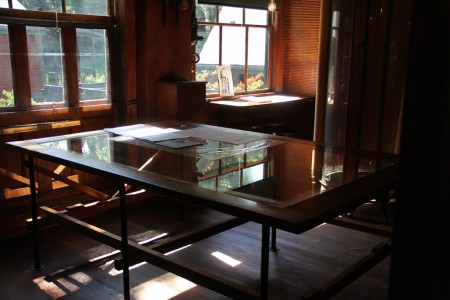 This is a photo of draftsman at their tables in the main drafting room.