Wednesday, January 16th, 2013
First, let me apologize for several previous posts where the images are small, though they blow up to full size if you click on them. WordPress changed their format and I couldn't find the new way to upload them, so I went with what had. As I find time, I'll correct the images. Still, if you go back to them and click on the small images, you'll see the full-sized images.
I'm having trouble identifying the bird I have here. I've gone through three bird books and I think it's a western red-tailed hawk. My friend, Sammi Craig, who's another photographer, told me her boyfriend can probably identify it. But I'm not going to wait. If you can identify it, let me know.
I spotted it while I was with my friend, Christine Mack, in Hunters Creek. (Christine now manages a Facebook page for me where I'm promoting my apocalyptic ice age novel, Danielle Kidnapped.) She was driving and actually saw the bird first and pulled over so I could get out of the car and get some photos. I mentioned to her that I expected it to fly before I could get a shot off. I've found it all but impossible to get close to most of the raptors, but this bird surprised me because even when I got out of the car if sat on the rock, sunning itself, though it kept a wary eye on me. So, I snapped away.
I made one big mistake: I kept the aperture at 5.6, the widest aperture I can get with my Canon EF 400mm f/5.6L USM Lens.
J.R. Robinson, the proprietor of Picture This, a frame/print shop and photo/art gallery, here in Gold Beach, had counseled me to use a tripod and to use higher f-stops. Well, I thought that with the time and motions I needed to set the tripod up, I'd have scared the bird away, so I passed on that. However, though I could have changed the f-stop, I didn't. I now wish I had.
The higher f-stop number creates a greater depth-of-field—which means the greater depth of focus. As you can see, sometimes the focus wasn't perfect, so the bird was a little fuzzy even when it was sitting still because the autofocus was zeroed on something in the background, and when it flew it was often at the edge of the depth of field so I was losing focus there, too. The higher f-stop number will expand that depth of field. The trade-off will be higher ISO numbers, but the Canon 5D Mark III should handle those just fine.
Throughout the photo session, the bird didn't seem overtly scared of us or my car, so I got several photos before it decided to fly away.
Christine and I are going to make future trips to Hunter Creek in hopes of getting more and better photos of the birds there.
Shutter speed 1/400     f-stop 5.6     ISO 200     focal length 400mm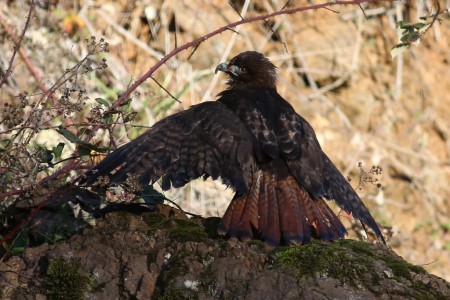 Shutter speed 1/1000     f-stop 5.6     ISO 640     focal length 400mm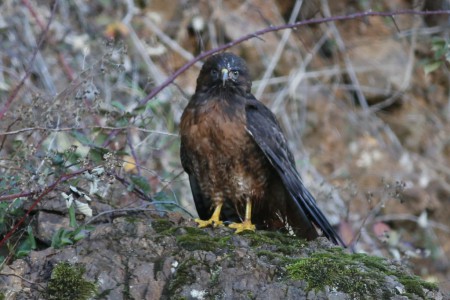 Shutter speed 1/1000     f-stop 5.6     ISO 2500     focal length 400mm
Shutter speed 1/1000     f-stop 5.6     ISO 2500     focal length 400mm
Shutter speed 1/1000     f-stop 5.6     ISO 2000     focal length 400mm
Shutter speed 1/1000     f-stop 5.6     ISO 3200     focal length 400mm
Shutter speed 1/1000     f-stop 5.6     ISO 4000     focal length 400mm