Tuesday, April 30th, 2013
This past winter has been what I consider normal for the New England area. With the exception of one big storm that dumped more than two feet of snow across the region, this winter was rather normal in this part of the world. However, spring appears to have gotten lost while on its way to Connecticut. Below is a photo taken at a spot along the river last April at this time. Below that is another photo taken on April 15 this year near the  river. A close look at the leaf buds on the trees along the river bank indicated very little development since February. The very cool days and freezing night temperatures have kept winter in place into April. Farmington scheduled the community farm to be ready for gardeners on April 15. If the day and night temperatures don't come up a little, there will be very little planting this month.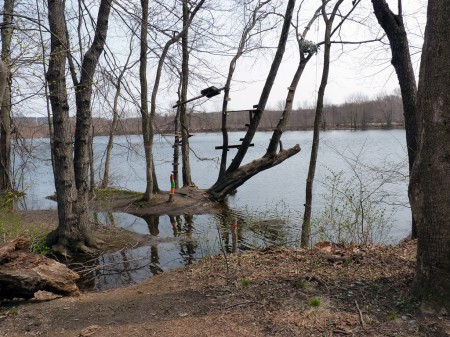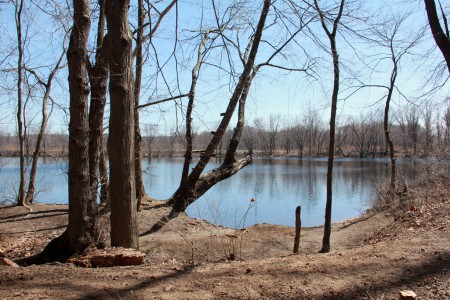 The winter rye crop should be at least a foot high by mid-April. As you can see, it has a long way to go. Unfortunately this crop will plowed under before it reaches normal height.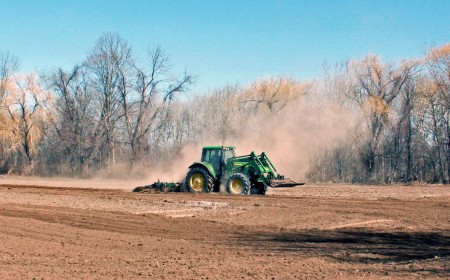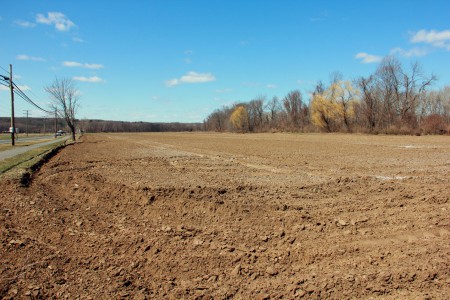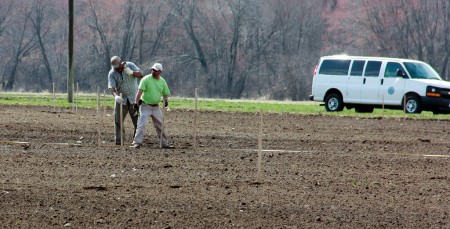 The first signs of spring are here at last.
It is the 12th of April and despite the below-normal temperatures, the town has the fields prepared for the surveyors to lay out the 224 garden plots. After taking the above shots, I decided go home and return later in the week. There was rain in the forecast along with warmer weather.
The Farmington River is in great shape and is starting to swell as the snow in the north starts to melt. This is good news. There will be plenty of clean, fresh water for the gardeners when they start planting.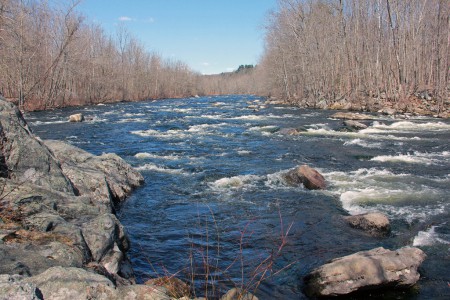 On this chilly day I did meet a new friend. This was the first sign that spring was not far away. This bird is what I believe to be a Horned Lark.  Every feature of this bird identifies it as a Horned Lark except for a white tuft of feathers over the eyes which is usually black. As I was walking through the freshly-tilled garden soil to check its condition, I heard a familiar caroling sound from a bird flying in circles, about 50 feet over my head. It continued to circle while dropping closer to the ground with each loop. Suddenly, it closed its wings and dropped silently to the ground, making a perfect two-point landing. Immediately I recognized this behavior as the mating dance of a male Horned Lark. As I was setting up my camera, he started to chirp at me, as if to say, "Hey pal, get lost! Can't you see that  I'm trying to attract a girlfriend here?" I waited for a few minutes, hoping to meet the object of his display, but she didn't show. Horned Larks display this type of behavior in the early spring then become inconspicuous during the summer. After witnessing this marvelous scene, I knew that spring was close at hand.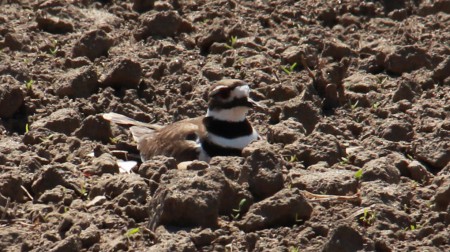 Well, the weather forecast was correct, and we had some much needed rain. The scene along the river and in the fields was very different from a few days earlier. Wildflowers were poking through the ground and some long-time friends were out soaking up some of the warm spring sun.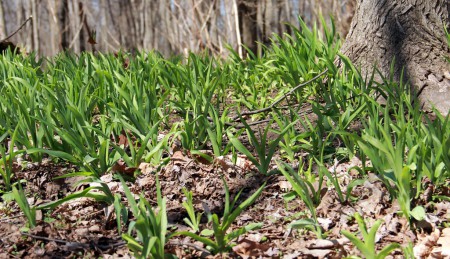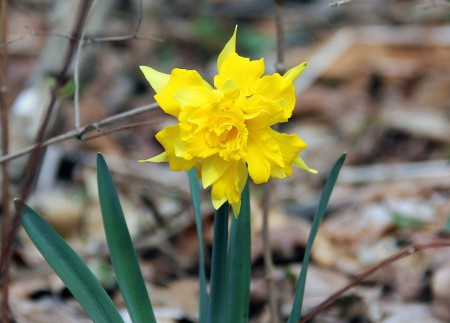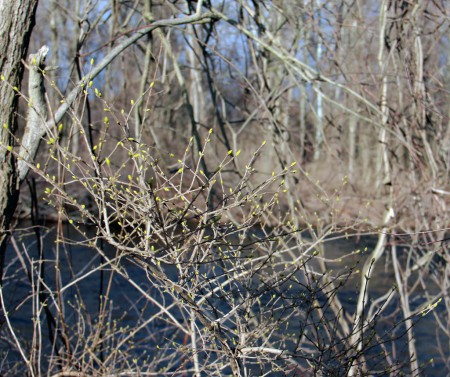 Meat Thunderer — the Hawk Power Animal of this section of the Farmington River. According to Native American legend, the Red-tailed Hawk is a messenger that symbolizes Guardianship and Strength. Unlike the Iroquois legend, this Red-Tailed Hawk does not display a mighty bow and flaming arrows, but he is big and tough enough to intimidate the local Bald Eagles and crows that venture too close to his territory. That stern look on his face is him letting me know that I should not come any closer while he was hunting for field mice. I have known this big guy for three years. During the winter he hunts up the river in the next town, but moves to this area in the early spring when the farmers start plowing the fields. He is another harbinger of  spring in this area.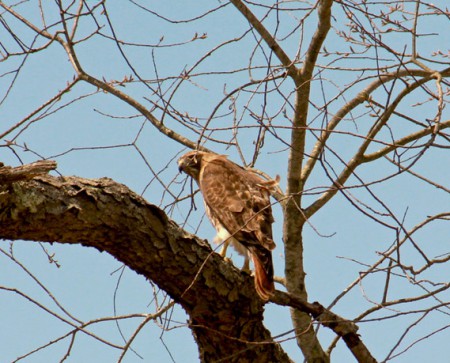 I call this little guy "Hannibal The Fearless." We first met last fall while I was sitting on this fallen tree changing the settings in my camera. I heard the leaves move slightly and looked down as this little Garter Snake crawled from under the tree, over my right leg, and into the bushes without even giving me a look. I have several resident Garter Snakes living under my back deck. They have made that spot home for years, so I guessed that this critter lived close by. I marked the log and hoped that I would see him again.  As I had hoped, I spotted him sunning himself on the same tree as I approached on this day. He lifted his head a little as I was lining up the shot and slowly moved, totally ignoring my presence. I think the name fits.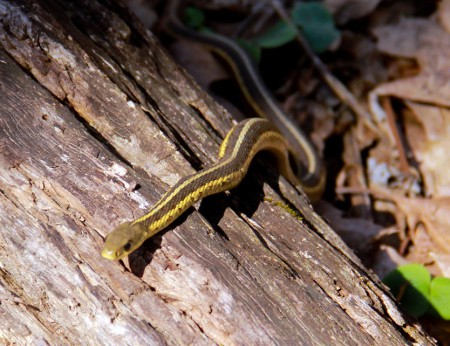 This week I stopped by my favorite greenhouse at Krell Farm. These are the folk that prepare the soil at Kolp Gardens for planting and also supply many of the gardeners with premium quality seedling plants for their gardens. After this visit, I knew that the gardeners would be in the fields soon.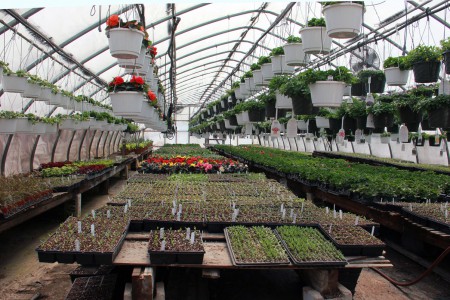 This is Tony. He is usually the first gardener on the scene. In this picture he is waiting for the survey team to finish laying out the plots so he can start setting up.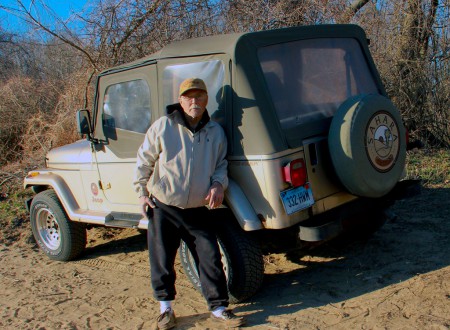 This is Tony's garden for this season. He is an energetic planter, and I will be following the progress of his garden all season.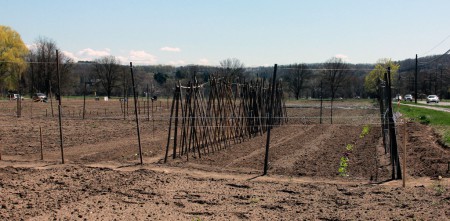 Below is Master Gardener Ruth and her grandson. Ruth is a professional gardener with more than 40 years of experience. She has volunteered to consult with Cub Scout Pack 170 as they develop this 2500 square foot garden this year. Half of what this garden produces will be donated to the Farmington food share; the other half will be divided among the scouts. This young lady has quite a reputation around town and I am confident that this garden will be a source of pride for her and the scouts. This is another garden that I will follow throughout the season.
This is the diagram of the garden-to-be that Ruth created for the scouts. It outlines each bed along with a planting schedule for that bed. She also set aside a bed for any of scouts that want to be creative and experiment with unusual fruits, flowers or vegetables.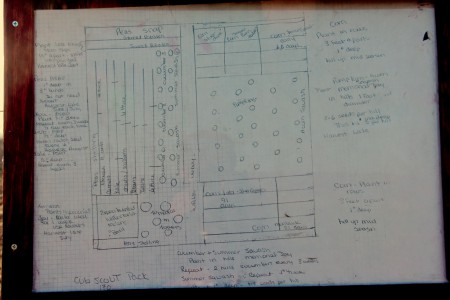 And back for another season of creative gardening is Master Gardener, Terry. With all of this talent, I know that this is going to be an exceptional growing year at Kolp Gardens in Farmington, Connecticut.