Monday, August 12th, 2013
There appear to be two egrets staying in the port, here in Gold Beach. I'm not sure whether they're a mating pair or not.
The other evening I saw them. One was on one side of the port near me, the other was across the water. They were both looking for food.
I know this isn't going to mean an awful lot to many, but it was getting dark and even though I was using the worst of my low-light lenses, the camera I have, a Canon 5D Mark III, is a fantastic low-light camera. To get the photos of this egret I was shooting at 12,800 ISO, almost unheard of with any other camera, but I still got fairly clean shots. Not the best, mind you, but still pretty good.
I used to have a Canon 60D, but I wasn't really happy with it. When I heard rumors of a new version in the 5D line, I decided to wait for it. I spent a long time waiting. Then, when it was announced, a little over a year ago, I agonized over whether to buy this or switch over to the Nikon D800. I was only about 60 or 70 percent sure I was making the right decision when I bought the Canon, but in retrospect, I realize it was exactly what I wanted. I'd never get the photos I can get in low light using the Nikon camera that I can get with the Canon 5D Mark III. What I would have gotten with the Nikon would have been a greater pixel density on the sensor which effectively works as a zoom. I may still get another camera with a higher pixel density, but it's likely to be the Canon 7D Mark II, which has an even higher pixel density than the Nikon D800, so the potential for blowing up the photos will be greater. We'll see. It all depends on the sales of my novels.
In the meantime, enjoy the bird.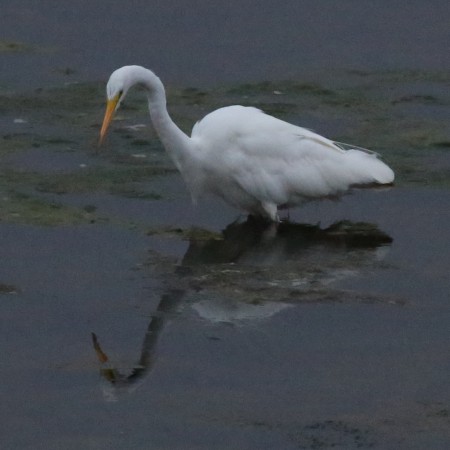 In this one, it's looking into the water…
…and literally two seconds later it's pulled something out and is swallowing it. You can still see the water droplets flying through the air. I wish I'd caught it with the burst mode because I may have caught a shot of what it was eating.