Thursday, April 3rd, 2014
New York City celebrated the 250th anniversary of its St. Patrick's Day Parade this year. So, why do I hold this day in my "Warm Memories" file? To answer that question I will introduce you to Virginia Lee Blunt — my mother. She was, by far, the most adventurous, determined, courageous person that I have ever known. When she decided to do something, she moved forward and did it, without reservation. In October of 1954, her long-standing application for an apartment in a recently-constructed housing development (which gave initial preference to World War Two veterans) was approved. We had recently moved from Long Island, New York, and were living with friends in one of Boston's neighborhoods — Roxbury. The new development was only about two miles south of where we were living, so moving would be easy, and we would still be close to our friends in Roxbury. Boston, like many other large cities in the 50s and 60s, was divided into ethnic neighborhoods. Moving from one neighborhood to another often involved moving to an area populated by folks with different ethnic roots. To many of my mother's friends this was cause for concern. My mother's only concern, however, was how much rent she would have to pay to live there. Her response to the folks issuing these warnings was: "During the war we all lived, worked, fought, prayed together as soldiers. Now we are going to live together as war veterans, and mend our lives. There won't be time for anything else." Most of these "Nervous  Nellies," as my mom called them, were well- meaning friends who eventually got the message and realized that my mother had made up her mind and that pressing their concerns was pointless. After one of these conversations, she announced to me, "Next year (1955) we are going to take the train to New York City and watch the Saint Patrick's Day Parade. We will watch the parade with people that are the same as our new neighbors."
I figured that the parade would probably be okay, but I loved riding the train; that would be enough to keep me happy. The parade was long, and the weather was a little chilly (in the mid 40s) with a light wind blowing. But we had a great view of the marchers as we stood on the steps of the Metropolitan Museum of Art. This was perfect weather, according to my mom who seemed to be impervious to cold. I often wondered if she was part snow woman. During the parade, my mother's main concern was not the chilly weather or the long wait. She was worried that the very big, slightly tipsy man standing next to me was going to lose his balance and fall in my direction. Fortunately that never happened. We had a good time watching the parade. I had a better time eating dinner on the train on the way back to Boston.
In the years that followed, we often watched the Boston Saint Patrick's Day parade near the corner of West Broadway and D Street. That parade was always fun to watch because every year Saint Patrick's Day is held on a holiday in Boston — Evacuation Day. So, why is that a holiday in Boston? On the days before March 17, 1776, George Washington was able to covertly place fortifications and 200 cannon on Dorchester Heights, which overlooks the city from the south. When British General Sir William Howe discovered this, he immediately realized that his stronghold in Boston was indefensible. He quickly evacuated the the city with 11,000 British troops and 1,000 loyalists, and fled to Nova Scotia. Boston is part of Suffolk County, the only county in the state that observes this day as a holiday.
Well, I discovered later that going to that parade was my mother's way of demonstrating that people can live together and have fun together. My mother's decision to move from Roxbury to a new home in Dorchester, and to take me to the 1955 Saint Patrick's Day parade in New York City has, as I see it, showered the Blunt family with nearly six decades of positive rewards.
Pictured below my mother is my daughter, Sarah. Often, when having a conversation with Sarah, I have to pinch myself in order to focus on the reality that I am talking to my daughter, and not my mother.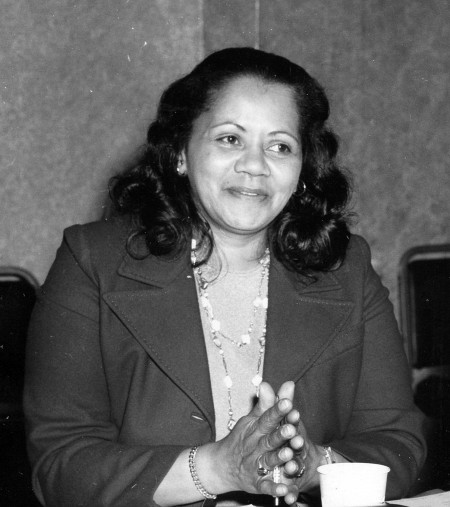 Virginia Lee — The original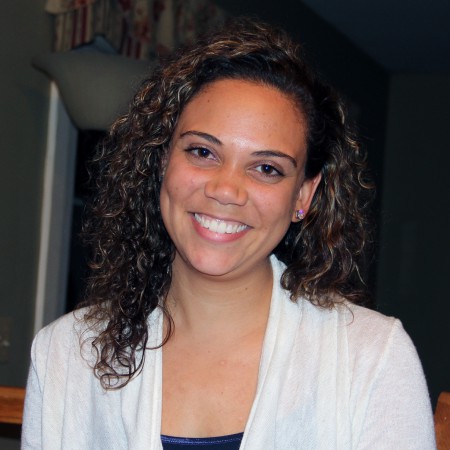 Sarah Ann — Virginia's granddaughter — A duplicate of the original, possessing the same determination, courage and stubbornness.
The High Cross Memorial In Hartford
 Connecticut is home to many symbols placed to inform visitors and residents of significant events in past history. One such symbol stands on Hartford's south side. It is a replica of a Celtic High Cross. This cross was erected as a memorial to 10 Irish Republicans who died while participating in a hunger strike in 1981. The strike was led by Bobby Sands, a volunteer in the Provisional Irish Republican Army and a member of the British Parliament. The grandfather of one of my childhood friends often described these delicately carved crosses that still dot Ireland's landscape. He was a remarkable man who constantly shared knowledge of his homeland. Every time I go past this spot, I recall his remembrances. What makes this High Cross Memorial fascinating is that it is the only reminder of this unfortunate event that took place in this country.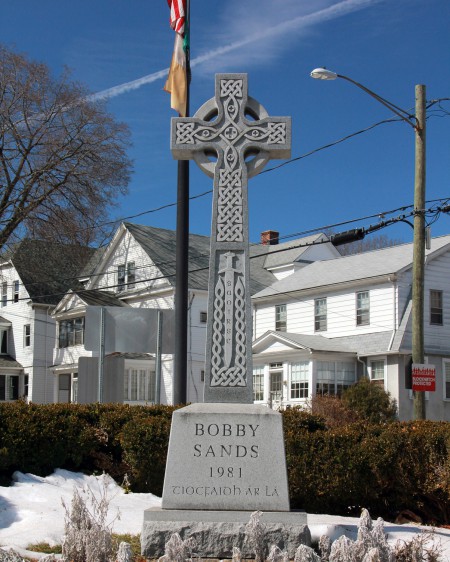 The Blunt And Duffy 1963 Camping Adventure
Below is a photo of my lifelong friend Dave Duffy and me in our early twenties. We are enjoying a cup of coffee with two new-found friends that we met in northern Maine in 1963. It was a very hot day in the middle of August and we were trying to reach Baxter State Park before the sun went down, but the heat of this hot August day was taking its toll. We stopped at a small store and asked the owner if he could direct us to a reachable camping site. He told us that there were no camping sites nearby, but Great Northern Paper Company had cut a logging road into the forests to harvest trees. To make the long trip out of the logging area easier, the company built rest stops for their truckers along that road. He said the traffic on that road was slow in August, and we could possibly find a nice spot to camp and fish. After a long dusty ride along that road we found paradise — The Unknown Lakes. We spent the rest of the week camping, fishing and visiting with two new friends who were supervisors with Great Northern. They owned a small farm further north and camped in this area every weekend during the summer. I returned to this spot every summer for about 10 years. Dave and I still talk about that camping trip and the great time that we had.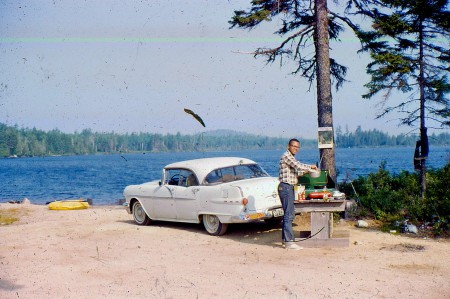 Me and my 1955 Powder Blue Pontiac. In the background is the middle Unknown Lake.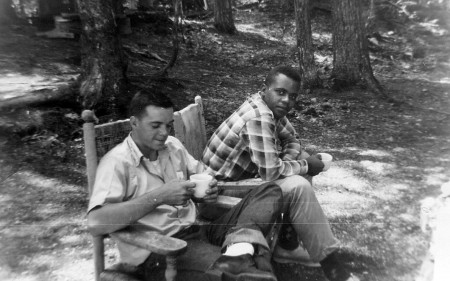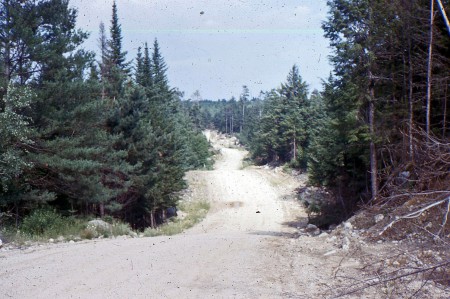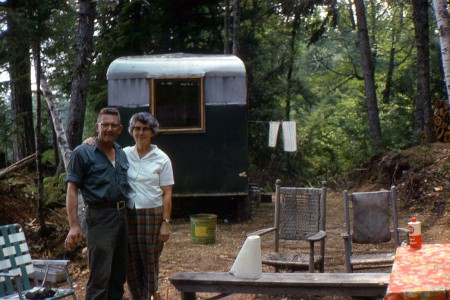 Below is a photo of a group that bonded as friends over 55 years ago. The picture was taken last May, at a reunion of families from the Franklin Field Project in Dorchester, Massachusetts. This is a place that we still call home with pride. I am sure that this photo would bring a warm smile to my mom's face.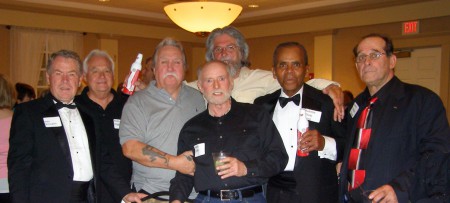 The Great Hunger Museum In Haddam, Connecticut
From 1845 to 1850, Ireland was devastated by a fungus that infected its potato crop. The famine that resulted  killed over a million people from starvation, and forced two million more people to emigrate from the country. In 1997, John L. Lahey, President of Quinnipiac University in Connecticut, served as Grand Marshal of the New York City Saint Patrick's Day Parade. To commemorate the 150th anniversary of Black 47, the worst year of the Irish famine, he made it the theme of that year's parade. He continued this effort by making many public appearances and giving many speeches on The Great Hunger. These speeches caught the attention of the late Murray Lender, chairman of the Board of Trustees at Quinnipiac University. With the support of the Lender Family, a collection of art, research and educational materials on the Great Hunger was established at the University. This collection quickly grew in quantity and quality. The decision was made to give this marvelous collection a building of its own. In 2012, the Great Hunger Museum opened to the public. The museum art graphically illustrates a dark period in history, filled with hardship, sickness and death. But the museum is by no means a horror show. It is bright, warm and comfortable. The artwork is set up in a manner that is informative, and is softly accented by natural and artificial lighting. Below, I have included a link to the museum website where you can get detailed information on activities at the Museum and its growing art collection. http://ighm.nfshost.com/
Quinnipiac University has marched in the New York City Saint Patrick's Day parade for more than 20 years. In 1997, when John Lahey was Grand Marshal, the contingent was more than 1,000 marchers.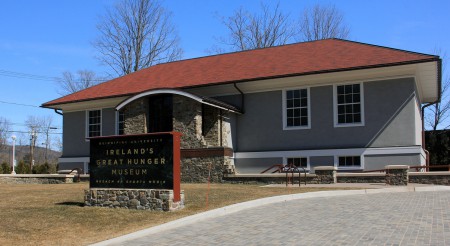 Interested children watching a video slide show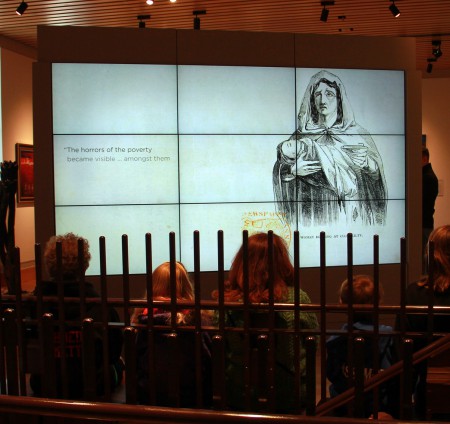 Below is sampling of some of stunning art work featured in the museum collection.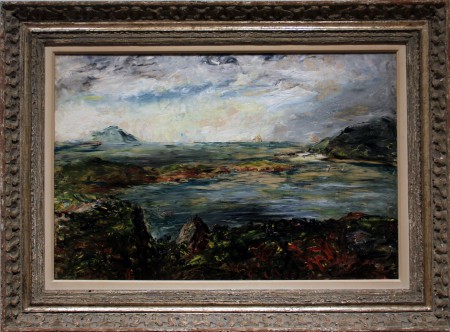 Derrynane by Jack B. Yeats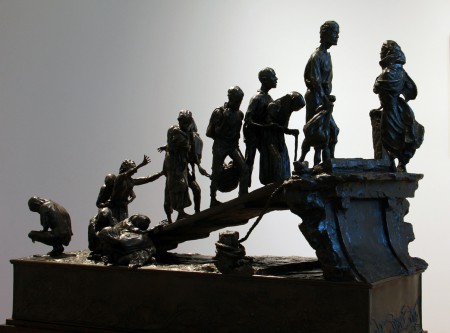 The Leave-taking by Margaret Lyster Chamberlain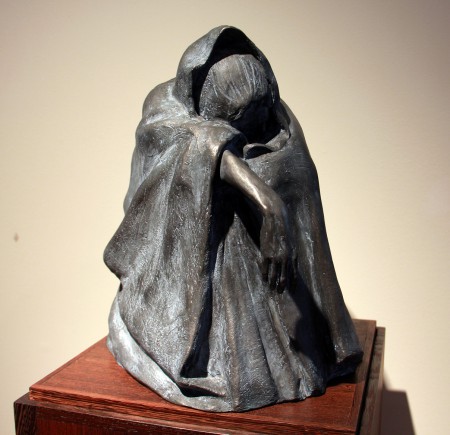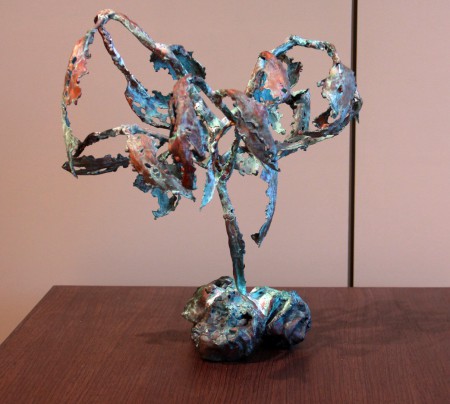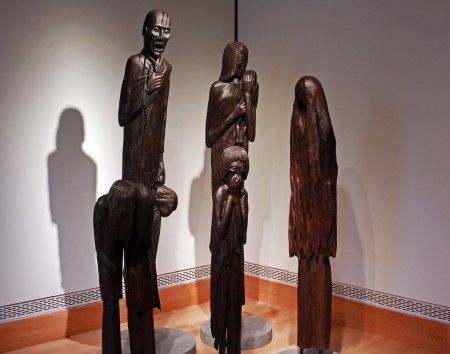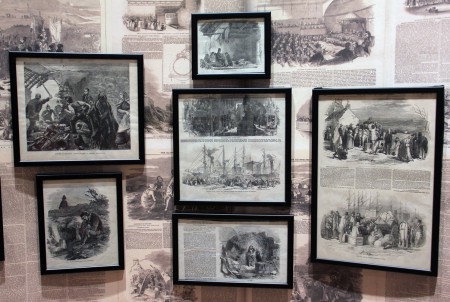 Newspaper accounts of the famine.
The most comprehensive accounts of the grim realities of the famine was recorded in a relatively new medium — mass produced newspapers. In this medium you can find the most comprehensive account of the famine. The museum has a room devoted to some of these accounts. The magnificent art collection and the warm friendly atmosphere of this museum has made it a top selection on my frequent visit list.
In spite of the continuing cold weather, the Connecticut and Farmington Rivers are showing signs of the annual American Shad Run. Sarah and I are planning to go shad fishing in a couple of weeks. With luck I will have photos and facts to share with you in my next post.