Thursday, October 18th, 2012
I'm getting antsy. I'm trying to get two of my own novels ready to put up on Kindle and to also produce paperback copies of each on Amazon's Create Space, or whatever they call it. So, to relax, I take drives with Chloe (my Canon 5D Mark III camera) and my Canon EF 70-200mm f/2.8 L IS II USM lens. A few hours ago, I also asked my friend, Christine Mack, to go with us. Christine likes Chloe, but Chloe's not so sure about Christine.
Somehow, the drive took us up Jerry's Flat Road, leading inland out of Gold Beach, Oregon, on the south bank of the Rogue River. When we reached Lobster Creek, we pulled into the campground and drove down to the boat launch ramp.
Christine saw the heron in the water, near the shore, first. We were out of the car in a flash. (Christine has incredible observational skills and has often seen things I'd like to photograph long before I do. In fact, without her, I may not see many of them at all.)
I was surprised the heron hadn't already flown away because there was a boat at the end of the ramp with three people in it. But I caught on quickly: They were fishermen and they were cleaning and fileting their catch and they were feeding the scraps to the birds that had flocked around. This included the heron.
By the time Christine and I were getting down to the the water, the heron was walking away along the shoreline. That's why I couldn't get better photos of it. And, because they are inherently skittish and it already had its piece of fish in its beak (that the salmon-colored thing hanging out of its mouth), it flew across the Rogue to get away from us. But, not before I got some photos.
All of these were cropped for the blog.
Shutter speed 1/1000     f-stop 7.1     ISO 500     focal length 200mm
Shutter speed 1/1000     f-stop 7.1     ISO 640     focal length 200mm
Shutter speed 1/1000     f-stop 7.1     ISO 400     focal length 200mm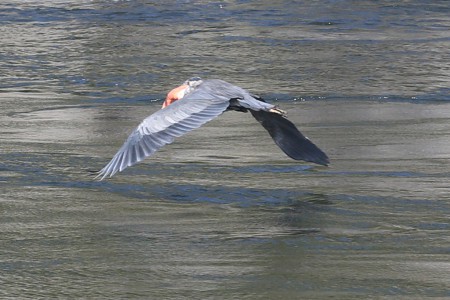 Shutter speed 1/1000     f-stop 7.1     ISO 500     focal length 200mm
Shutter speed 1/1000     f-stop 7.1     ISO 250     focal length 200mm