Sunday, March 31st, 2013
Travelers in New England often come across symbols that are placed to inform visitors to the area of a significant event in past history.  Unfortunately, many of these important symbols are missing from popular visitors' guides; as a result, they often go unnoticed by an uninformed local passersby or an out-of-town visitor. One such symbol sits  in a very visible location on Hartford's south side. It is a replica of a Celtic High Cross which is recognized by the distinctive ring that joins the shaft to the cross bar. In medieval times these delicately carved stone crosses dotted Ireland's beautifully rugged landscape. Their characteristic imagery often served to commemorate an important person or  historical event. The  Hartford cross is a replica; a cross must be at least 800 years old to be a High Cross. It was erected as a memorial to 10 Irish Republicans who died while participating in a hunger strike in 1981. The strike was led by Bobby Sands, a volunteer in the Provisional Irish Republican Army and a member of the British Parliament. The hunger strike was meant to be a protest against the removal of their Special Category Prisoner status. This designation identified them as political prisoners, rather than criminals, and would greatly improve their treatment from prison officials.
The debate over the events in Northern Ireland is still ongoing  in Hartford and many other parts of this country.  What I find fascinating is the fact that this Memorial on the corner of Maple and Freeman streets in Hartford is the only reminder of this unfortunate event that exists in this country.
Connecticut is dotted with interesting symbols like this. Many of these are unseen by visitors to our state because they are seldom promoted in travel flyers. In future posts I will share some these  often unseen marvels. They can be found in towns all over this state, and most are free. We will begin with artist Carl Andre's controversial 36 rock stone sculpture in Hartford, and move on to some unique painted roadside rocks that can be found in many parts of the state.
A Celtic High Cross (replica) In Hartford, Ct
The inscription on the shaft is Irish for "Freedom."
The one on the base is Irish for "Our Day Will Come."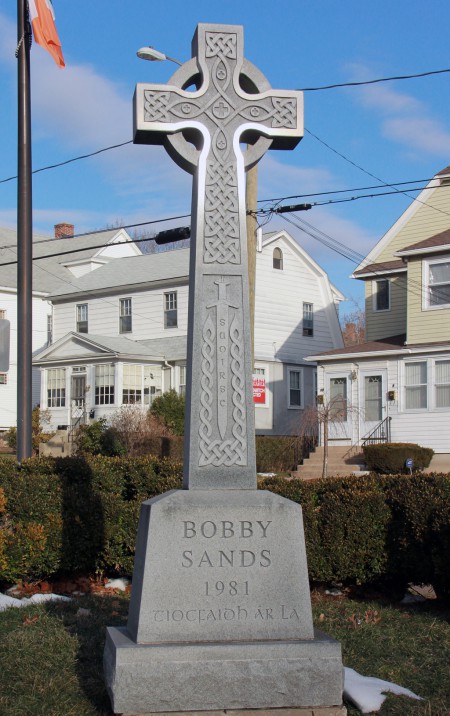 Inscribed on the back of the base are the names of nine prisoners that died  of starvation along with Bobby Sands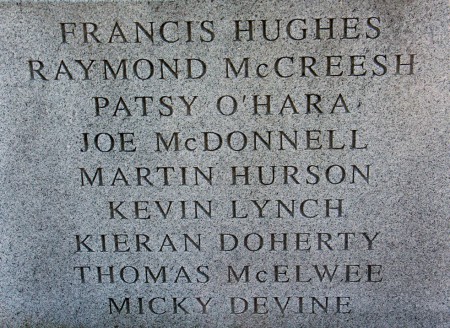 All around this country, the month of March is highlighted by the grand celebration of the birthday of St. Patrick — the most recognized of Ireland's patron saints. I grew up in a neighborhood that many Irish families also called home. Saint Patrick's was, without a doubt, a holiday that often overshadowed New Year's and July 4th. However, when this joyous holiday had passed, many Irish families continued to focus on their beloved homeland, especially the older generation. I went to school and played with the kids from many of these families. Many of these friendships have survived the test of time and are enjoyed today. Often we were present when adults were discussing Ireland's past history.  Most often these conversations remained lighthearted, with folks reminiscing over  recent vacation trips to Ireland, or whose mother, aunt, or uncle was lucky enough to kiss the Blarney Stone while there. But on occasion,  conversations would become quite somber and turn to more troublesome times in Irish history. The ongoing struggle  for independence and the catastrophic Potato Famine usually dominated these conversations. Sometimes we would stay and listen  but we soon became bored with the gloom and would ask for permission to leave the room. We would then head for the basketball court or start a game of half ball in the back parking area. (I will cover the game of half ball in another post.)  It wasn't until we grew up and moved out into the world that the significance of all of this hit home. I have never forgotten the sadness that filled the room during these conversations, especially those that included the Potato Famine, which killed  over a million people between 1845 and 1852. Last October Quinnipiac University opened Ireland's Great Hunger Museum in Hamden, Ct. I recently had the privilege of visiting the museum and photographing its extraordinary art collection. The museum houses the largest collection of art and sculpture relating to the Potato Famine and the devastation that it left in its wake. Its stated mission is to educate people all around the world about this horrific period of Irish history. After touring the museum without my camera, I decided to take photos of the art work that had the greatest impact on me. At an early age I listened to many horror stories about the "coffin ships," and was impressed with the ability of the various artists to radiate this message with their art work. I left the museum with an understanding of this dark time that listening to stories could not give me.
The notes that I use to introduce each piece of art are not my own words; I have simply paraphrased  the notes for each work from the museum catalog. A visit to the museum is the best way to experience the vivid message that its art presentation conveys.
www.ighm .org will take you to the Museum's web site where you can view more images of the art work, and read complete descriptions of each piece.
The Great Hunger Museum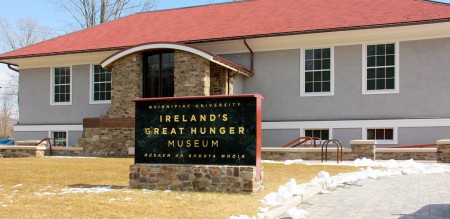 2012—An Gorta Mor— Robert Ballagh
An Gorta Mor (Irish for The Great Hunger)
On the left side of this three-panel work, the potato plant flourishes. On the right side it has been infected with blight. A simple narrative, telling a complex story.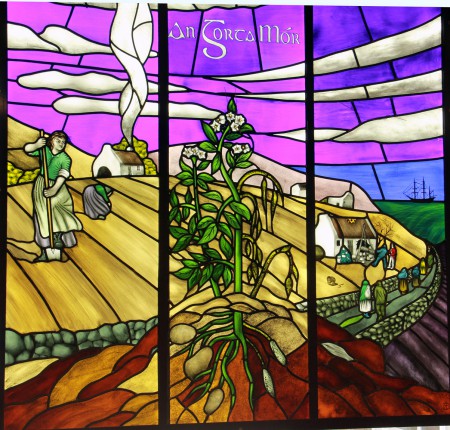 Burying The Child—Lilian Lucy Davidson
The color blue is applied to this oil on canvas painting to heighten the sense of tragedy experienced during this unfortunate time.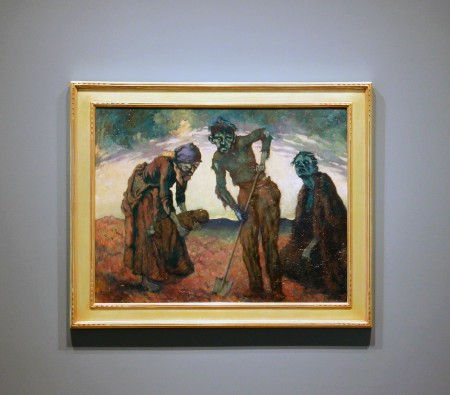 1849—Bridget O'Donnell  and the Children—James Mahony for The Illustrated London News
In the narrative that accompanied this bronze piece, Bridget tells a sad story of land seizure, eviction, and cruel treatment that led to her delivering a still-born child.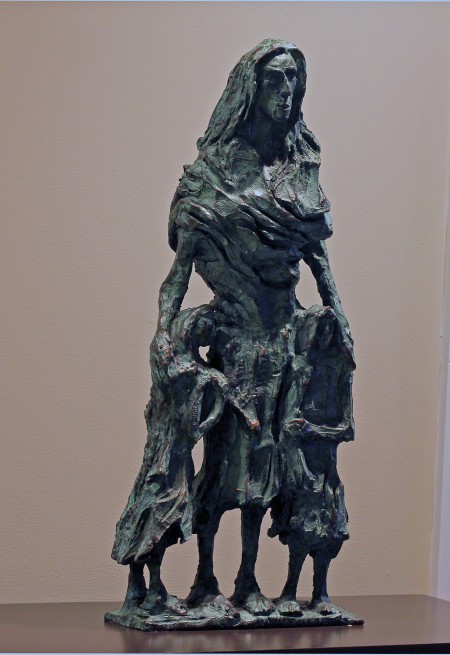 Cast in 1998—The Victim—Rowan Gillespie
This bronze figure represents each one of the millions that died from starvation, disease, or were forced to emigrate. The scale of the figure, which has been stripped of all that it had, shrivels inward, in contrast to the enormity of the horror that surrounds it.
Famine Cart—John Behan
The famine cart drawn by an animal near death itself, illustrates how many of the dead were carried to the grave.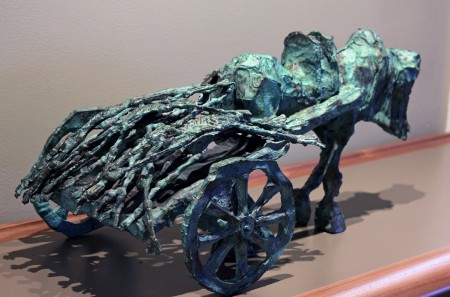 2000–Famine Ship— John Behan
This is a scaled down version of the original bronze work which is 26×20 feet. The three masts rise above the deck like the crosses  on Calvary.  The rigging is entwined with the flattened bodies that represent the people that died on ships like this.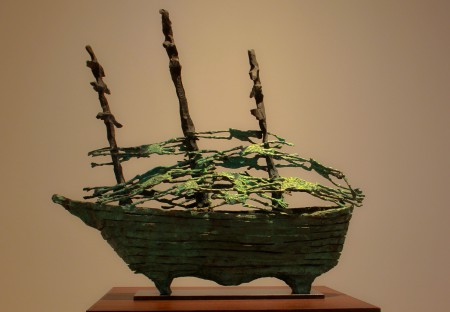 2000—The Leave Taking—Margaret Lyster Chamberlain
This 16 figure bronze was commissioned by Quinnipiac University to depict the beginning of a difficult voyage that was not one of choice. Here the shrunken and starved board the ship with their meager possessions.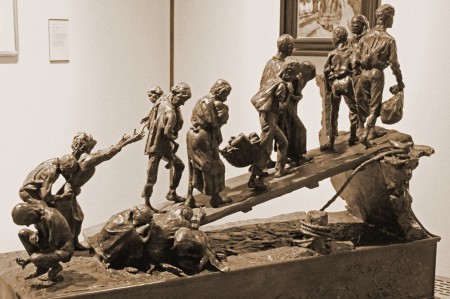 2000—The Arrival — The New Dawn—John Behan
This cast bronze was commissioned by the Irish Government and presented to the Secretary General of the United Nations, Kofi Annan. It is sited on the plaza of the United Nations headquarters in New York. It depicts about 150 survivors as they disembark by the East River in New York to begin a new life.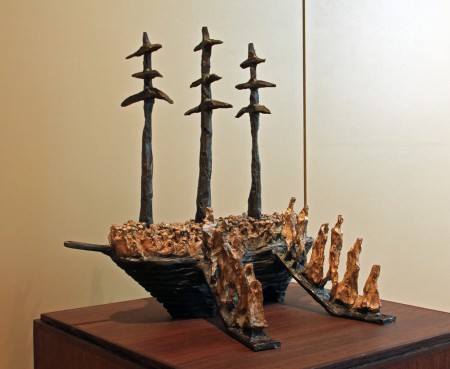 This is the preliminary model of the Great Hunger Memorial in Westchester, New York, crafted by Eamonn O' Doherty in 2001.
It depicts an Irish family leaving their homeland to travel to America on one of the dreaded "coffin ships."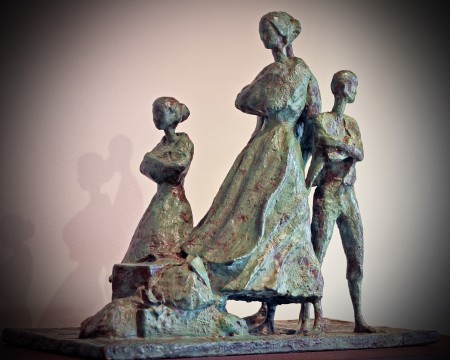 Famine Funeral—Welded Bronze and Brass by John Coll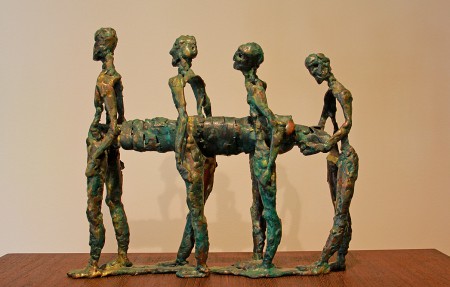 2010-2011— Surplus People—Kieran Tuohy
Five Figures Carved From Black Oak
This work represents a  desperate family, barely clothed, with no food and nowhere to turn for help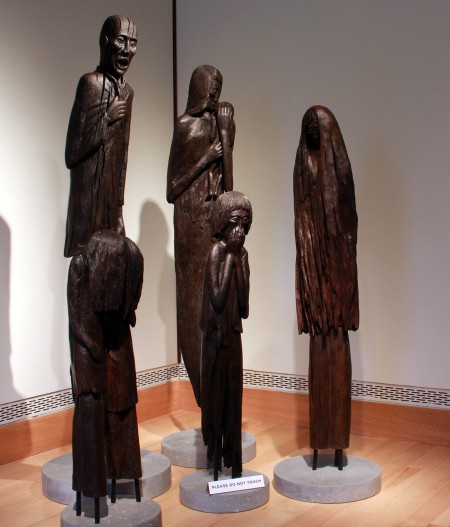 2005 —Thank You To The Choctaw Tribe—Kieran Tuohy
In the fall of 1831, President Andrew Jackson ordered the removal of the Choctaw tribe from their ancestral lands in Georgia to a place known today as Oklahoma. They were the first tribe to be forced to travel 500 miles, in mid-winter, along the Trail Of Tears. Nearly half of the 21,000 people that began the trek died from exposure, hunger, and disease. Sixteen years after this horrific march, the Choctaws learned of people starving to death in Ireland. Having suffered similar suffering and death on the Trail of Tears, they felt a great empathy when they heard a similar story coming from across the ocean. From meager resources they were able to collect 170 dollars in  donations, which was sent to assist the Irish people. This work is crafted from hard black oak from forests in Ireland. The piece is fashioned in a totem pole-style narrative and tells the story in traditional Celtic fashion.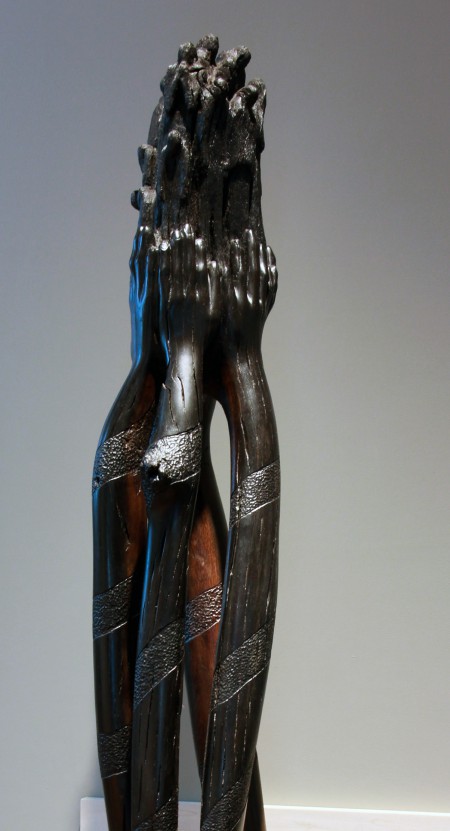 In the mid 1950s, my mother and I moved into a newly-constructed housing project, built to provide housing for World War Two veterans. My mother was in the army, stationed at Fort Devens until 1943.  The project was built in one of  Boston's largest melting pot neighborhoods with a very diverse population. Our immediate neighbors were Irish, Jewish, and Italian. The housing project was divided into mini-neighborhoods that the residents called "courts." I was fortunate enough to develop and maintain lasting friendships with nearly all of the families in my "court," which contained, I would guess, about 100 families.
Below are photos of four men that have been the ongoing inspiration for my interest in Irish history. Beginning at an early age, I sat for many hours  listening to stories of sad and happy times told by the parents of these and other Irish friends. For the past 25 years I have celebrated Saint Patrick's Day by digging through the dozens of photos of these long-time friends and recalling the fascinating stories that were shared with me so long ago.
Friends for 60 Years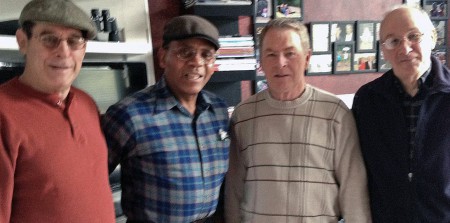 From the left: Charles (Ken) O' Connor, Me, Michael (Mikey) McLaughlin, and Robert (Bob) Graham
Here we are about 100 years ago
Charles (Ken) O' Connor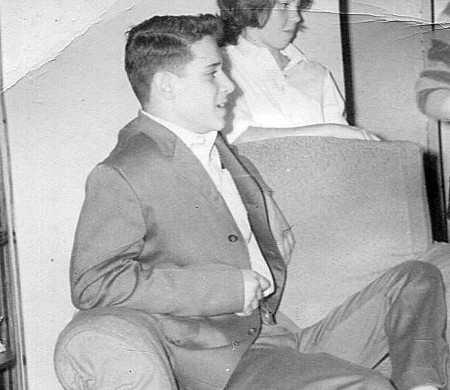 Richard (Butch) Blunt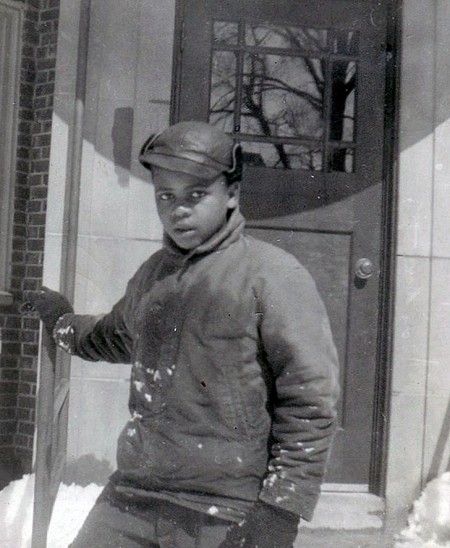 Michael (Mikey) McLaughlin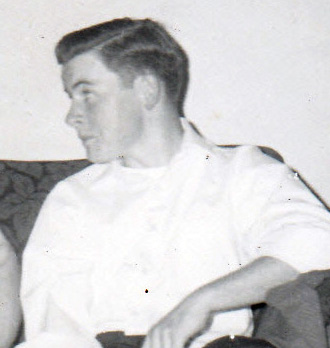 Robert (Bob) Graham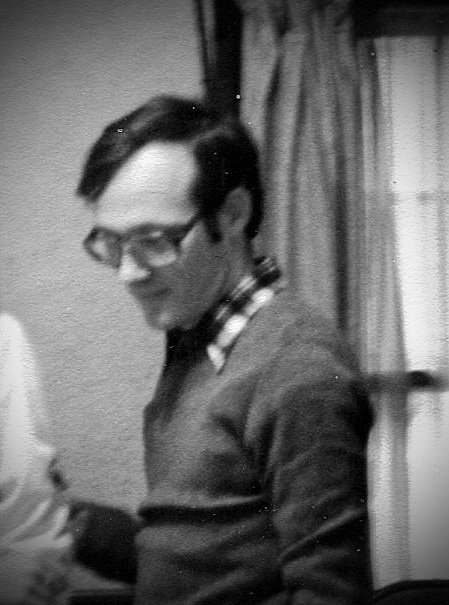 Dave Duffy
It would take many years of  blog posts to express my 55-year friendship with this man and his family. In this photo we are returning from one of our many flounder fishing trips in Boston Harbor's Quincy Bay.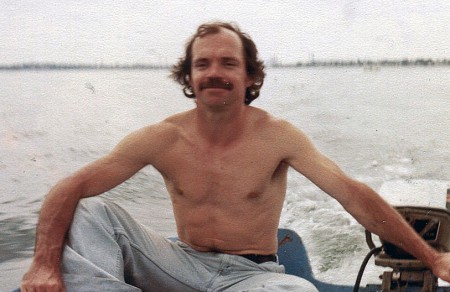 A  day's catch while fishing in the spring.