Tuesday, December 3rd, 2013
The Ballard Institute is a school solely dedicated to the art of puppetry. It is one of a small number of institutions where aspiring puppeteers  can pursue an advanced degree in puppetry. The museum and school of puppetry were founded by a world renowned master of the art of pulling strings, Frank W. Ballard. Ballard  joined the University in 1956 as a theatrical set and technical director. In 1965 he founded the University's puppet arts program, which he directed until he retired in 1989. It has been said that he and Jim Henson made puppetry a valuable tool of expression in this country. The University is one of only a few in this country offering B.F.A., M.A., and M.F.A. degrees in puppetry. Students enrolled in the program study all aspects of the art form, from the making and manipulation of puppets to playwriting, set and costume design, and music and movement. The program's students come from all over the world and are sought after to ply their craft in film, theater, and television. Shows like Avenue Q, The Lion King, and Little Shop of Horrors were either built or performed by Ballard Institute alumni. My son, Michael, is a resident artist at Shakesperience Productions, a Connecticut-based touring troupe for arts education. Recently, Michael worked with a talented puppet designer/fabricator, Travis Lope, a graduate of Ballard, in a production of  the Walt Disney classic, The Reluctant Dragon. Over the years, I have developed a deep appreciation for the talent of puppeteers.
While growing up, some of my favorite television shows featured imaginative puppet creations. My mother and I have many favorites: Bill Baird and and his famous puppetry sequence, The Lonely Goatherd, in the film version of The Sound of Music; the flexible fun puppets, Gumby and Pokey; and The Pee-Wee Herman Show with puppet cast members like Globey the Globe and Corky the Robot. My list is longer than space allows, but I must also list the favorites that are responsible for this fascination: Howdy Doody with Buffalo Bob Smith and Mr. Rogers and his puppet king, King Friday XIII.
The museum, in its present location, is small with limited but well-planned space for display. It will be moving soon to a more spacious and accessible location in the newly-developed Storrs Center in downtown Mansfield, just steps from the University campus. After the the move, I hope that the museum  will be able to display many more of its reported 4,300  classic puppets.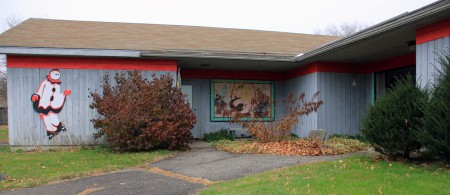 The Knight Hospital, Dark Shadow of the Past, On The UConn, Depot Campus
To most folks, the Depot Campus is home to the well-known Ballard Institute, but this campus has less colorful past history. Pictured below is what remains of the Knight Hospital. The hospital was part of a 350-acre campus known as the Mansfield Training School. The school opened its doors in 1917, and was considered an ideal place for treating people with mental disorders. When in full operation, the campus housed 1,800 residents and contained over 50 buildings. The Training School was closed in 1993, and many of the buildings were demolished. Some of the remaining buildings, including the hospital, became part of UConn's Depot Campus. Other parts of the Training School campus were annexed to The Bergin Correctional Center, a level-2 minimum security facility for male offenders.
In 1987, The Mansfield Training School was added to to the National Register of Historic Places. It has an interesting history that dates back to 1860. I will return to this campus and devote a separate post to this mysterious and fascinating place.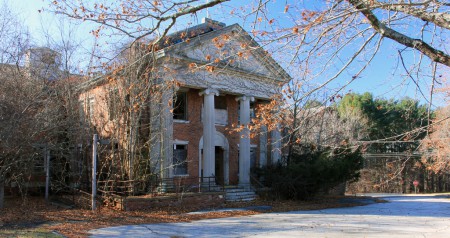 The Exceptional Puppet Master—Dick Meyers

Born on May 21, 1921, in Flint, Michigan, Dick Myers attended a marionette production of an English folk tale, Dick Whittington and His Cat. This performance set the stage for his successful career in puppetry. At age seventeen he joined Stevens Marionettes, a Midwestern leader in American Puppet revival, and trained with them for a short time. He left this company to study aeronautical engineering, acting, art, and dance. He returned to Stevens Marionettes at the end of the Second World War and applied his sophisticated technical knowledge to building custom sound equipment, designed to be used in contemporary puppet theater productions. During this period he continued working with his mentors at  Stevens Marionettes as well as Rufus and Margo Rose, the folks who first entertained him with Dick Whittington and His Cat when he was in grade school. By 1950 he had enough confidence to create his first production, a hand puppet show titled Magic Potion. It was so well received at the American National Puppetry Festival that he continued to perform Magic Potion for the rest of the year. Despite the positive feedback that he received for his shows, and the appreciation that other puppeteers had for his skill and technical ability, Myers continued to feel uncertain about his work. He once again left puppetry to pursue other interests. He returned to puppetry briefly in 1956 and began to develop his own style of rod puppetry. By 1966 he was ready launch his own show. His production, The Story of Dick Whittington's Cat, premiered at the 1966 National Puppetry Festival in San Diego. It was so well-received that an encore performance was requested. From there, Dick Myers went on to perform other rod puppet gems like Cinderella and Simple Simon. In 1983, Dick performed his last full-length show. He died on May 19, 2005. Classic examples of his dynamic puppets are currently on display at the Puppet Museum. For more information about Dick Myers and his creations, visit the web site at DickMyersProject.com.
To identify a Dick Myers puppet, look into the eyes.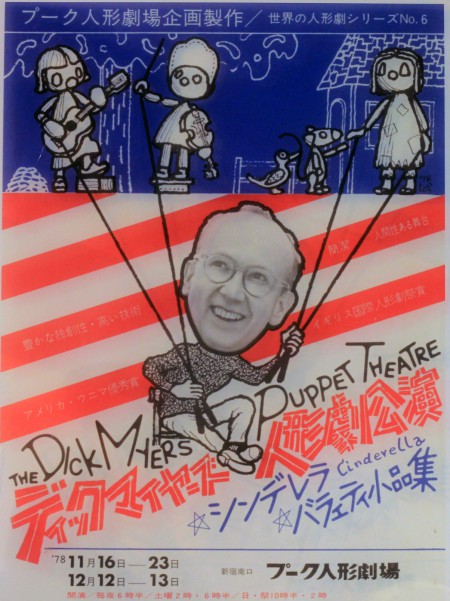 Demonstration Puppet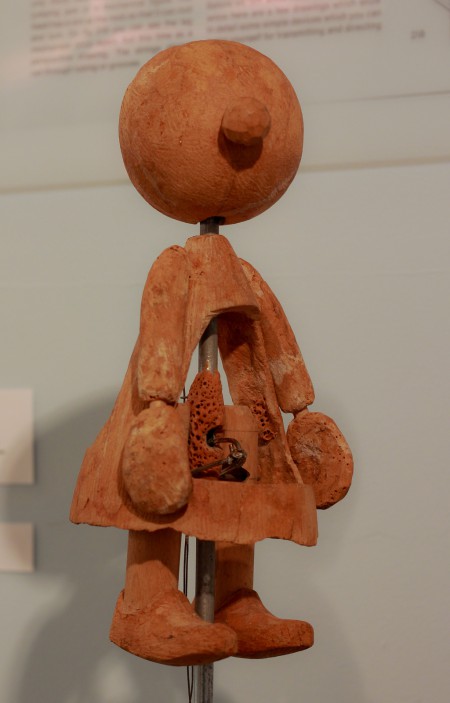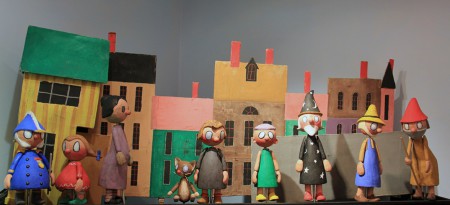 Simple Simon and The Pie-Man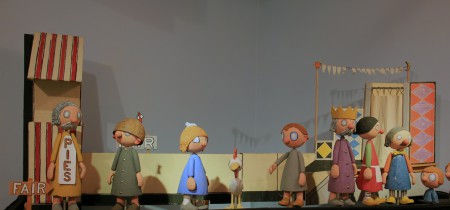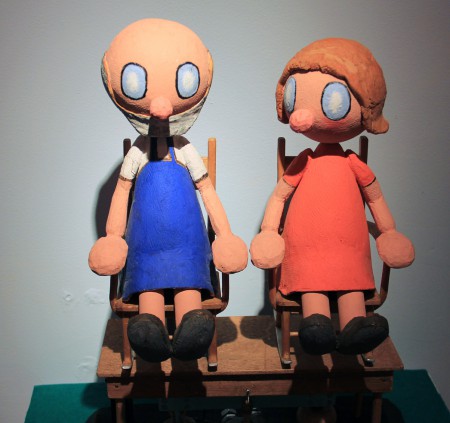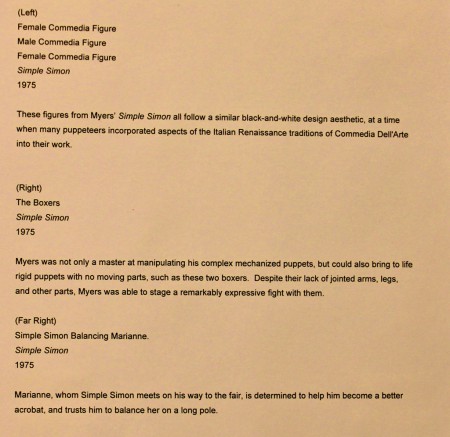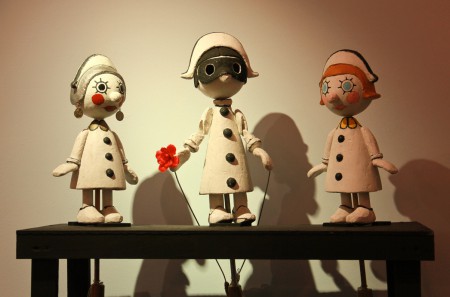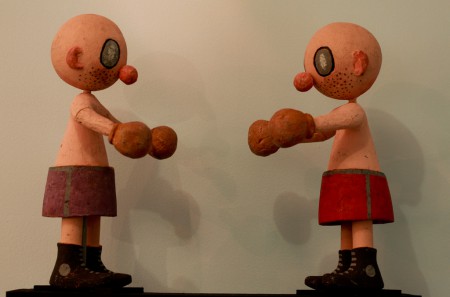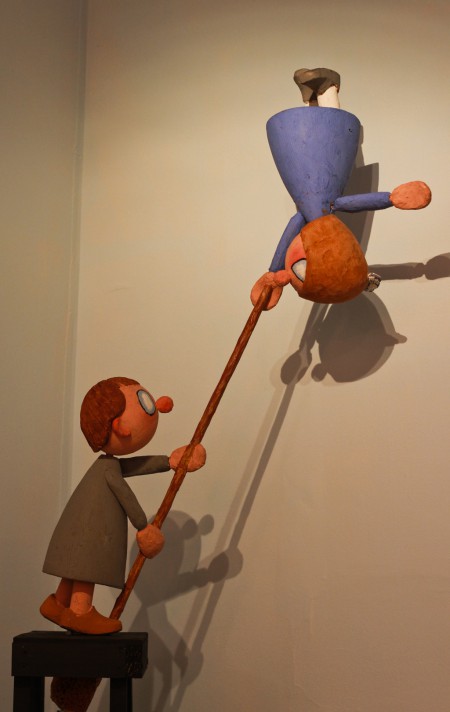 My favorite–The Baby William Band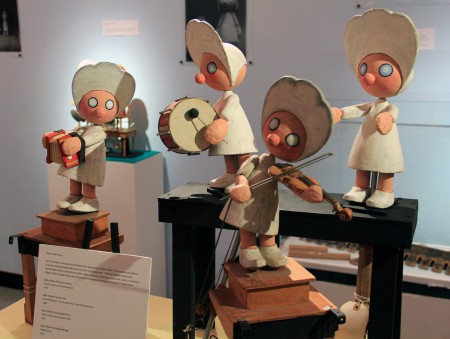 Divertissement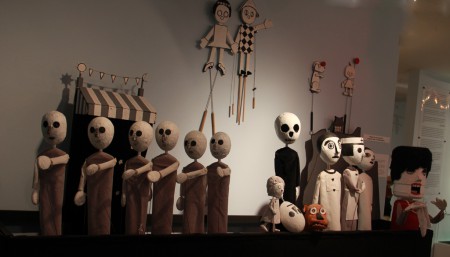 The museum features the works of many other artists. The photos below are just a sampling these works.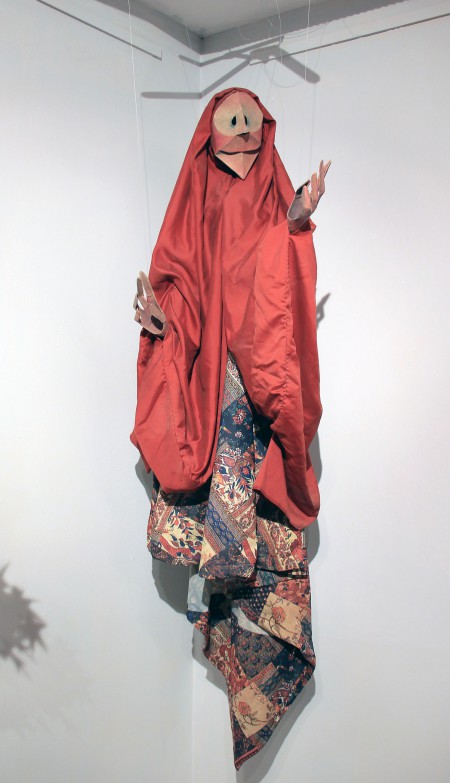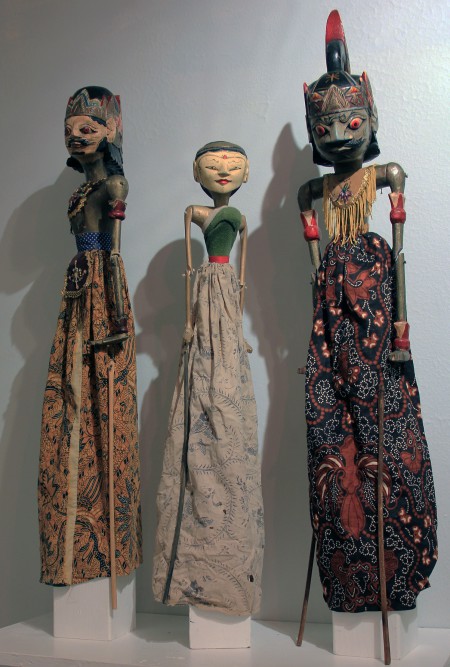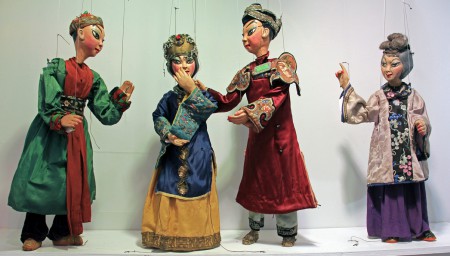 Peter and the Wolf