First off, Will kind of limped-dragged home a load of round bales recently — the wheel bearing on our hay transport had gone out. Now, our hay transport isn't one of those nice (and expensive) Notch transports. It's an old bus frame Will traded for some sawing lumber with our friend Mike. (It sat in Mike's woods so long a poplar tree had to be sawed off to get it out of there.) But, hey, it's done the job just fine up until now. The bearing had broken and parts had welded together as it got hot and generally made things a mess. It took Will two days of beating on a chisel against the 3½ inch nut, which had never been off there. Nobody had a socket that would fit it and finally Will pretty much welded up a socket to fit out of angle iron with a flat plate on top and a nut welded to that. The axle housing had distorted due to the heat so it was a terrible chore. But finally, today, it's close to done as he's working on getting the other side off so he can pack grease in that bearing. Luckily, our local O'Reilly Auto store had a bearing overnight that would fit. We were really surprised! (It's probably a 1950's International bus.) Meanwhile, I've been seeding out more tomatoes, canning more salsa, and harvesting dry beans like mad. It's supposed to rain tomorrow, and boy, do we need rain. Even my lilac bushes are wilting as I've been so busy with the gardens I haven't watered the front yard. (Yep, I did that this morning.) Whew! It's times like this I wish I were triplets.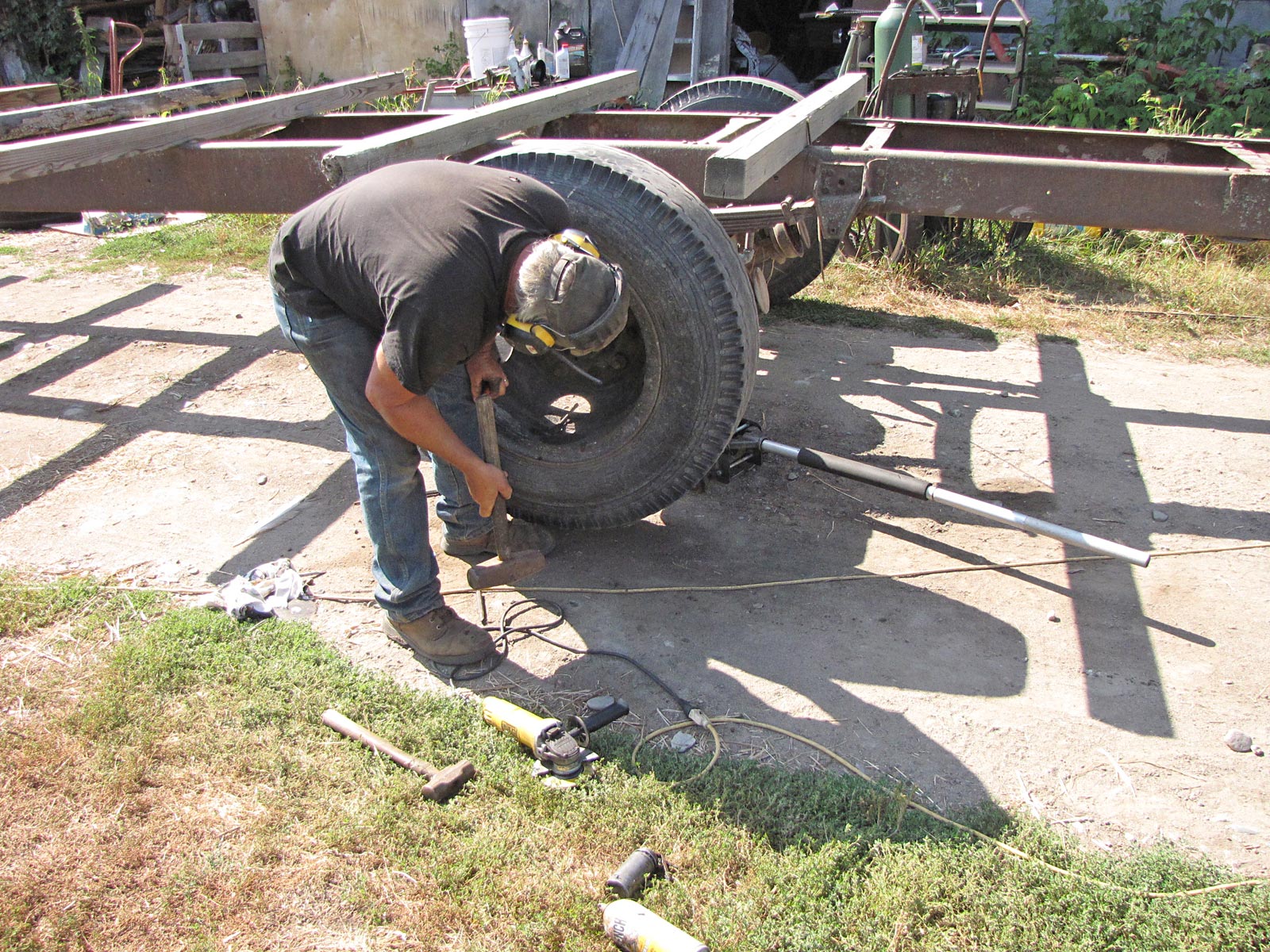 Our first big Bill Bean tomatoes are ripe so we're having BLTs tonight for dinner. I can't wait for that. And no I'm not saving their seed. I'm going to eat nice fat slices. Aren't you jealous?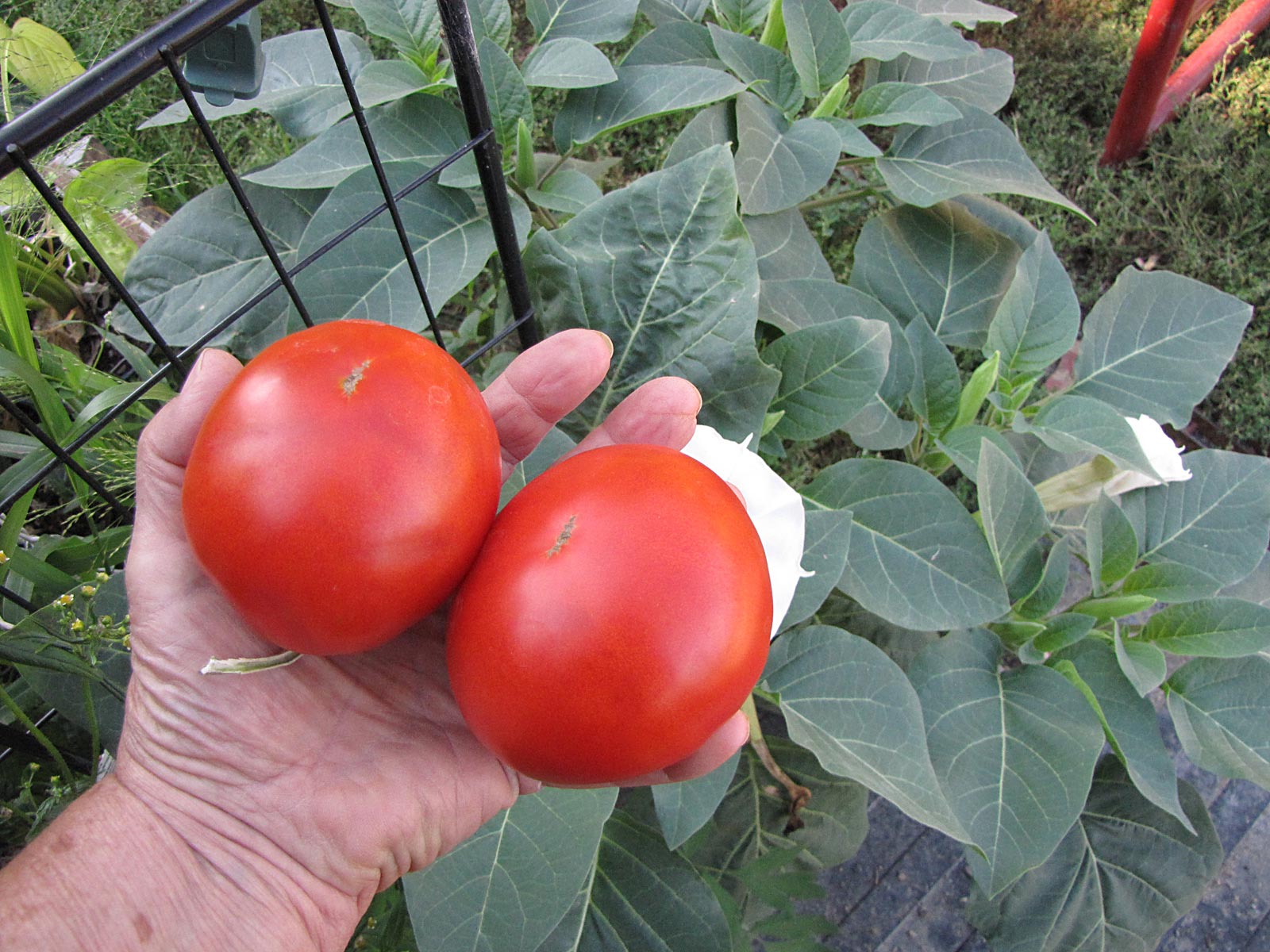 You know, I'm glad our dogs have been well trained. A few nights ago, Hondo started barking his "something is out there" bark so I let him outside and followed with a flashlight. Wolf? Bear? Coyote? Nope. Hondo ran immediately to the side of the storage barn and when I flashed the light over there, here's a SKUNK! Oh oh. Just then, Hondo saw him and I hollered "NO! Come here!" And he immediately turned and came — no spray. I was so thankful. I went for the .22, but when I came back out, the skunk was gone. And we haven't seen him since. Luckily, skunks are not commonly seen at our place and I hope this one moved on. They not only spray your dog and cat but will eat eggs and kill baby chicks.
I'm moving on from the Cowboy and Cowgirl Candy and tomato salsa to doing taco sauce as I'm full of the first foods on the pantry shelves. As the bulk of our tomatoes come in, I'll be changing over to spaghetti sauces and other tomato sauces where I use my Victorio Tomato Strainer. And boy, do we ever have the tomatoes coming on!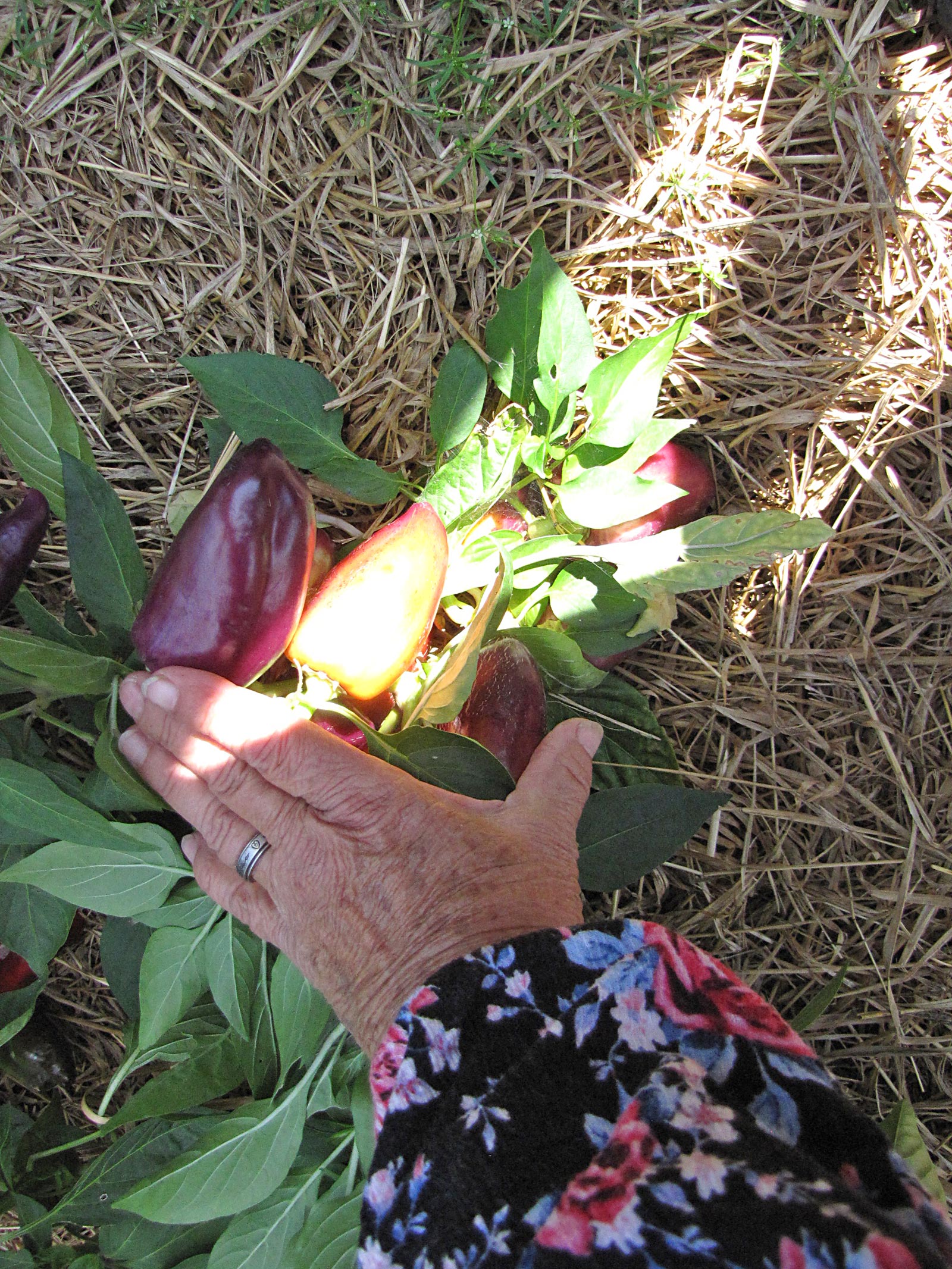 This morning I checked our Dragon Tongue bush beans and was pleasantly surprised to see they're ready to can up. We really love them. When I first planted and canned them, years ago, I forgot what variety they were (especially since the purple stripes fade away when they are canned). And for several years I tried every variety of yellow Romano type bean out there, it seems, looking for that wonderful, sweet, beany flavor. FINALLY I grew Dragon Tongue again and was thrilled. I've grown them ever since. They're our very favorites for making mustard bean pickles. If you've never tried them, they're a sweet-sour pickle sort of like honey mustard sauce — not mustard flavored. (If you'd like to try them, the recipe is in my book, Growing and Canning Your Own Food, available through BHM. We eat them like a side dish! — Jackie