Friday, July 4th, 2014
The Back Bay Fens is one of eight richly varied parks designed by Frederick Law Olmsted in the late 1800s for the City of Boston. These scenic parks stretch for seven miles from the Boston Common in downtown Boston, to Franklin Park in the Dorchester neighborhood. When the Fens was officially established in 1879, it was severely polluted and commonly referred to as, "the foulest marsh and muddy flats to be found anywhere in Massachusetts." Determined to find a solution to this foul-smelling problem, city officials turned to Frederick Law Olmsted, the father of modern landscape architecture, for help. Olmsted solved the problem by successfully combining sanitary engineering and creative landscape art. This unique combination resulted in a complete ecological restoration of the park. By connecting a series of brooks and ponds with a flow of fresh water from Jamaica Pond (another park in the chain) he created a creek known today as the Muddy River. The creek was originally designed as a brackish water flow and flushed out twice a day with the tides. In 1910, a dam was placed on the Charles river, turning the brackish water into a freshwater environment, which is now home to the Victory Gardens and a variety of other recreational opportunities, including a statue of Roberto Clemente, a right fielder, humanitarian, and baseball Hall of Famer. He was my mom's favorite baseball player.
The Richard D. Parker Memorial Victory gardens are located in the Fens along with other minor attractions such as Fenway Park. The Victory Gardens are as famous to avid gardeners as the Park is to baseball fans. At least, that is how my mother saw it. What else would you expect from a dedicated Pittsburgh Pirates fan?
During World War I and World War II, vegetable gardens were planted at residences and public parks in many countries around the world to supplement diminishing food supplies. These gardens were given a variety of names, including "war gardens" and "gardens for defense." In this country, the most popular term was "Victory Garden." During World War II, nearly nearly 20 million of these gardens were planted by Americans. Victory gardens produced nearly 40 percent of the fruits and vegetables consumed in this country during the war. In spite of objections from the Department of Agriculture, which feared that a victory garden movement would hurt the food industry, Eleanor Roosevelt planted a victory garden on the White House grounds. As time went on, many agribusiness companies, such as International Harvester and Beech-Nut (the baby food company), and the Agriculture Department began publishing basic how-to gardening booklets in support of the movement.
In 1942, the city of Boston created the Boston Victory Garden Committee. This committee secured 49 acres of land around the city to be used to grow food. The Back Bay Fens area was not wooded, so it was perfectly suited for gardening and needed little preparation for planting. The Boston Common and Public Gardens were also drafted for victory garden planting. After the war, Federal funding for victory gardens ended, so the city of Boston began entertaining options to replace the Gardens with something else. Pressure to replace the Victory Gardens became strong. Among the proposed replacements were two different high schools, a hospital, and a huge, butt-ugly parking lot.
 In 1944, one member of the original World War II victory garden committee, Richard D. Parker, created the Fenway Garden Society and launched a successful effort that saved the Gardens. Thanks to the dedication and effort of Mr. Parker, the Fenway Victory Gardens are now an official Boston Historic Landmark.
Today, the Gardens are very different than they were in the 40s and 50s. When I was young, my mother and I would hop on public transportation on Sundays during the spring, summer, and fall and head for the Fens to walk around the gardens. She was an army veteran, and loved these gardens because she understood how much of a contribution they made to the war effort. All of the gardeners were friendly and loved to talk about food and share recipes, which were two of her favorite pastimes. I am not sure how many garden plots were there back then, but today there are about 500, nurtured by nearly 400 gardeners. Unlike in the past, each garden has its own fence and gate. Elegant, creative floral gardens seem to outnumber vegetable gardens. Each of these gardens seem to reflect the personality of the gardener, and just how that gardener defines a successful garden. The popularity of these gardens is incredible. One of the gardeners told me that demand for these plots is so overwhelming that securing a free membership in a high-end country club is easier than securing a garden here. After talking to these dedicated and talented folks, I came away with the feeling that they consider it an outstanding privilege to have a garden in the Fenway.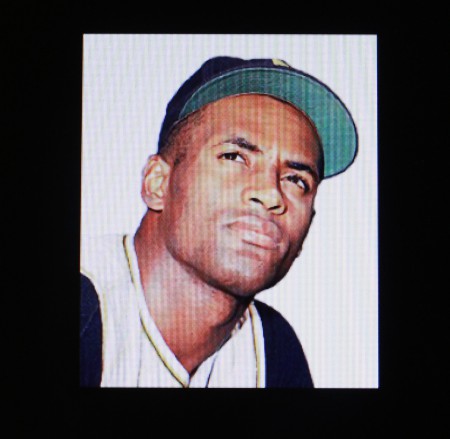 Roberto Clemente
This photo is posted in honor of my favorite baseball fan, in case she is looking down on all of this.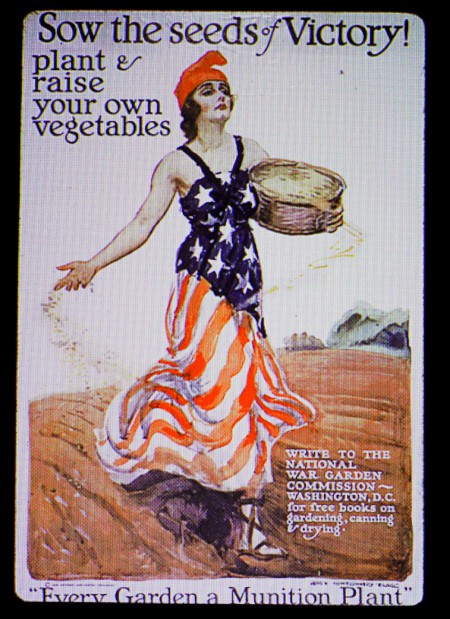 A WWI Victory Poster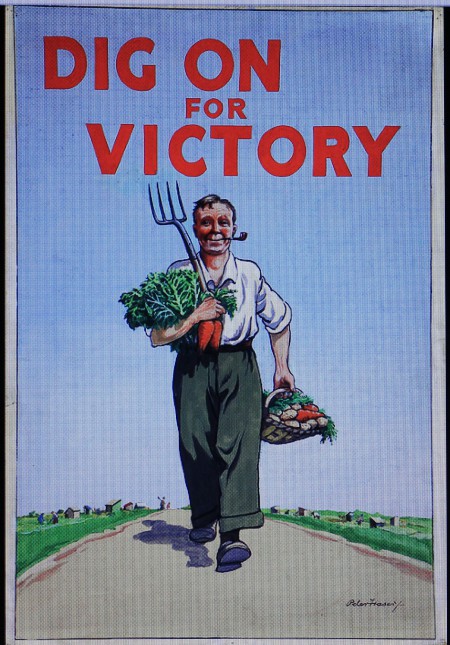 A British Victory Garden poster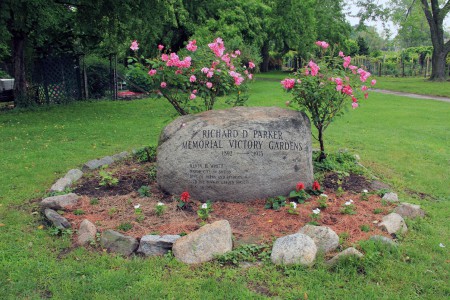 The Richard D. Parker Memorial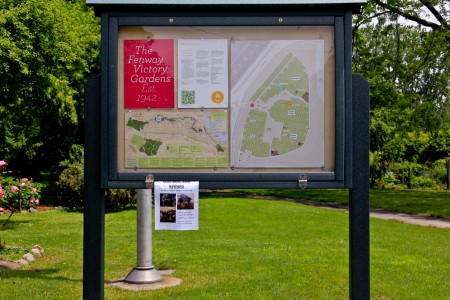 This billboard sports the original name of the Victory Gardens.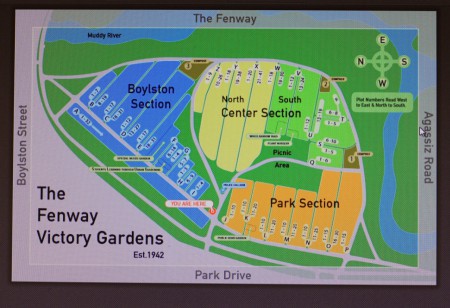 The Victory Garden Map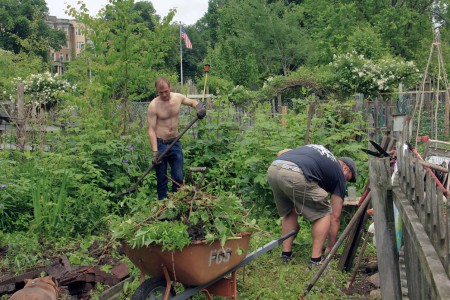 Even the executive staff must work to maintain a garden space at Fenway. The gentleman in this photo on the left is Tom Keller, Vice President of the Victory Garden Committee.
I entered the Gardens at the Park Street entrance. The photo below was shot facing north from inside the Gardens.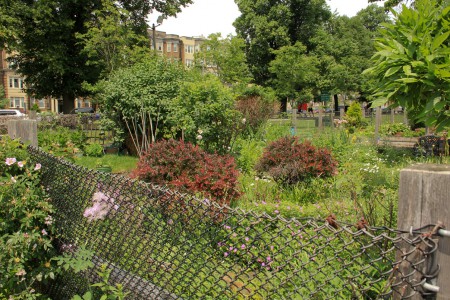 Parking in this area can be a real problem. On any day of the week, motor vehicles far outnumber the available parking spaces. My wife, Tricia, is sitting in the first black car in the front of the buildings in the distance. We were forced to park in a resident-only parking area, and she stayed in the car to be on the lookout for a tow truck. It is far better and easier to park in a commuter rail station outside of the city and ride the train in.
Meet Rick. He has been gardening on the Fenway for 27 years. His garden is creative and reflects his personal interpretation of gardening. As you can see, he is very comfortable with his creation. The photos below show different areas of his garden.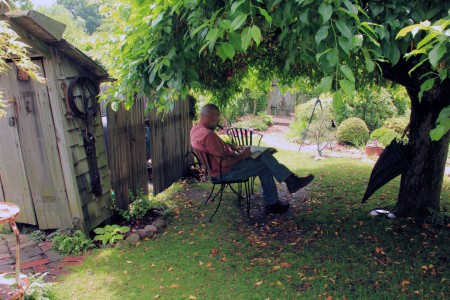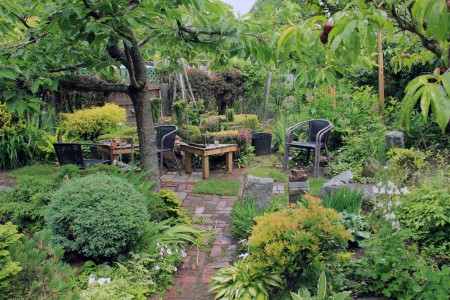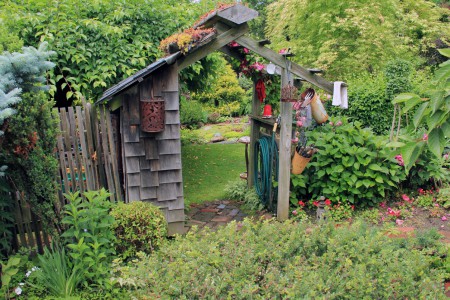 All of the gardeners that I met on this visit were extremely friendly and informative. All were willing to invite me into their gardens and explain what they were planting. Space considerations have forced me to limit the number of beautiful, creative gardens that I photographed on my visit. Planning a trip to Boston to visit and tour these gardens will be a worthwhile adventure; you will not be disappointed. I am planning at least two more trips during this growing season.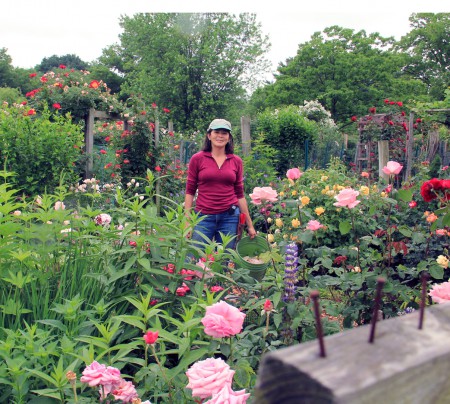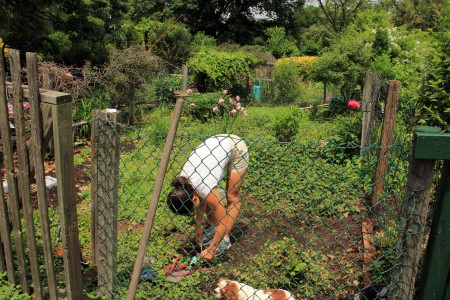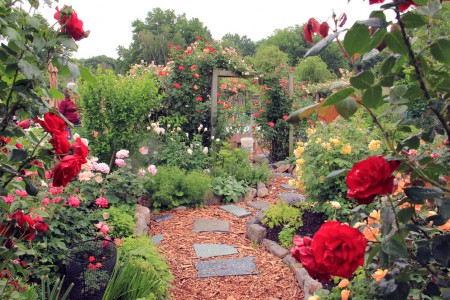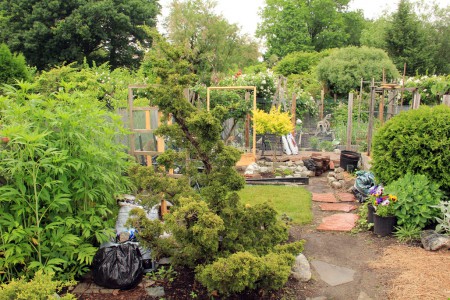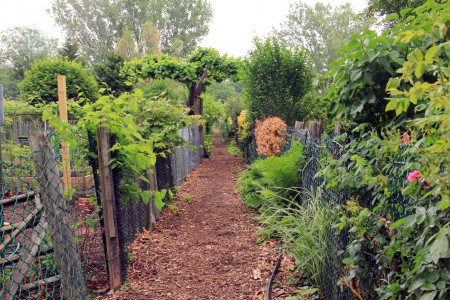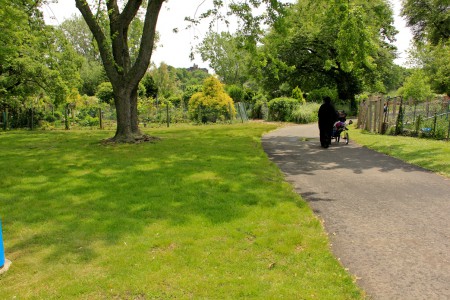 Access to all of the garden areas is easy following paths like this. These paths weave around and through the individual gardens, making touring a pleasurable experience.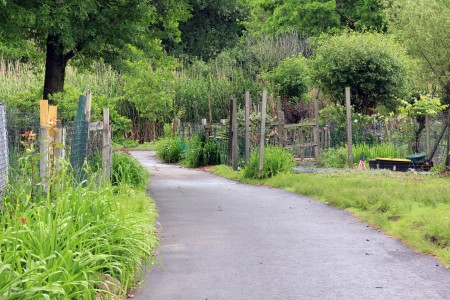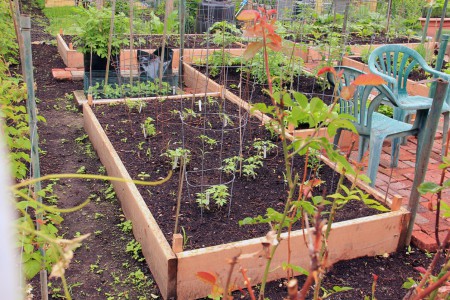 Small raised garden beds are very popular.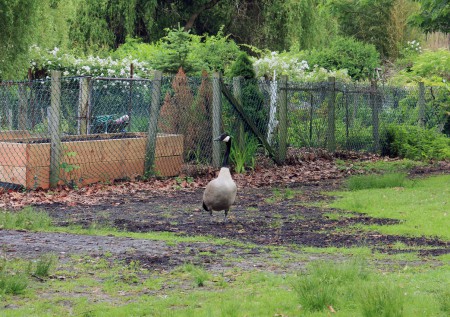 The gardens also attract an abundance of wild life.
Below is my 50 square foot garden that I have planted for the past 15 years. I live in an former lakeside vacation community, where the housing lot sizes are on the small. I am fortunate that this small area in front of my house receives 8 hours of sunlight daily during the growing season. The soil is 3 feet deep and is enhanced by composted tree leaves, dehydrated cow manure supplied by local farmers, and peat moss. When my mother and I fantasized about a garden, this is what we imagined.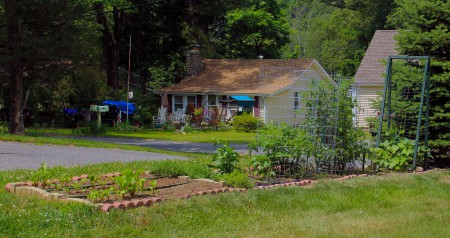 In the title of this post, I indicated that there is another smaller surviving World War II Victory Garden — the Dowling Community Garden in Minneapolis. I read about these gardens in the online version of Urban Farm Magazine. From what I read, these gardens have been around for almost as long as the Fenway gardens. I will do some research on these gardens and report back during this growing season.