Tuesday, July 14th, 2015
Huli-Huli Chicken — A unique Hawaiian fast food (sort of )
In 1955, a Hawaiian chicken farmer named Ernie Morgado served barbequed chicken glazed with his mother's homemade teriyaki sauce at a local farmers' gathering. This chicken soon became one of those great "only-in-Hawaii" popular foods. The chicken was such a hit that Ernie soon found himself in great demand at fundraisers and other events. He hired crews and launched a catering business using specially designed barbeque grills mounted on trucks called "huli wagons" that held the chicken between two grates. This system allowed the chickens to be turned frequently so they would cook evenly. When the chickens were ready to turn, the workers would yell, "Huli" ("turn" in Hawaiian).
In 1958, Morgado registered his sauce with The Territory of Hawaii and named it Huli-Huli. Street vendors selling BBQ chicken by that name all but disappeared after Morgado asserted his rights to the trademark, and started marketing bottled sauce under that name. When my daughter, Sarah, was vacationing in Hawaii a few years ago, she and her traveling companion, Heather, caught the scent of some great-smelling smoke while walking along a beach. They followed the smoke to a large roadside grill selling barbequed chicken. It wasn't called Huli-Huli chicken, but the vendor assured her that it was the same chicken using his customized recipe.
When Sarah came home she brought a bottle of Huli-Huli sauce that she bought from Amazon, handed it to me and said, "You have to make this chicken; it's great." During the months that followed, I experimented with the concept, using the bottled sauce and several recipes that I found online. Unfortunately, brushing any sauce on chicken while it's cooking adds little flavor and increases the possibility of burning. It isn't practical to repeatedly turn a chicken being cooked on a charcoal grill. Even the high-end gas grills with electric rotisseries don't work when you try cooking a chicken using a recipe like this one. However, if you make the cooking surface modifications that I suggest here, you can prepare this recipe using whole or split chicken or chicken pieces. I have cooked the three cuts several times each with predictable results.
Conversion from Huli wagon to Weber grill
After suffering several unpleasant chicken grilling events and graduating from grilling hamburgers, hotdogs and steaks over charcoal to barbequing larger meat cuts like spare ribs, whole chickens, pork, beef and lamb roasts, I knew that changes to the grill and to my cooking methods would be necessary, especially with this recipe.
Cooking chicken directly over burning charcoal, even turning it frequently, results in severely burned and charred flesh. After cooking this chicken a couple of times this way, I decided to switch to a method using indirect heat. The photo below shows a modified two-level charcoal setup that I now use when barbequing a whole or split chicken.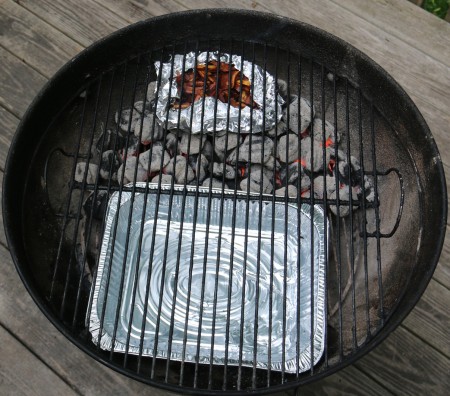 The high temperature generated by burning charcoal in a confined space like a kettle grill will (if not managed) dry out and burn most foods. In order to prevent drying and to infuse the chicken with more flavor, I decided to first soak the chicken in a flavored brine for several hours. To give my chicken a seasoned-to-the-bone-flavor, I added soaked mesquite wood chips to the fire just before placing the chicken on the grill. Mesquite is not a recommended wood for smoking foods for more than one hour. After an hour, the smoke turns food bitter. However, it works well with this quick-cooking recipe. Finally, for flavor consistency, I also duplicated some of the ingredients in the glaze that were used in the brine. The glaze is then reduced to about ½ cup and brushed on after the chicken has been transferred to a serving dish.
 Bottled sauce
This sauce is not readily available in many parts of the country. I don't think that buying it is necessary, because there are many interesting recipes for this sauce available.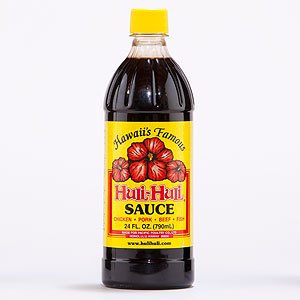 Chili garlic sauce and mirin (a sweet Japanese cooking wine) can be purchased in most large supermarkets that have an ethnic grocery section. The warm heat of the chili sauce and the subtle sweetness of the mirin add complementing flavors to the glaze.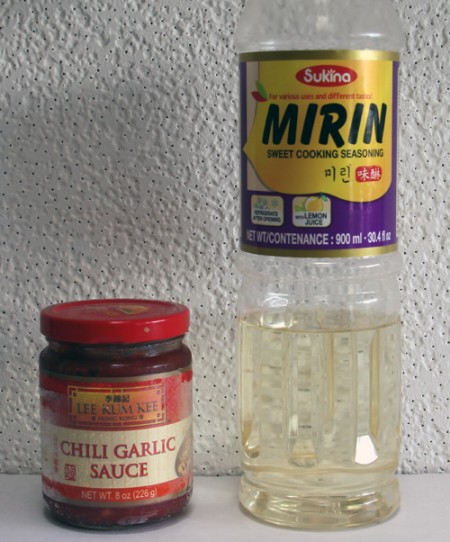 I have prepared this recipe using split chicken halves and whole split chicken. Also, chicken can be cooked skin side up or down depending on which presentation you prefer.
Skin side up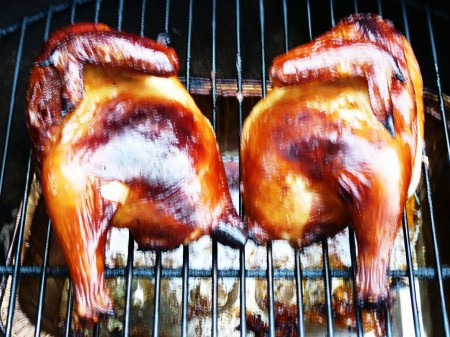 Skin side down imparts a classic grill mark.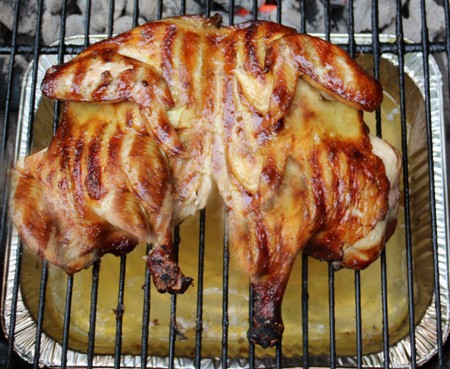 RECIPE FOR HULI-HULI CHICKEN

Chicken and brine ingredients

1 whole split chicken
1 quart cold water
1½ cups soy sauce
4 medium cloves fresh garlic, pressed through a garlic press
1 Tbsp. grated fresh ginger
Glaze for ingredients

2 six-ounce cans pineapple juice
3 Tbsp. packed light brown sugar
3 Tbsp. soy sauce
3 Tbsp. ketchup
3 Tbsp. rice wine vinegar
4 medium cloves fresh garlic, pressed through a garlic press
2 Tbsp. peeled fresh ginger (grated)
1½ tsp. garlic chili sauce
1 Tbsp. mirin
For the grill
90 charcoal briquettes
1 large half-size (9-inch x 12-inch x 2-inch deep) disposable aluminum pan
2 cups mesquite wood chips (soaked for 1 hour)
 pair of long handled tongs
 small dish with a paper towel coated with vegetable oil
Method
Combine the brine ingredients, add the split chickens and refrigerate for minimum of 4 to a maximum of 8 hours.
Wrap the wood chips in a suitable size piece of aluminum foil. Cut several vent holes in the top and bottom of the package and soak in warm water for one hour.
Prepare the glaze
Combine glaze ingredients in a small saucepan. Simmer over medium low heat, stirring periodically, until the glaze is reduced to about ½ cup. This will take about 25 minutes. Cover the glaze and set it aside.
The chicken
Remove the chicken from the brine and dry it with paper towels.
Set up the grill and start cooking

Open the bottom vent holes of the grill halfway.
Light the briquettes in a chimney starter and let them burn until they are lightly coated with a thin layer of ash. This usually takes about 10 minutes. Empty the contents of the starter onto half of the grill.
Place the aluminum pan to the now empty side of the grill.
Put the cooking grate in place, cover the grill with the lid, and heat the cooking grate for about 5 minutes.
Using a pot holder, carefully lift the grate just enough to place the soaked wood chips on the coals.
Using the tongs, coat the grate with the vegetable oil-soaked paper towel.
Arrange the chicken, skin side up or down, over the aluminum pan with the legs closest to the coals. Cover the grill with the vent holes open and over the chicken.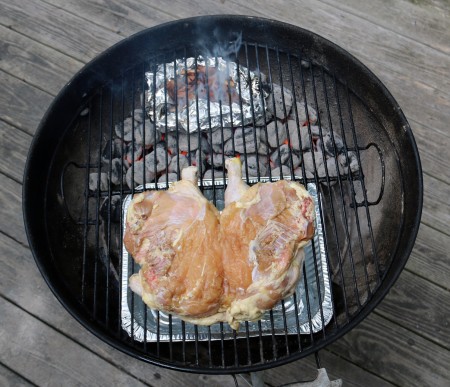 Cook the chicken for 30 minutes, and until the thigh meat registers 125° F. Remove the lid and turn the chicken. Replace the lid and continue cooking until the breast meat reaches 155° F and the thigh meat reaches 175° F.
Remove the chicken from the grill and let it rest for 5 minutes. While the chicken is resting, heat the glaze.
Portion the chicken to your liking, brush each piece with the warmed glaze and serve.
I admit that this recipe is a busy one but if dry grilled chicken coated with charred BBQ sauce is getting old, give this recipe a try. You will be glad that you did.
Chicken parts — cooked and glazed