Monday, December 8th, 2014
On Labor Day weekend my wife, Tricia, and I headed for northeast Connecticut to explore a seasonal favorite, The Woodstock Fair. Unfortunately, we had a late start. By the time we arrived at the fairgrounds, the line of cars waiting to park was over a mile long. Down the road from the fairgrounds is a popular farm winery that we had planned to visit on the way home. Fortunately, Taylor Brooke Winery was open and their parking lot was invitingly empty.
The owners of this winery, Dick and Linda Auger, began making wine as a hobby in 1993. Their love of the craft led to the official establishment of this winery in 1999, after hand-planting their first 300 vines. They have continued planting additional vines every year since then. Today, I estimate that they have over 2000 vines contributing to at least half of their wine production. During my visit I photographed a large field of new vines, which I believe will significantly increase my estimate of that number.
They received a Connecticut Farm Winery permit in November of 1999, and opened the tasting room (pictured below) in June of 1994. Currently, Taylor Brooke produces 16 small batch wines, which include dry estate-grown whites and reds, fruit-infused Rieslings and dessert wines.
Dick and Linda have transformed one of the  largest and oldest farms in this area into one of Connecticut's most popular and respected farm wineries.
Dick enjoys greeting visitors during tasting sessions. At these meet and greet sessions, he enthusiastically shares his extensive knowledge of every aspect of wine, from planting vines to producing quality wines from the grapes. As the winemaker, he manages the production of about 2500 cases of wine a year.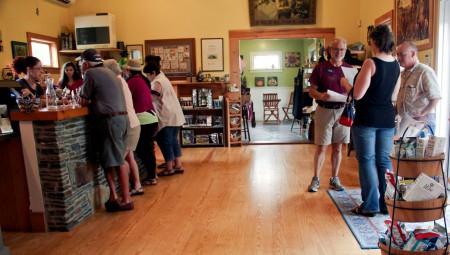 There are two outside tasting areas for guests to enjoy their wine when the weather permits.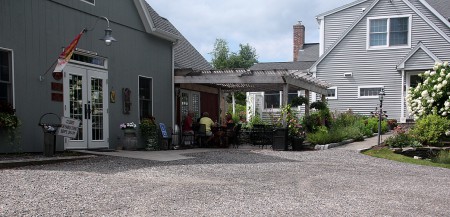 The bottle of wine in the photo below is a Riesling infused with a natural raspberry essence. I usually prefer the crisp, clean brightness of Sauvignon Blanc when I drink or cook with a white wine. However, after a brief conversation with another visitor in the tasting room, I decided to try this seasonal wine. I was surprised to discover an intense brightness in this wine without the cloying sweetness found in other wines of this type. After tasting it and preparing two of my favorite braised chicken and herb recipes, I used this wine in the reduction sauce, with great success. I am now curious to see how it will pair with some of my favorite Asian recipes.
The grapes in the background are Cayuga White; a hardy hybrid grape developed at Cornell University. This grape is one of the mainstays of wineries in Connecticut.
Pictured below are several mature Cayuga White vines producing an impressive yield. This grape variety answers the question, "Which hybrid grape is easy to grow and make quality wine from?"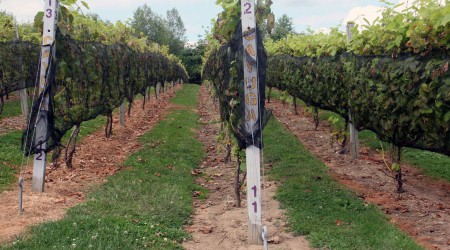 This spacious vineyard allows visitors to take unguided tours of the various fields, and also provides comfortable areas to relax and enjoy the view.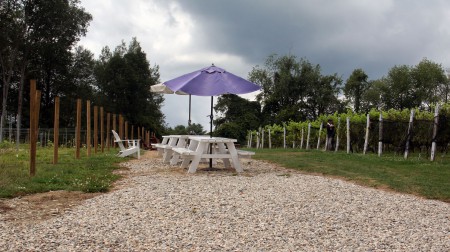 Below is what I believe is the latest field being prepared for planting in the spring.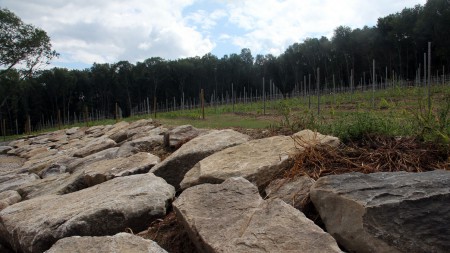 Passing up a large and very popular fair to take a relaxing and informative tour of a first class vineyard like Taylor Brooke was time well spent.