Tuesday, February 5th, 2013
The other day, my friend, Christine Mack, and I were out driving in Ophir. Ophir lies just eight or ten miles north Gold Beach. We were traveling the frontage road that parallels Highway 101. I think it's called Ophir Road.
"There's a  hawk," she said casually.
"Where?"
She pointed to the top of a power line pole I was driving by and I leaned forward over the steering wheel and just caught sight of it as we passed.
She naturally sees these things. I'm just learning to. I could say she sees them because she's the passenger and I have to keep my eyes on the road, but she sees them when she's driving, too, and I'm oblivious when I'm in the passenger's seat.
I found a spot on the side of the road up ahead where I could turn around and we doubled back.
And there he (she?) was, sitting atop the pole. I could tell, right away, he didn't appreciate our company and I was afraid when I got out of the car he would fly off. But he didn't. He watched us askance while we watched him and I clicked away with my Canon 5D Mark III, whom I have named Chloe, while she was sporting my EF 400mm f/5.6 L USM lens.
All of these photos were cropped for the blog.
Here's the catch: I don't know what kind of hawk it is. Anyone out there know?
Shutter speed 1/1000     f-stop 5.6     ISO 160     focal length 400mm
Shutter speed 1/1000     f-stop 5.6     ISO 125     focal length 400mm
Shutter speed 1/1000     f-stop 5.6     ISO 160     focal length 400mm
Shutter speed 1/1000     f-stop 5.6     ISO 200     focal length 400mm
Shutter speed 1/1000     f-stop 5.6     ISO 160     focal length 400mm
Shutter speed 1/1000     f-stop 5.6     ISO 200     focal length 400mm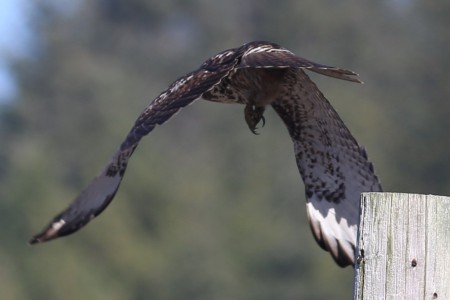 Shutter speed 1/1000     f-stop 5.6     ISO 200     focal length 400mm
Shutter speed 1/1000     f-stop 5.6     ISO 100     focal length 400mm
Shutter speed 1/1000     f-stop 5.6     ISO 125     focal length 400mm