Thursday, August 1st, 2013
Three and a half weeks ago I posted some photos of baby western seagulls that were in a nest atop some pilings at the launch ramp in the Port of Gold Beach. I don't know how many eggs were originally in the clutch, but when I started taking photos, there were three babies. Several days later, I returned and saw only two. I didn't know if the third one was "hiding" because they can hunker down in the holes on the pilings and they're invisible when they do. But I eventually realized one was really gone. A few days later, there was only one, and a few days after that I went down there and didn't see any. Now, however, I've discovered there is still one and sometimes it does hide.
I don't know what happened to the others. A few people suggested predators may have gotten them. But I've watched them jump from one part of the nest to another and, if they stumble and fall,  it's a long way from the nest to the dock and the water and there's no way of them getting back up.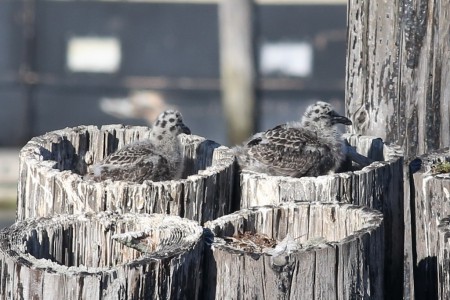 This is when they were down to two.