Letters To The Editor
From Issue #108
I'm not cancelling my subscription after all
I'm a teacher and direct care counselor at a residential treatment center for adolescent boys with emotional and behavioral difficulties located 20 miles SW of Boston. For 6 years now, I've been doing outdoor education on our 166 acre campus of woods and fields. I've led camping trips, other outdoor excursions, worked with the kids as we've re-landscaped around our farm pond, created an orchard on an overgrown hillside, reclaimed another for a fantastic sledding hill, rebuilt our ball field, started a Christmas tree grove for future alumni to call upon someday, and most especially, created a large garden.
Working with the boys, we now even sell some garden shares in the local community back to some of the businesses that employ our boys in a work-study program. We are slowly working on a chicken house too. Recently we took a wonderful day trip to Lake Winnipesaukee in New Hampshire. Our boys have been in institutions most of their lives. They might get to the local mud hole, but never a trip to a world class mountain lake like Winnipesaukee. (I call it New England's Lake Tahoe.) A mere 2 hours away and none of them had ever even heard of it until I took them there.
I dare say that I stand in contrast to most of our teachers and direct care staff that tend to come from urban, social worker backgrounds. Our parent organization is Boston's largest urban, social service agency. Our agency has a multitude of facilities scattered throughout most of the more distressed parts of Boston, but they were handed this gem of a former farm campus in a very generous donation years ago"and they've squandered it ever since. On non-school days especially, many of my co-workers tend to keep the kids inside, in front of the Xbox or DVD player. In our main living room, it isn't unusual to have 2 or 3 TVs and computer games all blasting out a cacophony of distracting, disorienting noise. Mall, movie, and "Cumby" trips (the latter being the name of a local convenience store) are the mainstay of my co-workers' excursions off-grounds with the boys. More noise and lots of high sugar foods? That's just what emotionally-stressed kids with severe ADHD need …Rrright.
I used to subscribe to BHM, but let it go maybe 5 years ago because I was just too busy to read it, though I have peeked at your website from time to time. Yeah, some of the stuff was a bit too far right for me, but what the heck? Nobody can agree on everything. Several years ago, I even brought a few used copies of the magazine to the boys' residence. Last month I thought, why not give the boys a gift subscription to BHM? It'll be another way for the boys to learn about some of the active, self-reliant things that folks like us do in our lives and maybe too, give the boys a chance to hear a libertarian viewpoint about things that they certainly aren't going to hear from urban-bred social service workers and teachers. What a great idea….WRONG!
Word started going around that a magazine came in the school mail that "must have been some kind of joke." The nursing staff, clinical director, and school principal were all looking at it and it was being held in the principal's office. My supervisor came to me, telling me, "I don't know. What kind of magazine is that? There's white-supremacist stuff….something about building a knife out of a bottle…how to hide guns from the cops…….I told them, 'I don't think Steve is a white-supremacist'…..!" Time goes around and eventually I picked the magazine up from all those folks gathered in the principal's office. (Happily, they were talking about other things.) I asked what's up and I got the same rundown that my supervisor had listed off, only now this time they had the magazine with the pages and the offending material marked with paper clips. The issue in question is #105 May/June 2007. Here's what's flagged:
Page 2: The ad for Dave Duffy's Can America be saved from Stupid People? The quote about … "blacks should be ashamed…" from pg. 255 "Obviously, W-S material" I was told.
Page 9: "Candles, Guns, Knives…" All dangerous stuff here….and "he's telling how to hide guns from police" I was told! …Rrright.
Page 16: "Irreverent Jokes": Maybe it's the joke about women dominating their men or the piece about doctors being statistically more dangerous than guns? I dunno. They didn't say.
Page 29: The ad for Liberty journal: No feedback was given, but sympathetic blurbs about Waco and Ruby Ridge while being critical of Cuba probably flagged this item as trouble.
Page 71: "OMG, they have a gun column" I was told! …. "And he's teaching them how to break gun laws!"
So, I get the magazine and look it over. I hadn't actually seen this issue yet, but had ordered it as a back issue to go with the new subscription as something for the kids to read before the regular issues started flowing in. At first glance, as I looked over the pages, especially the ones with the photos of revolvers hidden in boxes hanging on walls, I thought, "Wow, BHM has really gone over the edge. My co-workers were right!" I then went back and told them I'd cancel it immediately and reassured them that I wasn't moving to Idaho. Well, tonight after getting home, I actually got to read the issue, and I have to say to you all at BHM, I am sorry. My lamentable co-workers are full of …stuff.
I won't refute every item above, but it's obvious that Dave doesn't think blacks are inferior. I know that from reading Dave years ago in the magazine and on the website. It's a bit of a reach to say he's a supremacist even from the blurbs in the book sales pitch ad. And the piece about hiding guns in furniture, and from the cops? No, it's about people like little old ladies protecting themselves in their own home. Did my co-workers actually read the article? One wonders. Finally, it seems to me that Massad Ayoob is trying to help people stay within the gun laws rather than break them. I wonder if my co-workers even noticed his police uniform in the picture or that he was the author?
I'm afraid everything that you and your staff are now probably lamenting about my PC, ultra-liberal, social service co-workers, is probably right on the money. Frankly, in some ways, I could be considered fairly liberal myself. I don't own a gun, and unlike many, I do think there is something to Global Warming beyond a way for environmentalists to control people. But I've thought for some time the govt. is grabbing too much of everything, that our hedonistic, debt-ridden welfare-state society has problems, and nod in agreement with Silveria's articles every time I read one. Having some preparedness on things around the home and work in the face of what seems to be building out there is nothing other than smart.
I do admit that the somewhat mentally unbalanced clients at our school probably would misconstrue a story about hiding guns from housebreakers as a way to hide weapons from our staff, while using said weapons offensively instead of defensively, and on that, I do think that I have to reconsider letting them read BHM. The boys just don't have balanced parents around to explain the full story to them on things like this. It's something that once upon a time we called parental guidance. Still, when I look at pictures of Dave's son selling brownies in Gold Beach, the articles on maintaining water wells, chickens and eggs, woodstoves, canning, the multitude of other handy, homebody articles. Well, it's a damn shame.
Still, I've changed my mind and am not cancelling. Rather, I just submitted a change of address via your website. I changed it to my house. I'll find the time to read BHM somewhere. At this point I owe it to you folks to continue the subscription, if nothing else but for the education it provided me tonight, seeing what my co-workers thought of BHM.
Name & town withheld by request
"Dim bulbs" article
The article about lamps written by Jeff Yago was very, very good and accurate. If I may, I would like to shed some light on this subject (pun intended). Before I try to sound as if I know something, I need to qualify myself.
I am an electrician and have been working primarily in the maintenance area for thirty-something years. I am a trouble shooter. I do not install a system and move on to another job. My work consists of: identify the problem, locate the problem, why there is a problem, make repairs and any needed changes, and get the system back in operation as quickly as possible…
We have changed some of our most used lamps to the compact-fluorescent, and done the same for many of my customers. The most recent was three McDonald's. What a let down! We had to replace so many of the new ones, the owner even had to question me. The problem was I was doing the same thing you or most people do, buying them at Home Depot. That was because the color of light it cast on the new tile was more desired by the owner than the good ones from our professional electrical supply.
Your local electrical supply tries to handle the best quality available. Make no mistake, it costs a lot more and some refuse to sell to unlicensed people. So use the computer. Research prices and talk to people like at "Light Bulb Depot". Ask questions, they make a living helping people and answering questions.
If you buy standard 2,3,4,6 or 8 ft. fluorescent fixtures, never buy at the local discount store and always buy the electronic fixture with either the identifying T8 or T5 number. Never buy the T12, as it is inefficient, heavy, and soon you can't get parts for it.
If you are still using incandescent lamps, STOP buying those damn cheap 6 for $1.00 things. Look at the end of the lamp, the big end where it says 100wt. In small print it also says 120v. Now buy a lamp from the elect. supply and look at it. It reads 130v. This is a quality lamp and will work many years. We have them throughout our house except where they burned out and I replaced them with compact. I put them in fifteen years ago, when we bought the house…
Thank you Dave for BHM and thanks to all your contributors. We have given your gift to others and at least two are now subscribers.
Norman Pemberton
Sherman, Texas
Every once in a while, a magazine will prove its value beyond any price of subscription. The latest Backwoods Home (# 107 ) has just done that. The article by Jeff Yago about fluorescent light bulbs was Mega-Fantastic.
I had no idea those bulbs were defective. I had placed a very expensive bulb in a "ladder only" fixture, and it didn't last a month. I felt perhaps it was a case of faulty wiring or fluctuating voltage.
Now I know. I suppose because I live in California, I ought to buy a 10 years supply of incandescents before they become another banned item to improve my modern life….
Thanks again to you and Yago….A fine article. Mucho useful….Why didn't I read this in Consumer Reports?
Mike Dougherty
Baker, California
Thanks for the cookbook
Thank you for very much for the cookbook you sent me recently, and recognizing that I have made gifts of your wonderful magazine! You amaze me that you had noticed this! But then, I shouldn't be surprised as I think that you are all terrific anyway. Like so many of your readers, you're like family to my family, and a frequent topic of conversations at our home here in Gregory. I love to talk about the people and information in Backwoods Home, and I want to share all it has to offer with friends and family. When we head to the Northwest again, I sure hope we can manage a visit to you. Just need to save for the fuel budget! (Cost of fuel to travel has kept us close to home for the last two years.) I will enjoy the cookbook and continue to "hype" the wonderful things you all write each issue.
Wendy Hause
Gregory, Michigan
Glad you liked the cookbook. This is something Ellen, our database entry operator, started. She noticed that you and several other readers had given multiple gift subscriptions of BHM, so thought to send you a gift. I didn't even know about it until your letter arrived. Shows you what independent thinkers I have working for me. " Dave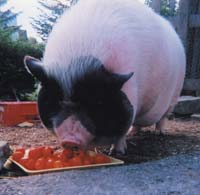 Fat little pig
I have a pet pot-bellied pig, whose appetite got out of hand. I was warned by someone that if Arnold keeps on eating like that, eventually he will have to be put down, because he will be unable to walk. That thought terrified me, so he is on a diet. (Veggies only!) My question is, how come when people do that to themselves they get to ride on a motorized cart at Wal-Mart and even get a handicap sticker to boot? No Fair! Do you think I could get a sticker if Arnold becomes disabled?
Christine Gavitt
Thorndike, Maine
Removing ticks/saving $
To Jackie Clay: I recently heard of a way to remove ticks, simply by putting liquid detergent on a piece of cotton and holding it down on the tick for a minute or less. The tick will remove its head from the skin and you can dispose of him easily.
To Claire Wolfe: Another way of stashing money for future expenditures is to budget for different items by using either separate check registers or a divided note book. Also, using a debit card instead of a credit card is like writing a check. Just be sure to record each purchase in your check register! You might want to keep a small envelope with you to hold receipts just in case you wonder about an item on your statement you don't remember buying.
Arthur and Clara Mae Watrous
Tonasket, Washington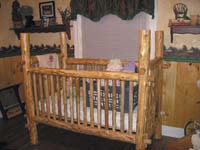 Dorothy Ainsworth crib
I built this crib using Dorothy Ainsworth's plans from issue #69. It came out beautifully and the plans were easy to follow.
Hank Ayers
Gansevoort, New York
Need some winter onions and pole beans
Well, this year has been a trying one, on our gardening, and slowed down our ability to help others as much as we'd like to. In May, we got a really bad freeze. We lost all the fruit on our trees. All of this area of Arkansas was affected. So, we planted our garden after the freeze. By July, the heat moved in, and just cooked the tomatoes on the vines, and continued til the vines died. The same way, with the cucumbers and bean vines. About all that has survived is Bell peppers. Due to being on spring water, piped to the house, we have had a concern our spring would go dry. Today, it will be 104° or hotter, it was 104° yesterday. We are in a severe drought. We see no immediate weather change. Even the animals seem hungry, squirrels have climbed all of my tall sun flowers and ate every flower.
I need some help from some readers. Due to this drought I have lost my winter perennial onions. These have the little bulblets that come on the top. I would sure like to have a start of these. We also need pole bean seeds. We raised bush beans this year, and found out due to our medical conditions, neither one of us could hardly bend to pick beans. For the past few years, I have had to scoot along in a lawn chair, to pick the beans. So, I need to switch over to beans on a fence. Any seeds you could send would be deeply appreciated.
I will be 71 yrs. old next month, my husband is a disabled veteran. We continue to live simple, working with info. we have learned from our homesteading years, alot of that info. came from "Backwoods Home." We started Pioneering, from the first issue of your magazine, Dave Duffy gave us the incentive to keep going on learning how to be a Pioneer.
I need to know if anyone has ever re-canned the big gal. cans of foods"such as sausage & gravy, pizza sauce and etc: If you have and had success, please write me.
Lillian Faubus
5213 Shiloh Rd.
Leslie, Arkansas 72645
Offer reprints of covers
Your BHM cover paintings are very special and deserve more notice. Mr. Don Childers has a special talent in which he can express an inner peace within his paintings.
Would you and Mr. Childers consider providing to your readers a mattable and framable format (about the size of your front & back cover) maybe 10 x 17 or so? I know there are other readers that agree with me and would like to have this art in their home and office.
You could provide these along with other items already listed in BHM. They could even be printed on the paper you use for your covers and you could mail them in a mail tube or large envelope.
You could charge a reasonable price and both your magazine and Mr. Childers would benefit from the profits. A signed copy (both you and Mr. Childers) could be given to 10 year subscribers (just pick the most popular). Would you consider this? Talk with Mr. Childers and others and see what they think.
I want to tell you this…you folks there at BHM are doing a wonderful job with the magazine. Both Jackie Clay and John Silveira are god sends. How in the world did you come up with such a good bunch of people?
Greg Hamilton
Opelika, Alabama
We'll consider it. Don is a gifted artist. He just turned 77 between issues. " Dave