I've been writing for American Handgunner magazine for four decades now, and their old "classic" issues are available online at americanhandgunner.com.  Lots of knowledge and history archived there.
A few days ago I took a stroll down memory lane from an issue that was on the stands some thirty years past, the July-August 1987 edition.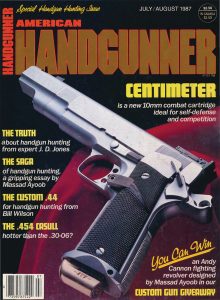 There was a superb insider's look at the Centimeter, a wildcat cartridge that in just three more years would be born commercially as the .40 Smith & Wesson, which was destined to quickly become the most popular police service pistol cartridge in America.  Then-editor Cameron Hopkins did a great story on it, focusing on Paul Liebenberg, who created custom pistols for it and, when he went to work at Smith & Wesson in the Performance Center, played a leading role along with S&W's Tom Campbell in convincing S&W to manufacture the guns and Winchester to produce the cartridge. There was a corollary article on it by Whit Collins, who had worked with Jeff Cooper to create the similar .40 G&A for a Guns & Ammo magazine project years earlier.  Liebenberg later told me that he thought Whit Collins never got the credit he deserved for creating the Centimeter that morphed into the .40 S&W. (Liebenberg and Collins predicted that the Centimeter could be the most popular cartridge in IPSC action shooting competition, and that pretty much happened, though it was called .40 S&W by then.)
I had an essay in there on hunting (the original title of which had been "Confessions of a Part-Time Handgun Hunter," and an insider look at a project I had done with one of the great S&W revolversmiths of all time, Andy Cannon.  We had created what might have been the ideal police service revolver…at about the time law enforcement was sending revolvers to the police museum and turning en masse to semiautomatic service pistols.  We lost Andy much too soon to cancer. I still cherish my Andy Cannon guns, including my prototype of those "Ayoob/Cannon Street L" .357 Magnums.  IIRC, I shot it at Bianchi Cup that year.
My "Ayoob Files" that issue focused on an Indianapolis case where a cop struggled with a thug, each trying to get the other's gun away from him. (Spoiler: the cop, a part-time Marion County deputy who was working security at the time, won.) It was one of two cases that prompted me to later develop and teach a disarming/retention technique for that situation.
It brought back a lot of memories, and might do the same for my fellow old farts, and give younger folks a taste of 20th Century American gun culture.