You'd think modern firearms would be fail-safed against going off if dropped. Well…not always.
In one of the very best of the gun forums today, www.pistol-forum.com, this topic recently came up and a member cited this article that I wrote a decade ago for Combat Handguns magazine:    https://www.tactical-life.com/firearms/dropped-gun-inertia-discharge/ .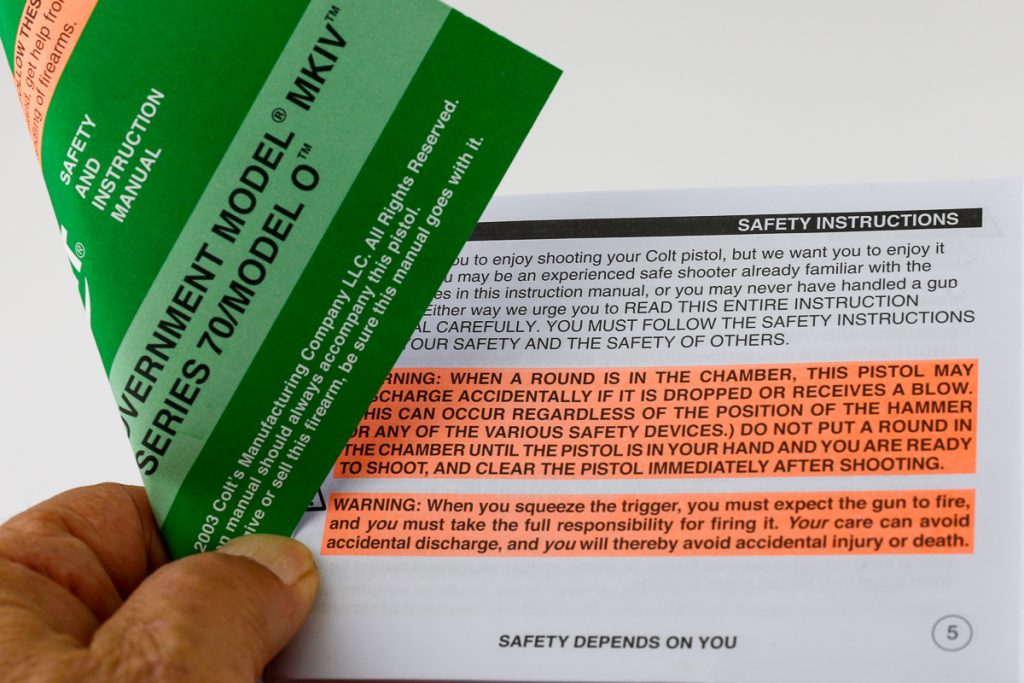 Let's look at a classic example of the need to pay attention to this. Colt came out with their iconic 1911 pistol in that year, and has manufactured it uninterrupted ever since. The potential for dropped gun discharges caused them, in the late 1930s, to introduce the Swartz Safety, which locked the firing pin internally and was released by depressing the grip safety. However, it was extremely complicated and expensive to manufacture at the time, and didn't stay in production for long. The issue remained, and for decades now Colt has produced the Series '80 version, safe to carry with a live round in the chamber because it has an internal firing pin lock that is released when the shooter presses the trigger. However, aficionados clamored for the original version without the Series '80 firing pin block, so Colt introduced the Series '70, which doesn't have it, in a separate line that is still produced today.
I recently spent some time shooting a new Series '70, and couldn't help noticing that the owner's manual stated in bold capital letters, highlighted in Day-Glo Orange no less, the following:
"WARNING: WHEN A ROUND IS IN THE CHAMBER, THIS PISTOL MAY DISCHARGE ACCIDENTALLY IF IT IS DROPPED OR RECEIVES A BLOW. (THIS CAN OCCUR REGARDLESS OF THE POSITION OF THE HAMMER OR ANY OF THE VARIOUS SAFETY DEVICES.) DO NOT PUT A ROUND IN THE CHAMBER UNTIL THE PISTOL IS IN YOUR HAND AND YOU ARE READY TO SHOOT, AND CLEAR THE PISTOL IMMEDIATELY AFTER SHOOTING."
Your correspondent here frequently carries 1911s. The Colts are generally Series '80, whose drop-safe system has been copied by other makers. Kimber II-series 1911s use a variation of the Swartz concept conceived by modern firearms design genius Nehemiah Sirkis, affordable for production now thanks to CNC machinery. Some other companies, like Springfield Armory, achieve drop-safe status by combining a light titanium firing pin with a strong firing pin spring to prevent "inertia fire" due to impact.
When in doubt, check with the Customer Service department of your firearm's manufacturer. "I never drop my gun" is a strategy that presumes you are a perfect human being incapable of making a mistake, and I haven't heard of one of those for about 2,020 years.