Trapped at home. Many if not most ranges closed, depending where you are. How can shooter folk get some trigger time for skill maintenance, recreation, and the all-important boredom prevention?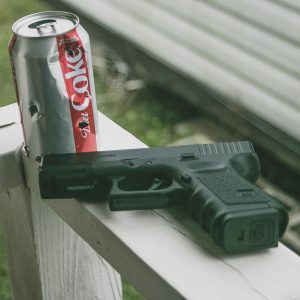 Well, for one thing, consider air guns. Silent. Easy to make a bullet trap Airsoft, BB or pellet trap at home if you have a big cardboard box, some carpet scraps or an old rubber mat, and a pile of old books or magazines at the back to be sure to prevent over-penetration. No toxic indoor gunsmoke, no loud noises to frighten the neighbors, and if you're careful no projectiles going through apartment or condo walls.
My local gun shop is bare of AR15s and suitable defensive shotguns, and has only a few handguns left. Oddly enough, their air gun inventory has been untouched in the mad rush to purchase home defense firearms.  WalMart gave up on handguns in all their stores a long time ago, except in Alaska, and word is they're not going to be selling them there anymore, either. The shorter barrel shotguns and autoloading centerfire rifles got dumped by Wally World in the PC aftermath of the Florida school shooting.  Yet when I went in there to buy food and hardware, my local WalMart had a full display of air guns and related accessories.  Hint, hint. I have an article on this coming out in the July 2020 issue of Airgun Hobbyist.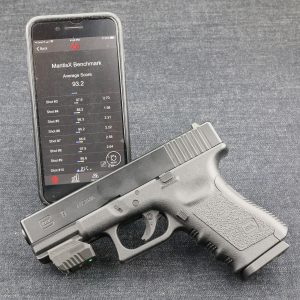 Of course, there's also dry fire. With the air guns, you get everything but recoil and, unless you have a helluva system you can set up indoors, moving target and reaction practice. "Clicking" your empty "real gun," you lose both of those things and also the ability to see your hits on target and analyze them. However, the flip side of that is that with no recoil, you get great follow-through practice, and the sights on your gun will tell you whether you jerked the trigger or not.
OR…you can invest in a MantixX. This neat little device has been out for a few years now. You synch it with your smartphone, and it tells you where you hit, how quickly you did so, and with the appropriate app, what your score was. I became a fan (and the Evil Princess became a huge fan) of the Mantis-X when it was introduced, and both of us are even more enthusiastic about its updated version introduced this year, the MantixX10, which among other things can also analyze your draw-to-the-shot if you have a handgun/holster combination that can accommodate the device. (If you don't, it's small enough to allow you to draw from holster-less "stuffed inside the waistband" carry. That's not perfect practice, obviously, but you're not going to shoot yourself by accident with a gun you've tripled-checked to be unloaded for dry fire…are you?
Information on the MantisX can be found at  https://mantisx.com/ . 
Obviously, dry fire practice has to be done SAFELY, and because we've run out of space here, we'll address the subtleties of that in the next blog entry here.