Wednesday, August 29th, 2007
You know, I've heard that all my life. Well meaning (I guess, I hope!) people seem all too happy to crush someone's dreams with those words. I remember when my oldest son, Bill, was starting his log home, coming home after working a full day to straddle huge logs he'd hauled out of the woods, peeling the bark off them until well after dark. And oh so many people told him basically that he was nuts for even thinking of building a big log home by himself. "Why start it? It's too much work. You'll never get it done."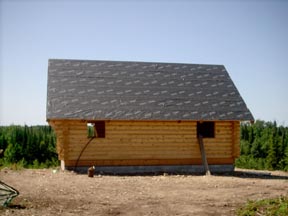 Was it a lot of work. You darn betcha. It's taken him over five years and it's not "finished" yet. He still has to rock up the outside chimney and do a few finishing touches inside. But he and his wife, Kelly (who helped him with a lot of the work for the last four years, since they've been married) are living in a home that looks like something out of the pages of Log Home Living.
Would they do it again? Probably not. But do they regret doing it? No, not a bit. There's a sense of pride in sticking to a hard job and seeing it through to the end. The nay-sayers don't have a clue about that.
When we started our log home, I sure had my fill of these well-meaning dream killers. Yes, my husband had died. Yes, I'd been diagnosed with cancer and was undergoing treatment. Yes, I was taking care of my elderly parents. Yes a log home would be a lot of work. And yes, it would cost a lot of money.
BUT I started it anyway. First there was a hole in the ground. A big hole. This was to be the basement and my pantry. Our start was that hole. I was started. And slowly we got it done. It's been a long haul, but I get done what I can afford and wait to earn more money, then go on. Luckily our friend Tom Richardson, a carpenter from the nearest town of Cook, is willing to work with me, at my pace. No mortgage, no building loans. Just pay as I go and be satisfied with what we've built so far.
This is what I've learned; to be SATISFIED with what I'm doing. I know someone else could do it better, faster, neater or whatever. But I know I'm doing what I want to, as well as I can at the time. And it is enough.
Is it done? No. But we are happily living in our new log home. I'm canning, working in the garden, and planning for our next steps along the road to finished. And it's a good trail!
I've posted readers' questions with my answers below:
Fresh goat milk yogurt
I enjoy your blog. I really need some help with making fresh goat milk yogurt. I tried your recipe, but, it is still so very runny. How much gelatin could I use without affecting the taste. I added 2 Tbl. of strawberry jello and it didn't seem to help any. I do have a yogurt maker.

Bobbie Branson
Henderson, Kentucky

My guess is that you are either not processing your yogurt long enough for it to become firm or that your temperature is too cool or too warm for proper incubation. Homemade yogurt is not as firm as store-bought yogurt but it shouldn't be runny, either. To add Jello, be sure to dissolve the Jello in boiling water first, then let it cool to lukewarm, THEN mix it with your warm, albiet runny yogurt. If your yogut TASTES fine, you can add sugar or honey, fruit, and make a smoothie out of it or freeze it, then whip it and have a frozen smoothie; we love them! — Jackie
« Read the rest of this entry »