Thursday, September 27th, 2007
I scarcely ever miss a sunrise or sunset. The sunrise is so exciting and vibrant, hearlding the new day. I always wonder what it will bring and flash through the plans for what I need to and want to do today. But by sunrise, I'm ready to stand and watch the sun sink below the pine-jagged horizon and review what I actually got done. You KNOW it's never what you thought you could get done, don't you?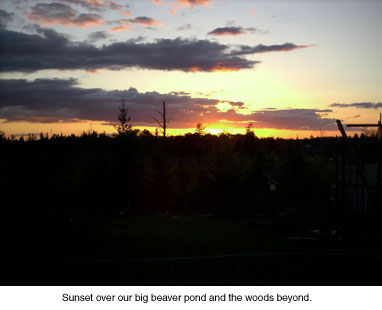 Well, today I got an envelope in the mail from the contractor's supply store, Nortrax in Duluth, containing a little 3/8″ steel ball bearing. That little shiny ball is what we lost out of the bulldozer last Sunday, when David released the grease to get more room to get our thrown track back on. That one, tiny, teeny little ball blocks the release port underneath where we were supposed to "slightly" release the cap screw instead of take it out. And that o tiny little ball put us out of the clearning business for a whole week! Oh. By the way, it would have cost 53 cents, but they didn't even charge me for it. Nice guys!!!
Then I put up some more jelly. Today it was spiced apple and wild plum. You see I had made 18 jars of wild plum yesterday, from the plums David had brought home from his friends on Sunday….before the bulldozer episode… My friend, Jeri Bonnette, has a steam juicer, a Mehu Miaja, which juices all types of fruit with very little effort. So I offered her half of the juice for juicing my bucket of plums. Of course she jumped at the offer and we both ended up with a gallon jug full of wine pink plum juice.
I put up the jelly yesterday and had 3 cups left over in the fridge. I worried that it might start to ferment so I opened a quart of crab apple juice and mixed the two. While it heated, I got to wondering about adding a pinch of cinnamon and some almond extract. Mmmmm. Well, I did just that and ended up with the best mixed jelly I've ever made. Good idea!!! (You add the almond extract when it's at a rolling boil so it doesn't boil out.) It made wonderful ruby red jelly that tastes oh so good too!
After I made the jelly, I went through my spring catalogs and boxed up a bunch for the recycling. It's amazing how many "second" catalogs they send! I think I ended up pitching five Parks, four Gurneys, six Burgess/Interstate/Etc./Etc. catalogs and many others….all in color!!!! Gee, if they would just send ONE good catalog and reduce their prices some, they'd make more money and not make me go through all that work!!! I shudder to think what all those catalogs cost the companies. And I kept one of each catalog, too, just for reference. I'm talking about the ones I threw away. Wow!
Have you noticed how much the "shipping and handling" is now? Most charge over $7.99. And that's if you only want a few packs of seeds. It sure makes growing open pollinated varieties and saving your own seeds look better and better doesn't it? I know I grow more and more each year.
I'm sorting out more ripening tomatoes from the tubs full in the new greenhouse. It's amazing; I made pizza sauce yesterday out of all the ripe ones and already today I've got a whole lot more that are getting red. These will be spaghetti sauce so I can use up the rest of my green bell peppers before they get too soft. Mmmm I'm getting hungry already.
So when that old sun begins to set, I stop mid-chores and visit my friendly donkeys, Moose and Beauty and watch it go. It's been a good day. They think so too.
Readers' questions:
Cat doo doo in garden
Hello! Are cats using garden beds as a litter box a danger to edible plants or herbs growing in them? Cats seem to enjoy our gardens and want to verify it isn't a hazzard due to bacteria.

Alonzo Paul
Blackwood, New Jersey

I'm sure the cats do enjoy your garden beds….but it's not a real good idea to let them do you-know-what in them. Not only are there some diseases that can be transmitted from cats to people (chiefly toxoplasmosis), but also some parasites could be picked up from feces, as well. To keep the kittys happy, and your family safer, consider fencing the beds with chicken wire, then making the cats their own bed, unfenced and perhaps containing some catnip and flowers, as well as some digable black dirt….just for fun.
The cats do a lot to keep down garden pests, such as voles, field mice and chipmunks, so it's a good thing having them around. We just need to focus their potty manners to a healthier alternative. — Jackie
Highbush cranberries
Hi Jackie- First I would like to tell you that you are my favorite in the magazine. And I really enjoy reading about your everyday life in the backwoods of Minnesota. I would like to know if you have ever grown or are familiar with Highbush Cranberries. I have read that they need a moist ground and then read somewhere else that they are drought tolerant. Also have you ever made jelly or sauce with the fruit? I live in Northeast Michigan (zone 4) and plan on growing them in a southern exposure. I am curious to hear if you had any dealing with them and if they are worth the effort.

Craig Lough
Hawks, Michigan

YES! HIGHBUSH CRANBERRIES ARE DEFINITELY worth growing or hunting up in the edges of the lowland woods. I haven't planted any yet because they're quite common in the wild around here. They DO like moist woodlands, but are just as happy with drier ground. I've seen some planted in the rocky islands of the side of a Hardies up here that were loaded. Go figure. They make terrific, very beautiful jellies, jam and sauce. It's a sparkling ruby red. Gorgeous. — Jackie
Will my salsa last?
We just canned some salsa by hot water bath. It was mostly tomatoe based, but had a lot of peppers, onions, and celery. The jars all sealed but will the salsa last, since it was not pressure canned? No vinegar was added, just some lemon juice.

David Keefer
Willard, Ohio

Your salsa is PROBABLY alright; according to most recipes I've seen for salsa, there can be quite a few peppers, onions and celery or other veggies before it needs to be processed in a pressure canner, especially when you have already added "some" lemon juice. But it's a good idea to follow a tried and true recipe, as far as the amounts of vegetables in your salsa, as compared to how much tomato. The spices or amount of heat in it doesn't matter one whit. There's a fine line here between safe and questionable, and we don't want to make an error in judgement. — Jackie