Eating up all the garden mistakes
This last few days have been sort of a blur of frenzied picking, hauling, digging, hauling and stacking garden produce in the new greenhouse, away from the freezing cold that has suddenly descended on us with a vengance.
For the last three days we've been picking, then going out, remembering another section of freeze sensitive plants that we missed and picking them too.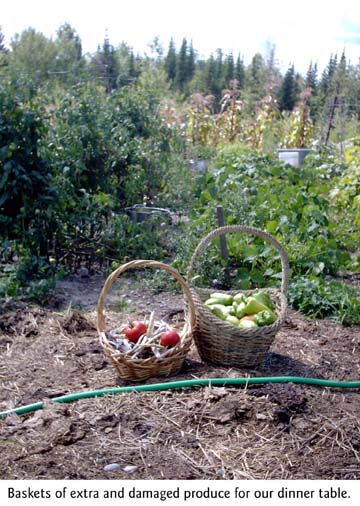 But one of the benefits of this sudden harvest is that we get to eat up all our "mistakes" and very ripe produce. Or produce that will not keep and doesn't lend itself to canning very well. Included in this are potatoes that I've cut or skinned with the digging fork, bits of Swiss Chard that aren't worth canning, tiny summer squash, big cucumbers and very ripe tomatoes.
So this time of the year we eat well. Really well, as I try to use up all those vegetables before they go bad. For instance, we have winter squash that the stem broke off while we picked it. They are prone to rotting in storage, so (Gee!) we have to eat them! Now we eat our fill of all sorts of odds and ends, joyfully.I picked half a dozen small ears of sweet corn; our very last, three large cucumbers we'd missed, two sweet onions that got stepped on during harvest, a dozen summer squash and a small basket full of Swiss chard. So for dinner tonight, we had corn on the cob, a cucumber salad with sweet onions sliced with them, fried sliced summer squash and more onions, with a sliced green pepper and steamed Swiss chard. I also opened a pint of sliced ham, and we had a harvest feast.
I smiled. Our feast was just to keep food from going bad. Gee ain't life hard here on our backwoods homestead???
I've posted readers' questions and answers below:
Blanching beans
We made a mistake on our green beans process for frozen beeans we froze them without blanching we wanted to know if the beans have been the freezer a month and we blanch them now and re-freeze will they be ok or have we lost that crop?
Daniel Leitch
Fremont, Michigan
If I were you, I'd just leave well enough alone and eat the beans relatively soon. Blanching stops the ripening process and maintains the best flavor. But I've frozen some vegetables withouth blanching and they turned out perfectly fine. For long-term storage, though, blanching makes a big difference in the flavor so it is recommended. — Jackie
Kale stems
Hi Jackie, Thanks for your information. I will try to can the kale I gathered yesterday tonight. I know – but better late than not. The stems – can they be dried and used in stews? Thank you.
Louise Sandy
Edmonton, Alberta
It would depend on how mature your kale is. The bigger stems often get woody with maturity. Try cooking a few, cut up and see how they do; if they seem relatively tender and tasty, give it a try. If they are large stems, be sure to slice them so they aren't more than half an inch thick; less dries quicker. I have never dried kale stems; maybe one of our readers has had experience with it? — Jackie
Seed germinator
My in-laws gave me a bunch of palm tree seeds from their palm tree they have in Florida. I live in New England and what I would like to do is build a small seed propagator with both heat and temperature controls so I may get them to grow. Do you know of anyone or any company that may have plans to build such a thing? I have been all over the internet with no luck at all. I'm sure someone must of done something like this.
Brian Connelly
Lexington, Massachusetts
There are several companies that sell products you may be interested in for your project. Check out <http://www.parkseeds.com>www.parkseeds.com>. Also check for listings under greenhouse supplies and you'll find several sources. Good luck! — Jackie
Prickly pear jam
I noticed in one of your replies to a question that you once made prickly pear jam. I'm trying to find a recipe for prickly pear jam and not "jelly"…It's September and now is a good time to go picking (carefully!) the fruit from the prickly pear cactus and make jams for holiday gifts. Do you have such a recipe? Thanks!
RJ Atkinson
Las Vegas, Nevada
First, pick the tunas with tongs; gloves aren't real dependable as the pickers can get in them or down the wrists; not nice! Okay, you have your ripe "pears". I singe mine over a flame on the grill, rolling them back and forth quickly, so they don't scorch too badly. Then when they're clean boil them for a few minutes and plunge into cold water, as you would a tomato. The skins will peel off quite well and any leftover spines should be soft. I mash the tunas with a potato masher, then force the pulp through a sieve to remove the seeds, which are plentiful, but large.
For 24 ripe tunas, which you put in a large saucepan after sieving them, add 2 c sugar, the juice of 2 lemons. Bring the mixture to a boil and stir frequently for about an hour or until the jam has thickened. Pour the jam into sterilized half pint jars and water bath process for 10 minutes. — Jackie
Canning cheese
I'm sure I once saw your recipe for canning cheese but can"t locate it now. Can you provide it again?
Kevin Bennett
Wausau, Wisconsin

I've had real good luck canning cheese, but have been reading reports by "experts" saying that it is dangerous to can cheese at home because of the possibility of botulism.  (Now what about all the fine cheeses that are aged for years in caves?????)
What I do is put my wide mouthed pints and half pints in a roaster pan of water and heat the whole works.  Then I dice my cheese and put it into the jars and let it melt, stirring to help it along.  When the jars are filled to within 1/2 an inch of the top, I put on the lids and water bath process the jars for 30 minutes in a water bath canner or 15 minutes in a pressure canner at 10 pounds pressure.
Because of the warnings, I can not recommend that you can cheese; this is just what I do at home. — Jackie
Canning refreid beans
 I've been wanting to home can refried beans. Searched everywhere for the canning time and pressure etc. with no luck until coming across you. I wanna be just like you! My next question came up in the idea of whether I should season them and or actually refry them before canning (that little bit of pork or beef grease gives a nice flavor). Do you have a specific recipe. It is so handy to have a can of refrieds in the pantry when time is limited and the kids are hungry. Bean burritos are far more acceptable to me than a prepackaged, frozen (or worse yet, not), additive added something!
Josie Voss
Longpine, Nebraska

I usually just can up my pintos, then make fresh refried beans when I need them.  As refried beans are a very thick product, it's actually safer to can them this way too,because you are sure of getting adequate heat throughout the contents of every jar.
To can up your pintos, just wash and sort them, then drain and add fresh water.  Bring to a boil and boil 5 minutes.  Then remove from heat, cover and let stand for 2 hours.  Add more water if most has been absorbed and bring back to a boil and boil 5 minutes longer.  Pack pintos into pint jars to within an inch of the top and pour on bean liquid to within an inch of the top.  Process in a pressure canner for 65 minutes.
When you need a batch of refried beans, simply drain a jar, then add it to your hot grease in a heavy frying pan.  With a potato masher or heavy spoon, mash the beans.  I add diced onion, green chiles and a bit of mild chile powder to taste and continue frying until the beans are dry and nicely fried.  Mmmm I'm getting hungry! — Jackie
Canning on a woodburner
I dropped my old pressure canner from quite some height and after a good bounce, the lid is out of round. Time for a new pressure canner! I've read some reviews and like the #930 All-American pressure canner because it holds 14 quarts at a time. The problem is that they recommend I not use it on my glasstop stove. Is it feasible to pressure can on our Quadrafire woodburner? (It would mean firing up the stove in the summer and blasting us out of a hot house.) What is your recommendation for a good long lasting canner? I can about 125 quarts and 150 pints during the season.
Jean Hermann
Lake Leelanau, Michigan

Any of the better modern canners are very good; I don't have a favorite, but I do like the steel on steel, gasketless canners because you don't have to worry about the gasket getting brittle with age and having to be replaced.  Any of them will last more than a lifetime….if you don't drop the lid from a high place.
Sure you can home can on a wood burner.  I've canned thousands of jars on my kitchen ranges throughout the years.  A wood range IS harder to learn to can on because it is a bit tricky to regulate your heat.  I end up dragging my huge canner back and forth on the stovetop to do that.  But you soon learn your stove.
How about picking up a cheap propane stove, such that is used for deer camps?  Northern Tools has one for less than $50 and it's plenty good enough to can on…..and won't heat upyour kitchen so horribly in hot weather. — Jackie
Conquering self-doubts about canning
I found your site last week after searching for canning ideas and tips. I must say it has been an extremely helpful tool for me! I belong to a CSA this year and have been getting a little overwhelmed with all the produce…so I decided to take the plunge into canning. I have a pressure canner and also large kettle for water bath canning as my pressure cooker only will water bath pints and smaller not quarts. Anyway, I have so far done diced and whole tomatoes, tomato sauces, pickles, beets and peaches. My question for you is this….how can I get the little voice out of my head that says, "What if we get sick from these canned foods"? I believe I have done everything right, and it ppears all my seals have stayed put…but I'm just doubting myself because there are serious problems associated with improper canning.
Lisa Butler
Commerce Twp, Michigan

Relax.  Every new home canner has those sneaking thoughts.  But if you've followed the directions, and your seals are good, your food is good.  Period.  For extra safety's sake, when we open a jar of our home canned food, look at it first.  Does it LOOK good?  Okay, open it.  Smell it.  Does it SMELL good?  If it does, I can just about guarantee that it is good.  With a little more experience you'll soon quit hearing that nagging little voice and it'll be replaced with a confident shout:  Way to go!!!! — Jackie
Canning homemade noodle soup
Can I can homemade noodle soup and use my home made noodles, love homemade pasta, like Dutch pot pie ,and noodles. Havening them caned would really help out when we have last min drop ins.
Wayne Sunday
Kent, Washington

I can up my home made noodle soup all the time.  Just make your soup or broth, then while it is boiling, drop in your dried noodles.  Quickly pack the soup into your jars and process for the time necessary for the meat or broth ingredient of the soup.  Do not use TOO many noodles, however, as they do swell in the jars and you don't want all noodles and no soup! — Jackie