Winter's first storm is a shakedown cruise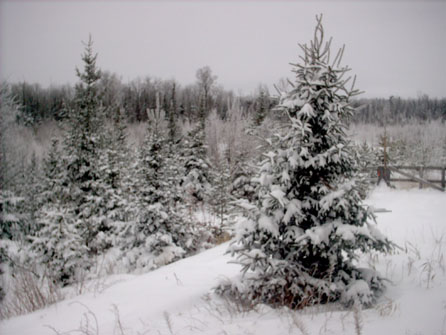 This winter came with a big BANG, in the form of cold and first a foot of new snow, then after only two days, another eight inches. We thought we were ready. Well, pretty much so, anyway. After all, we're not exactly new to snow country after living here and also in the mountains of Montana. We have a 3/4 ton Ford plow truck, a bulldozer, a snow blower and a shovel.
So after the storm blew out, David went out to hook up our snow plow so he could plow our mile long driveway. But the motor wouldn't even grunt. No power. We banged on it with a hammer, then took it apart and cleaned it out. Earlier, David put in a set of new brushes, thinking we were all ready for winter, for sure. Wrong! Okay, he went out and got the snow blower, which we'd started on and off for the last month, to be sure it was ready. No stale gas, new spark plug. And it just wouldn't fire up!
So he went out and swept the snow off the dozer seat. Evidently the battery terminals are corroded because IT wouldn't even click! And we'd run it a week ago and everything was great. (You saw the pictures on the blog, even!) As it turned out, only the shovel worked that day.
By then it was dark and I started the generator so I could at least wash clothes….it's kind of zen for me….calming and routine. I was about fried! So I washed clothes and did the blog, sending it off to the BHM office. Then the lights flickered and the backup system kicked on. The generator was still running but we had no electricity. Oh oh. That's not good. And I didn't go down to Virginia to pick up the one that was in the shop, fixed. Eeek. The only one we had was our backup, backup generator that was not reliable.
But luckily it did start and run. And the next day David took the plow truck in and it only cost $18 to put on a new solenoid on the truck and the plow motor hummed happily again. We picked up the fixed generator and took the one that wasn't generating. Then David plowed our drive nicely while the snow blower warmed up in our new greenhouse. Things were looking up. Especially when a few hours later, it started easily.
I took it out and used it to clean up around the house and goat barn. The goats acted silly when I ran it near their pen, but quickly forgot it when I gave them a can of feed. We went around the barn, banking snow against the west walls for warmth and gave everyone a bale of hay for bedding so they can lie down and be toasty warm. After all, tonight it's supposed to get down to -25. What will the rest of the winter be like????
The way I look at it, the first big storm of the winter is kind of a shake down cruise, letting you know what more you need to do to be prepared. Preparedness is not a destination, it's a trail. But sometimes there are plenty of bumps on the road. You just need to keep going, no matter what.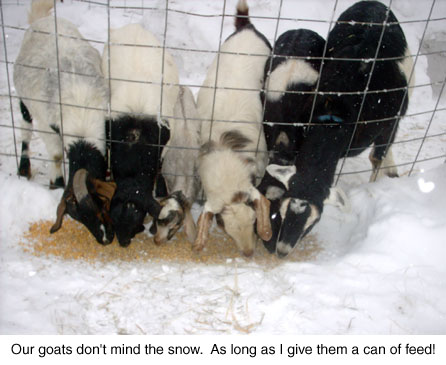 Readers' questions:
Are very old canned goods still GOOD?
My parents have oodles of home canned goods in their basement. They are about 15 years old! We can not seem to make them understand that they need to get rid of them. How do we go about getting rid of these jars? My father says that he will just take them out to the back of the garden and dump the contents and clean the jars. He wants to reuse them if at all possible. I do not think that is a good idea!!!!!! Please, help!!!!!!!!!!!!!! From a very frantic daughter in Ohio, Joyce!
Joyce Williams
Ohio

Gee Joyce, you'd be a REALLY frantic daughter if you were mine!  I have quite a few jars of home canned foods that are over 15 years old.  This is one of the BENEFITS of home canning; once canned properly, the food is good for nearly forever unless the seals fail (like when the lids or rings get rusty) or if the food gets soft (unusual, except for some pickles) or becomes discolored (usually from being in the light).  If the jars are sealed, the food is good.
True, some nutrition may have been lost, but then nutrition has been lost when you use bleached flour or eat store bought vegetables in a can (these are harvested past prime and processed under less than ideal conditions.).
If any of your parents' food is discolored or the lids are rusted, you CAN simply dig a hole in the yard and dump the food in it.  Washing out the jars is perfectly fine.  If the food smells bad or could be spoiled (like if a lid rusted or came loose), the jars can be washed and sterilized by boiling in a big kettle of water.  It's simple and safe.
If they were my foods and jars, I wouldn't let you into the basement!  Just kidding, Joyce.  I know you are really concerned but this isn't as bad a situation as you might think. — Jackie
Do you wash bands and lids before canning?

When canning you wash the lids and bands;do you dry the band before putting it on the jar, over the seal or do you leave it wet?
Anne Malone
Dayton, Ohio

I actually don't wash my bands and lids before canning.  I wash the rings after I take them off the jars, after the jars have sealed and cooled, then I put them away dry.  The lids, which are new, are just put into a pan of simmering water, with the heat turned off until you put them on the jars hot.  The rings are dry and should stay dry to avoid rusting  Rust eats up the rings and can also eat into the lids if the rings are wet, damp from a damp basement or poor storage.  This is why I remove the rings after the newly canned jars are cooled.   I use to keep the bands on the jars but found that they often started rust forming.  Not a good thing! — Jackie
Hominy making

I know that yellow dent corn needs to be cooked in lye water to remove the hull and make the vitamins easier for our bodies to digest, but does one need to prepare a flour corn such as Hopi Blue
or Seneca Indian before grinding into meal this way? Love your column and blog! My family and I would like to wish you and yours a very happy holiday season and a safe and prosperous New Year.
Dave Leland
Whitmore Lake, Michigan

What you are referring to is hominy making.  (I use lime, instead of lye.  It's safer for the maker, that way!)  You can grind flour corns just as you do others to make corn meal.  This is the kind of gritty meal you are familiar with from the store, that you make cornbread from.  Now corn FLOUR is a different product.  This is "masa harina", often sold at stores for tamale and tortilla making.  Masa is made by first making hominy, then drying it and grinding it.  This grinds up very fine, making corn flour, because you've removed the hull or skin of the corn kernel.  This is what gives cornmeal it's gritty texture.  You can grind cornmeal very fine, but it is never as silky smooth as is corn flour.  Also masa harina has it's own nutty, earthy, distinct taste that lots of us enjoy!
And a happy holiday season to you and yours, too!! — Jackie