Friday, June 27th, 2008

Because of the escalating price of wheat, we desperately wanted to get in even a small patch this spring.  But where???  Our garden was a whole lot bigger, but not ready to plant wheat, yet.  Will was here, and had cleared out our orchard so beautifully.  And when we were walking through it in the evening, we suddenly saw a wheat field among the fruit trees!  WOW!
So we picked rocks, threw roots and whacked off small brush.  Then Will found an ad for a small 6′ disc in the local shopper…cheap.  We called and bought the disc that afternoon.  Soon, we had a nicely worked-up orchard/wheat field-to-be.  I filled my little plastic hand seeder and walked back and forth over the ground, spinning out wheat to beat the band.
Then Will jumped on the four wheeler and dragged our old ratty bed spring over the wheat to cover it lightly.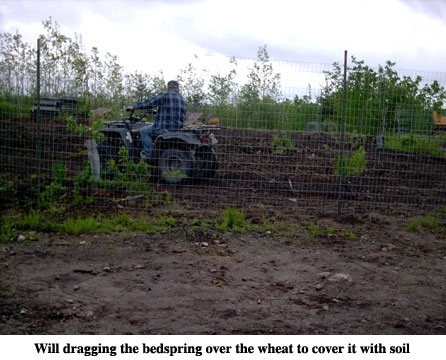 Now it's UP!  And it is beautiful, even and four inches tall already.  Double WOW!  Not only will the wheat be great for our bread and other baking, but it will help choke out weeds in the orchard and later the left-over straw will add organic material to the soil.
Already we're talking about a spot to make a designated wheat patch next year.  Our orchard wheat is only a start.  But what a wonderful start it is!
Readers' questions:
Grinding nuts/recipes

Grinding nuts — peanut, cashew, walnut, etc.  Can you suggest a hand grinder for this purpose?
I have read, but cannot recall where, that roasting nuts destroys much of their  nutritional value, but improves the flavor- do you know anything about this?
Got any recipes for making home made nut butter? I would give up the roasting to keep more nutritional value.
Bob Taylor
Poulsbo, Washington

You can make nut butter in most flour mills.  Even the old Corona style mill makes great nut butter.  Or you can use your blender.  Just dump in 2 cups of any type of nuts you want and grind them till the puree is oily and as smooth as you want.  If it is not "spreadable" like you'd like, simply add 1 or 2 Tbsp of sunflower or peanut oil.  You may also add honey or sugar, and a bit of salt, if you wish.  It is true that roasted nuts do make a tastier butter; I'm not sure I'd worry about the nutrition thing unless you are eating a LOT of nut butter.  Chances are if you eat a relatively healthy diet, your nutrition is already fine. — Jackie
Canning potatoes with skins still on

I just subscribed to your magazine this morning when I came across your web site while searching for a recipe to can potatoes – every recipe I come across suggests peeling the potatoes – I have small fingerling s and just could not possibly peel them – is there a problem with canning un-peeled potatoes? I look forward to receiving my first magazine.
Treva Burbine
Ellijay, Georgia

Heck no!  I can a whole lot of new potatoes and fingerlings with the skins on.  No problem at all.  Just process as per peeled potatoes.  If you'd like, when you open a jar to eat them, you can simply squeeze the potato and the skin slides right off. — Jackie
Frozen trout with guts still in them

Hi Jackie, me AGAIN.  I just have lots of questions and you are the answer lady!!  Friends brought me enough trout they had caught for me to can.  However, they did not clean (gut) them before sticking them in the freezer. Are those fish still eatable if I thaw and clean them, then can?  or are they cat food? Also, can you can spinach/chard?
Gail Erman
Palisade, Colorado

Hi Gail!  Ask away.  Eeeeuuuu.  Frozen trout with the guts still left in them.  Sorry, but I'd have a real hard time eating them, let alone canning them.  Yeah, in an emergency….maybe.  Here kitty, kitty….
Yes, you can home can spinach and Swiss chard; I do it all the time.  Just simmer to wilt or steam.  Pack jars with hot wilted greens and cover with boiling water to within 1″ of the top.  Process in a pressure canner for 70 minutes for pints and 90 minutes for quarts.  I also can lamb's quarters and red rooted pig weed. — Jackie
Adding ash to compost

I love your "Ask Jackie" column, and I'm so happy you're online with a blog!  I'd like to ask you if it is okay to add the ash from my corn stove to the compost pile.  I hate to see it go to waste if there's a good use for it.
Bob Bader
Rockwood, Maine

Yes, you can add a reasonable amount of your ash to your compost pile or sprinkle it right onto the garden, which is what I do with our wood ashes.  Just don't over-do it. — Jackie
Canner recommendation

Can you recommend any companies that have canners that are not too expensive?  We are new to canning etc.  I don't want anything too complicated.  Another note, you are an amazing woman.  You do just about everything I can think of. My hat goes off to you!!!!
Julie  Jaco
Senatobia, Mississippi

You can pick up a good quality new canner at many local hardwares and even WalMart and Kmart for a reasonable price.  Most are "down to business" pieces of kitchen equipment; nothing fancy.  Do yourself a great favor and get a reasonably large canner; don't get a pressure cooker.  They just don't do the job you need them to.  Welcome to the satisfying world of home canning!  Enjoy the trip, and let me know if you have questions along the way. — Jackie
Using smaller canning jars

Probably a silly question, but a few years ago I canned some pickled red cabbage and some corn relish in 1/2 pint jars.  Since I am the only one who likes these items, sometimes I would have to toss the remainder of the jar if I didn't get it used up quickly enough.  I have some smaller than 1/2 pint jars.  Would there be any problem with using these smaller jars in the hot water bath?
Ruth Dixon
Gold Beach, Oregon

Absolutely not.  I do the same thing myself.  I also can up these small jars full of chicken, pork, venison and beef pieces to add to casseroles etc. for flavoring.  It sure makes a little canned meat go a long, long way!  And with the future meat prices, hold on to your hat! — Jackie
Raising chickens and turkeys

For some reason my husband has recently become allergic to beef, pork, venison,lamb, etc…(pretty much any mammal meat),he is also allergic to baking yeast and milk.  This has totally depleted my long-term storage.  I had to get rid of everything that had these ingredients and things that used fat or lard. My husband can eat fowl and fish.  We also have three gardens that we eat from, fresh and canned. Is it possible to can chicken and turkey?  I have some things frozen but if something bad happens these foods will have to be eaten quickly and with his condition we can't hunt to supplement his diet.  How long would canned chicken and turkey last on the shelf?
We have ten acres with 1 dairy cow, two dairy goats, assorted chickens, and guineas.  Would raising turkeys be a viable option for us?  Do they need to be kept seperate from our chickens? (read something about "blackhead")  Which breed would be best, which breeds are hardy and can reproduce easily?  Finally how many would I need to start out with, since they will be our primary source of protein?  I've been looking through catalogs but different hatcheries disagree on characteristics, and I'm getting really confused!  Thank you so much!  Any info will be greatly appreciated.
Josie Killough
Rienzi, Mississippi

Sorry to hear your problem.  YES, you can certainly home can poultry of all types.  Yes, you can certainly raise turkeys.  I know the experts say not to raise turkeys with chickens, but I always have and have known a whole lot of other homesteaders who do, too.  You will want a lighter breed of turkey.  Most modern turkeys are Broad Breasted Whites or Bronzes.  The toms get so heavy that they tear great gashes in the hens' backs when they mount to breed.  You will be better off with a lighter breed turkey.  Bourbon Reds, Slates, Royal Palms and Nargansetts all mature at lighter weights than do the "giant" breeds, and because they do, the toms are able to breed the hens. I would also advise you to get some good dual purpose meat chickens, such as White Rocks.  They don't get as big as turkeys, but they do reproduce on a much larger scale, over a year, giving you more eggs to hatch.  Turkeys only lay for a short period in the spring. — Jackie
Is it mold or not?

My Mom died and I am cleaning out her cupboards.  She has some home canned salsa.  It looks fine on the bottom, but the top looks greyish.  Do I throw it out or is it OK.  Why did it do that?
Leona Martel
Stratford, South Dakota

Open a jar and take a good look.  If the "greyish" is mold, toss it.  If the top is just dried out from not being covered with liquid and the salsa smells fine (and the jar's seal was still good; it was dented firmly down in the center, it is fine.  If it is mold, either the jar was not sealed or the salsa wasn't processed long enough to heat it high enough to kill the mold spores. — Jackie
First pressure canner

Today I got my very first pressure canner.  I am very excited, and I can't wait until my garden gives me something to put up… I am close to being ready for snap peas (which I'll likely eat up too quick to can), turnips, and the dark leafy greens.  Are the leafies ok for canning?  Do you have any recipes for turnips?  Also, I am nervous about the canner.  My stove has cabinets right above it (that were poorly placed way back before we were existing).  Would I be better off outside with a propane burner?  Thanks :)
BTW:  I love your blog… I am learning a lot from you and I am so grateful that you are out there in this crazy processed world to help educate us newbies!
Maria Spillane
Easton, Pennsylvania

Congratulations Maria!  You have a right to be excited.  You're starting on a real fun adventure that will provide years and years of great eating and food security.
Have fun! — Jackie