Will comes for a two-week visit and we are getting lots done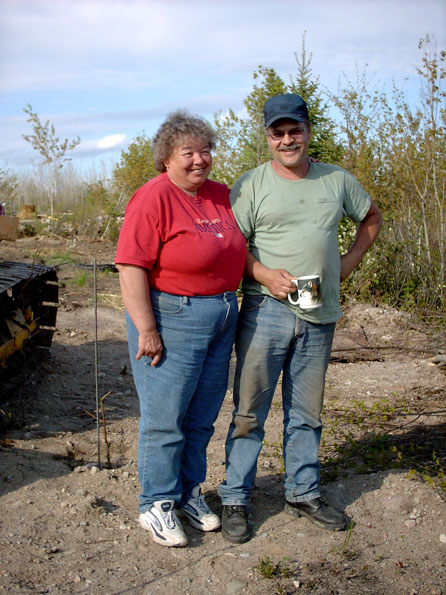 My boyfriend, Will, flew in Thursday from Washington State and he hit the deck running.
Instead of jetlag, he woke me up at 6:30 A.M. Friday, jeans on and ready to work.  Mom's still in the hospital recovering nicely from her bowel resection 12 days ago and I promised her we'd work on the new house garden, which she can see from the porch.  So Will
jumped on the bulldozer, leveled the spot well, then started measuring and cutting the leftover 5/4 decking we had left over from the old greenhouse at the mobile home and then reused again on the temporary greenhouse on the new log house.  We hauled it all next to the house, and by nightfall, there were 2 4'x4′ raised beds and one 4'x6′ bed finished and in place.  This incuded hauling black dirt into them, as well as rotted donkey and horse manure from the barn.  WOW!
Then the next morning, he got me up at 5:30, ready to finish them!  And we did.  But then he went back on the bulldozer while David watched in awe (Will has had lots of bulldozer experience in the past, working as a logger, so David had lots to learn.)  Working all afternoon, Will cleared out the brush and old logs between our big garden and the back yard.  He kept David and me busy pulling rotten logs out of the "good" trees, which we left, and throwing them where he could reach them without damaging the trees.  Now we have a park-like backyard, which is twice as large.  Plenty of room for wildflowers now!
This morning was another 5:30 morning, and we went down to the horse pasture.  It's grown up with young popple trees, following a clearcut 10 years ago.  We need more pasture and less trees, so Will started in cutting a swath.  I hauled and bunched them, and later on, we chipped all the tops, saving the bottoms for firewood.  All those chips made a great path in the new kitchen garden, between the raised beds!
I can hardly wait to see what we get done tomorrow.  It's great to have such an enthusiastic and fun guy around.  I could get used to this…..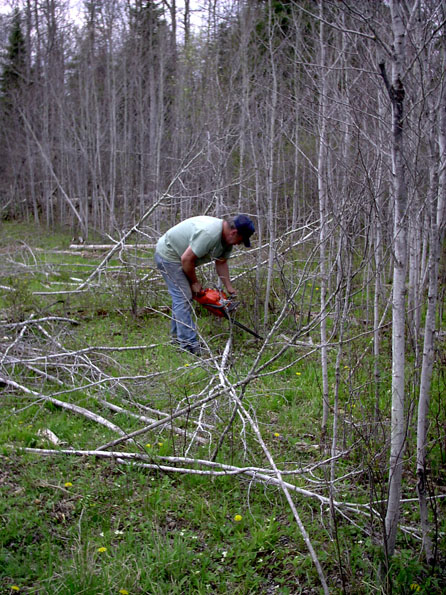 Readers' questions: (Jackie is having computer trouble handling the most recent batch of questions sent her by readers. As soon as we get it figured out, we'll post the questions and answers — Editor)