Tuesday, July 29th, 2008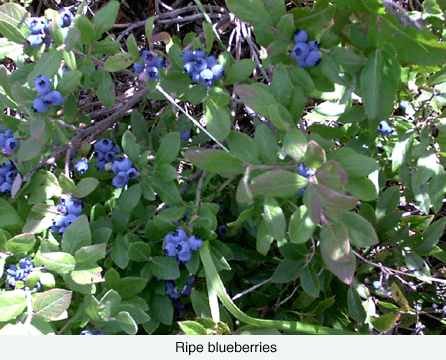 I've been watching the wild blueberries since spring. Last year, after suffering that cold winter with drought and no snow cover, many of the bushes died back and those left didn't produce enough to keep a chipmunk alive. But this year they all have new growth and were blooming madly in late May. Luckily, we didn't get a late freeze to kill the blossoms, or a drought this summer. So we have blueberries. And this week they were ripe.
Of course they aren't as wonderful as they were three years ago, when they made the bushes blue. But they are good enough that I'm picking every day. It is a slow process, as they aren't bunched up in handfuls. But, still, I keep pecking away at it and have put up 14 half pints of blueberry jam and 10 half pints, plus 2 pints of blueberries for muffins, pancakes, pies and other goodies, so far. Those little partly full baskets do fill the jars, eventually. It makes it a little hard, because I can't get far from Mom, and have to check in on her every 15 minutes or so. But the shelves are slowly filling up and there are still a lot of berries out there and more to ripen.
It's lucky they came in this week because Tom, our carpenter friend, is waiting for me to get more money; we're doing another addition on the house so we can put in a wood stove for winter. Fuel is NOT going to go down, and it's already out of sight. Yes, propane is convenient and neat. But I will not pay the price. My money comes too dear for that when I live in the woods. I'm sure glad I don't live in the city! Oh yeah!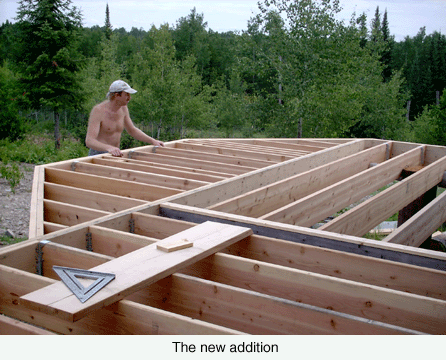 Readers' questions:
Sealing jelly
I have a lot of past years homemade jelly in pint jars and I would like to give as gifts in smaller jelly jars. Is it ok to put in 1/2 pint or smaller jelly jars and just seal the lid in a pan of boiling water upside down?
Becky Johnson
Rhinelander, Wisconsin
I've never done this. If you want to experiment, I'd slowly heat a pint of jelly, with the lid off, in a double boiler. When (and IF) it liquefies, bring it to a boil and quickly ladle it out into your half pint, hot, sterilized jars to within 1/8″ of the top. Process these (right side up) in a boiling water bath for 5 minutes for jelly and 10 minutes for jam. Let me know how this works. I'm sure other readers would be interested, too. — Jackie
Storing vegetables without canning
I would like to store some vegetables and things if possible without canning them. I live in Florida where I cannot have a basement because of the water level on my land and a root cellar is not an option. What other choices do I have?
Dawn Kicklighter
Plant City, Florida
One option is to tip a barrel on its side, with the opening tipped upward somewhat and dirt heaped over and around it for insulation. Vegetables can be layered in the barrel on harvest, then the front covered with a lid, straw for insulation and a tarp to keep the rain from rotting the straw during storage. This usually works quite well. Another way I've seen some folks store vegetables in warm climates is to use an old chest type freezer like the barrel. You just sit it in an out of the way, shaded spot, heap dirt up to almost the lid. Then you add your vegetables and put a layer of baled straw on the top, with a tarp over that. The only disadvantage of these methods is that you must remove the straw and cover before accessing your stored vegetables. To tell the truth, I much prefer canning, as once it's in the jar, it will never get soft, go rotten, or be eaten by mice. — Jackie
Kimchi recipe
I was wondering if you could tell me how to make kimchi. I don't want to can it, just like to know how to make it. My husband was in the service, and he used to eat it when he was overseas. Walmart sells it, but at about $4.00 a pint.
Kathy Jasperson
Belle, Missouri
There are literally hundreds of kimchi recipes. Some include anchovies and baby shrimp, others include dikon radishes instead of cabbage. Here's the one I used. You can also go online and type in kimchi recipes for many, many more.
1 large head cabbage
1 cup pickling salt
5 cups ice water
1 long white radish, grated
1 onion, sliced finely
2 tsp chopped garlic
1/2 cup chili paste
1 Tbsp sugar
Remove core of cabbage and cut into small chunks. Mix salt and water and pour over cabbage in large bowl. Weight down so brine covers cabbage. Let sit on counter overnight. In morning, mix the rest of the ingredients in another bowl. Drain cabbage, rinse and drain dry. Mix chili, etc. with cabbage quite well. Pack well in wide mouth glass canning jars. Press down well to get rid of any airspaces. Put lid on tightly. Let sit in a warm, dark area at room temperature for 2-3 days (depending on the temperature…longer if it's cool), then refrigerate until use. Then return to fridge after each use until gone.
Kimchi stinks because of the fermentation and the onion/garlic, but it's addicting! Good kimchi making! — Jackie