Thursday, January 29th, 2009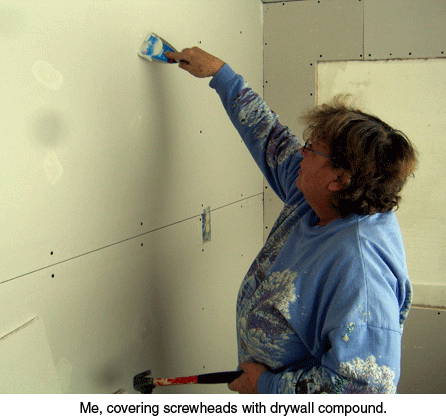 We've got the new addition coming along very nicely. Unfortunately, there's a whole lot of dry walling that had to be done. (We're going to use log accent pieces throughout, but used the Sheetrock to break up the darkness of all log.) Will and David are cutting and hanging most of the drywall, and I'm following along, mudding the screw heads and taping and mudding all the billions of corners and joints. Unfortunately, it's not a single application. Every one has to be done at least three times, as the first shrinks, then you have to build out from the joint to a nice even surface. So over and over, I go, trying not to leave too much compound on the area, which will interfere with the next coat and have to be sanded down before another coat is put on. I look down the long room, from the laundry room and wonder if I'll EVER get it all done. But I know I will, eventually, and will be so happy to paint those ugly blotched walls!
Readers' Questions:
Canning equipment
I am looking to start canning and I have no idea what equipment to buy. I looked over some pressure canners but they seem way to pricey. What would you suggest that I should start out with and or need to do to enjoy the pleasures of canning.
Guy Treszi
Pittsburgh, Pennsylvania
You can begin canning with a water bath canner, which costs less than $25. With that you can home can fruits, jams, preserves, pickles and other high acid foods. But you can't can low acid foods, such as vegetables, poultry or meat. You need a pressure canner for those. You might find a used one for sale online or at a second hand store for a price you could afford. Even a new one is "cheap" when you figure it's a lifetime investment. — Jackie
Growing potatoes in tires
In the May/June 2008 issue, you wrote an article on getting serious about gardening. I thought the idea of growing potatoes in old tractor tires was cool, but have a concern about the possible dangers of any chemicals from the tires leaching into the soil. Is there another alternative to the tires that may be healthier? Also, does the container need to be filled entirely with composted material or is a mix of soil & compost acceptable?
Kathy Williams
Baltimore, Maryland
While it IS possible that somewhere, some tires could leach chemicals into the surrounding soil, people have been using them successfully for years. I know some very old people using them, so ???? You could use anything to hold the soil. Some people have used garbage cans, 55 gallon drums and even log cribbing. You just need to hold the soil in place and slowly fill the container as the plant grows. Yes, you can use a mixture of soil and compost. Straight compost might contain too much nitrogen and give you lots of potato vines and few potatoes or scabby potatoes. It depends on what is in your compost. — Jackie
Steam canners
I love using my water bath canner for tomatoes and fruits, but I've seen steam canners for sale in catalogs. The ads claim they save on water, which is especially interesting to me, a municipal water user who's charged per usage. In your opinion, are these canners just as good as a water bath canner?
Kristin Radtke
Green Lake, Wisconsin
NO. These steam canners are not recommended for canning (no matter what the ads say), as it is not certain how much heat actually reaches the centers of the food in the center of the jars. You can save money/water when using a water bath canner by re-using the water for several batches of jars…unless one breaks, of course. Just add enough to bring the level up to two inches over the tops of the jars. You don't need to dump the whole thing every time. I use my "used" canning water to water my indoor fruit trees and other large plants. They seem to like it and that way I'm not "wasting" that water. — Jackie
Using alum in pickles
I had a bumper crop of cucumbers from my first garden. So I pulled out great-grandma's pickle recipe to make 11 quarts of pickles. As I was telling someone about it, they asked if I used "alum" in the picking. They said it would kill me to eat them.
My question is two fold: first is alum bad? Second, say you goofed and used a tablespoon instead of a teaspoon as called for in the recipe–not that I might have, well, it is hard to read the hand written Tbsp. vs tsp., well I was not paying as much attention as I should have.
William Kone
North Olmsted, Ohio
No, alum is not going to kill you. Too much, as in a Tbsp. instead of tsp. might pucker you a little, but you won't die from it. The alum in old recipes is to keep the crunch in the pickles. Grape leaves or simply not "cooking" the pickles will do the same. Enjoy your pickles. — Jackie