Monday, August 31st, 2009
For three years now, my 18 year old son, David, has been helping our 80+ year old neighbor, Jerry Yourczek, make hay. He's learned to drive, maintain, and fix large tractors and a variety of haying equipment, from haybines to double wheel rakes, plows, discs, and hay transports. They made more than 3,000 big round bales last year! That ain't hay!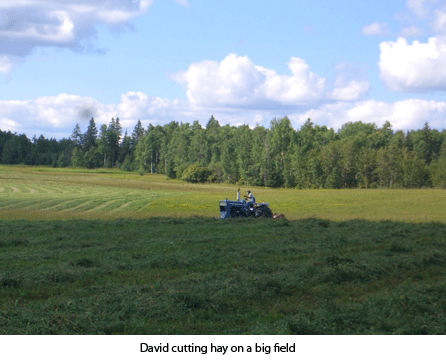 David's been offered better paying jobs, but he likes working for Jerry and feels like he's part of the family. It's also paid off for us because as a "bonus," Jerry lets David bring his big tractors over from time to time to use for our projects. Like lifting up the 22 foot, very heavy power poles we are using for our new storage building. We sold our Ford 8N tractor we'd been using to lift the poles, in order to buy my oldest son, Bill's tractor. That Ford 660 is a little newer and a little bigger. But we don't have it here yet; we are tractor-less and the bulldozer is still laid up.
Will's son, Don, is here again from Alaska, and they are going gangbusters, and we didn't want to stop for lack of more poles in the ground. So David brought the big New Holland 5050 home and they easily set three more key poles so the work would progress. Thank you Jerry!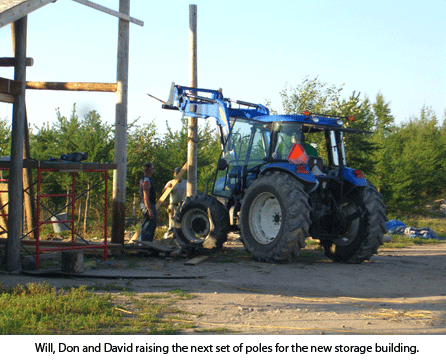 Of course, we are always willing to help Jerry any time he needs it and are careful not to abuse his neighborliness by overusing his generosity; a huge key to getting along in the country.
Readers' Questions:
Separating cream from goat milk
I let my milk set in a container so the cream will separate. The cream that comes off is very thick, almost butter. If a recipe calls for light cream or heavy cream, how do I use this very heavy cream? Do I dilute it with milk? At what ratio?
Kathy Minkkinen
Cedar Bluff, Alabama
Goat cream rises in two layers. The top layer is your very heavy cream. Just under that is a layer of light cream. To get "light cream" skim not only the thick layer, but a little of the "milk" just under it. That is light cream. By mixing the heavy and light cream, you'll get a nice light cream that will work well in all recipes. — Jackie
Corn, old hens, and potato beetles
I just picked a lot of my corn today. Many stalks had no ears and many of the ears I picked were small or had only half the ear in ripe corn. Is this due to the weather we have been having? We have had many cool nights in central Wisconsin around or under 50 degrees. Also what is a good variety for sweet corn for next year?
I am also getting ready to butcher old hens. I have some that are more than 3 years old. Will they tenderize as I pressure can them or am I wasting my time? Do you precook them?
There was a man several weeks ago who asked about potato beetles. Well, I had them this year! I have researched the life cycle of them and if you don't mind I'll share what I found out. The adult beetle comes out of the ground and lays orange egg clusters underneath the leaves of the potato plant. I have learned to look under all leaves several times per week after you see your first beetle! If you miss the orange egg clusters they will hatch into larvae. They eat the potato leaves and FAST! I would pick several times a day to get them. I did miss a few and the larvae turned into a darker colored beetle in 2-3 weeks. During those weeks they kept eating the leaves! Keep picking those beetles! These beetles mature into the regular colored adult ones. They crawl into the ground and hibernate until next year. I did catch one beetle crawling into the ground. So pick, pick, pick at all stages. The potato beetles also liked my eggplant plants.
Cindy Hills
Wild Rose, Wisconsin
I'd suspect your corn problems were due to our summer with no summer. (We had it too!) In normal years, just about any good sweet corn variety will give you great yields. I like Kandy Kwick, Kandy King, and True Gold (open pollinated). Be sure to always plant at least 4 rows of corn together in a block so that it pollinates nicely. This ensures full ears, from base to tip. If you plant one or two long rows instead, you'll find that you get a lot of ears with ugly, unfilled cobs.
Your hens will give you great meat. Yes, it will become tender during pressure canning. Even old roosters make great, flavorful meat! I do precook my chickens, regardless of age, for ease of packing the jars and a more appetizing end product.
You're sure right about the potato bugs. Faithful picking will not only end this year's problem, but also help next year, as well. but some years there are just too many bugs! That's when I resort to the rotenone dust. — Jackie
Canning apple pie filling
Thanks to you and BHM I have just started canning this year and I love it. I do have a question about your apple pie filling recipe. It does have a little flour for thickening which is why it is not recommended for canning. You did say you have canned it for years without any problem. I am thinking of leaving the flour out and canning it. Also, I do not peel the apples. I leave the skin on. Often I use it as a topping on my oatmeal for breakfast, so I do not care if it is not thick. Would it be OK to can it this way: no flour, peels on?
Susan Bates
Portsmouth, Rhode Island
If you are worried about the flour (which doesn't really thicken it too much), you can certainly just can the apple slices with a medium syrup (with or without the peels), instead. Or make an apple pie filling using ClearJel, a refined cornstarch product that IS recommended for canning thickened pie filling. — Jackie
Canning fats
Beans aren't any good without fat and seasoning. I'd like to quickly can my left-over fats to go with any bean dishes. Have you, or do you know how to can fats? Other than pouring hot fat into hot jars and quickly sealing?
Louise Sandy
Edmonton, Alberta
You can "can" lard this way, but I wouldn't recommend doing it with other cooking fats as they would become rancid fairly quickly. Canning strictly fat isn't recommended because fat often blows out of the jars during pressure processing and the seals on the lids fail to hold. I dice ham in pint and half pint jars with ham broth (including a little fat) and this is great with bean dishes. And better for your cholesterol level too! — Jackie
Blackberry jam not processed long enough
Ok I wasn't thinking, maybe just got derailed but I made a batch of blackberry jam and only kept it in the boiling water bath 5 minutes instead of 10. Is it ruined or will it keep? And since I am visiting with you again I was getting ready to can some wild mushrooms when we got on the subject of the 70s botulism that happened and I just would like a little input on botulism or what causes it in canning.
Conel Rogers
Makanda, Illinois
If the jars sealed, they will probably be just fine; we didn't use to water bath jams and jellies at all. In fact, we poured melted paraffin right on top of the hot jelly to seal the jar. The trouble with that was that often the paraffin would crack loose or mice would eat into it and the jelly would mold. We just scraped the mold off and ate the jelly! And we lived (the mold isn't toxic, just ugly and nasty). Now to keep the jams and jellies perfect, we don't use paraffin and water bath them to ensure that the jars seal and stay sealed.
Botulism is caused by bacteria that produce a deadly toxin that is NOT killed by a boiling water bath canning. Improper canning can cause illness because of that toxin. To avoid botulism, be sure to always follow proper canning methods and directions from your canning book; never, never guess. Each and every time I can (and I've canned thousands of jars over lots of years), I get out my canning book. Just to be sure. By using a pressure canner for all vegetables, meats, and poultry products or recipes that contain them (other than pickles), the food in the jars' temperature is raised higher than boiling because of the pressure. That, coupled with a correct length of time for each food, WILL kill any botulism toxin present. — Jackie
Sweet pickle chunks
Do you have a good recipe for sweet pickle chunks that doesn't involve soaking in brine solution? Something that can just be canned up quick? I'm overwhelmed with cukes this year.
Robin Balczewski
Colvelle, Washington
Most sweet pickles need to be soaked in iced salt brine before pickling to keep the crisp in the pickle. This year I'm NOT overwhelmed with cukes; I still have not one large enough to pickle! But in most years, I scrub the cukes and cut them as needed, then brine them in ice water brine overnight so I can start the very next morning. Then I pick another batch in the afternoon to do the next day and so on. That way, I've always got a new batch all set to go and you really don't lose any time that way. Lucky YOU! — Jackie
Composting meat products
I'm setting up a "survival" home in a remote area of Arizona. I will have a well, solar and wind electrical system, and a GREEN HOUSE! I want to get a composter but read that table scraps related to meat products won't compost… yet one particular brand brags that you can put meat, fat, and even BONES in it and it will compost them. When looking at the "bragging composter" construction, it seems just like the others. What gives? Can meat leftovers, trimmings, etc. be composted? If they can, do you really have to buy a special composter that seems to look like all the others?
Joe Hindman
Flagstaff, Arizona
Meat, fat, and meat leftovers should not be put in a compost pile or bin. They don't compost; they rot. This not only can smell and attract animals to your bin, but will probably smell when you turn your pile so that you won't want to be around it. You can bury your bones under a tree, nice and deep, feed your meat scraps to the dog, pigs or chickens, and compost your vegetable matter. There is no "magic" composter, regardless of hype. — Jackie
Planting onion sets
How do you make onion sets and when do you start them and when do you put them out. I live in the coastal zone in Washington state, zone 7 or 8.
Joan Orr
Lopez Island, Washington
Onion sets are planted from seed, sown in rows or beds in late summer. They make little bulbs (sets) by late fall, which have the tops die down, just like big onions. They are then harvested, allowed to dry outdoors, out of danger of freezing, then are held in a cool, dark place until spring when they are planted outdoors to go on to make big onions. — Jackie