Wednesday, December 30th, 2009
We had quite a Christmas snow storm. We missed most of it up here, but further south, where my sister Sue and son Bill and his family live, the snow stacked up pretty high for Christmas. So we delayed "Christmas" and our family dinner until Sunday, when everyone could be here and the roads were safer. There's no sense to charging out in a blizzard for a dinner! We all enjoyed having it on Sunday, regardless that Christmas was past.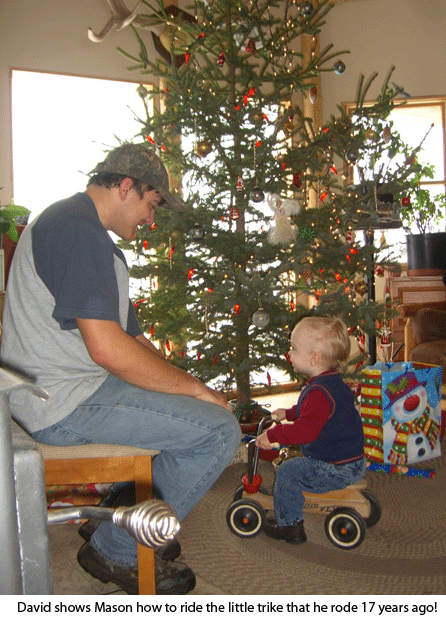 My grandson, Mason, loved having two Christmases. He got to see what Santa brought at home, as well as presents from the relatives down there, then on Sunday, he had more presents waiting. And he got a big bang out of helping Great Grandma open her presents, too!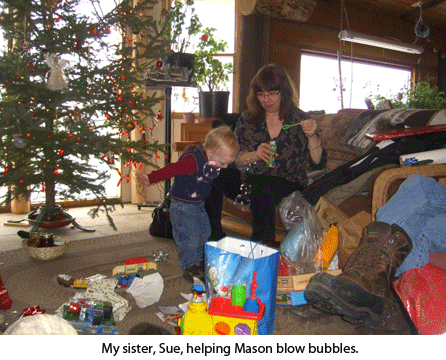 We ate a huge dinner of mostly homemade, home-grown foods, including a green tomato mincemeat pie, Will's cheesecake, an apple pie, a pumpkin pie, and Mom's old time favorite pie, "sugar pie" (a depression era pie that only needs sugar, flour, eggs, water, spices, and a single pie crust). We gorged ourselves on mashed Yukon gold potatoes, green bean casserole, watermelon and bread and butter pickles, as well as a 23 pound turkey that I got on sale for 38 cents a pound. All the vegetables and fruits were either fresh from the cellar or home canned. What a nice feeling that was! As well as gathering around the table, having everyone happy, healthy, and full of holiday good spirits. May this season bring these all to you and yours.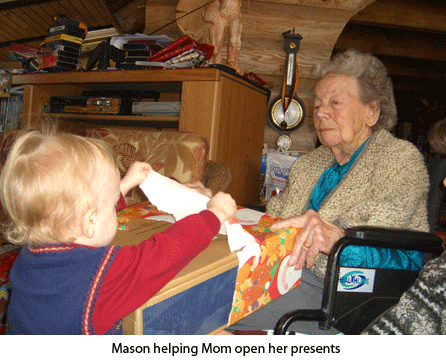 Readers' Questions:
Making cottage cheese
My question is homemade cottage cheese and cream cheeses. I read your past articles on it, but have a question. I shop for milk in town. Price wise a gallon is cheaper, but I can't use a full gallon before it expires. If is is near or even a day or two past expiration could the remainder be used to make the cottage cheese? Same with heavy cream, can it be used or added to the milk for processing with the vinegar?
S. Launer
Cheyenne, Wyoming
Good news! Yes, you can use store milk to make cottage cheese, soft cheeses, and yogurt. You can even make hard cheeses, such as colby and mozzarella. Sometimes folks can get slightly outdated milk from stores or a dairy company at a very good price. So you don't have to wait until you have your homestead to start making your own home made cheese. — Jackie