Wednesday, January 27th, 2010
For a shop project, David is making a slide-in-trailer receiver cargo rack.  At school, he cut and assembled the rack.  But tonight he brought it home and he and Will measured and drilled holes for bungee cords to secure the load and the holes where the hitch pin slides through.  I was so glad David is getting some very useful training at school for some real-world work that can come in very handy in his future.  Will also helps him with his welding and shop work, here at home.  No one ever knows what the future will hold and the more marketable skills a person has, the better his chances are for a brighter future…no matter what the economy or world is doing at the time.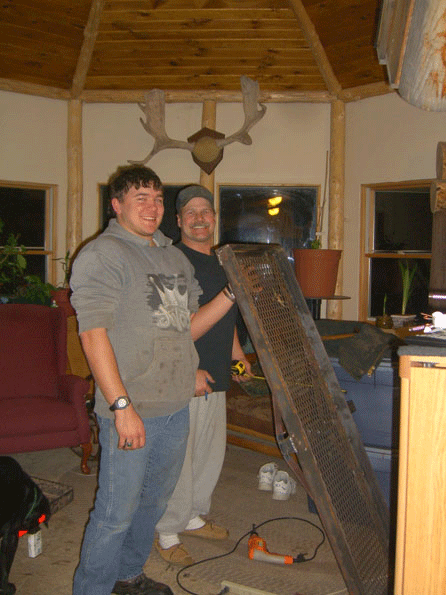 Readers' Questions:
Baking in a bread machine
We recently purchased a NutriMill and have been grinding hard white wheat into flour.  We also have hard red wheat but haven't tried that yet.  We've been baking 2 pound loafs with a bread machine on the whole wheat setting.  We've been using a 100% whole wheat recipe from the machine's manual; flour from the mill, water, butter, salt, gluten flour, brown sugar, skim milk powder, and yeast.  Each loaf has been delicious and very consistent but each time the top "collapses" so the loaf's top looks weird.  Otherwise it's great bread.  We reduced the water for a few loaves but it didn't have much effect.  Can you recommend a recipe for using a machine to make bread from flour right out of the mill?  It would be especially helpful if it used eggs since we've got plenty of them.
Holly A.
Shevlin, Minnesota

I'm sorry, but I have never used a bread machine.  Mom used to have one, but I've always made bread the old-fashioned way.  Maybe Ilene Duffy could help you.  She's a whiz with a bread machine.  Let's ask her! — Jackie
I can't exactly say I'm an expert either at using a bread machine since I let the machine run its course just through the dough cycle and then take the dough out, shape it, let it rise again for an hour, and then bake it in the oven. But here are some ideas to try to see if you can get some nice loaves right out of the bread machine.
First of all, I'd try a 1 1/2 pound recipe instead of a 2 pound. Most bread books have recipes for both of these sizes of loaves. It could be that your bread machine can make a 2 pound loaf, but for this particular recipe that you're using it just is too much dough for the machine to handle.
Another thing to try is to adjust the liquid to flour ratio as you've already done, but write down exactly how you're making your adjustments so you can better tell in the future what's working and what isn't. You might try lessening by just one or two teaspoons the amount of liquid and with the same loaf add an extra tablespoon or two of flour, which will give you a denser bread.
Egg bread is great and I use up eggs too when I have an abundance. (Nice problem to have!) I've found my homemade egg breads to be more dense than loaves made with just milk and/or water. They make wonderful sweet breads when you add a teaspoon of cinnamon to the dry ingredients and later add a handful of raisins during the first mix cycle. You can also add the raisins to the dry ingredients which works fine too.
You've inspired me to make a nice loaf of whole wheat bread this weekend! — Lenie
Sweet limewater
Your book and articles have inspired me to try grinding my own corn for cornmeal and hominy flour.  I know you like the Native American corns, but which one would you use for your hominy?  Also, you said the you soak the corn in sweet limewater.  What is sweet limewater?  I'm looking forward to trying parched and dried corn as well.   Thanks for all your insights and help.  Whenever I wonder how to do something with crops or canning or something, my husband always asks "What does Jackie say?"
Carol Bandy
Hightown, Virginia
The lime you want is slaked lime (calcium hydroxide), although pickling lime will work.  You can often find slaked lime at Mexican groceries, or in the ethnic section of larger stores.
My favorite corns for hominy are Cherokee White Flour corn from Seed Dreams (gowantoseed@yahoo.com) and Santo Domingo Blue from Native Seeds/SEARCH.  Of course you can use just about any larger seeded dry, mature corn.  Have fun!  Your own cornmeal, hominy, and corn flour is SO much tastier than store-bought!  (Like everything else.) — Jackie