Tuesday, February 23rd, 2010
Our lab's favorite dish is one of my hanging basket pots. It's usually full of dry dog food. But when it got empty, Will taught Spencer to pick it up and carry it outside for a refill. Then he taught him to carry it back inside, full. Well, yesterday we were sitting in the living room and Spencer looked at us, then trotted in the greenhouse, picked up his dish and came out and sat in front of Will. It was empty! And Spencer wanted a refill. We laughed until tears ran down our faces. Then Will went out to refill the poor puppy's dish. Now if only our government could figure out things as easily! Maybe Spencer should run for President?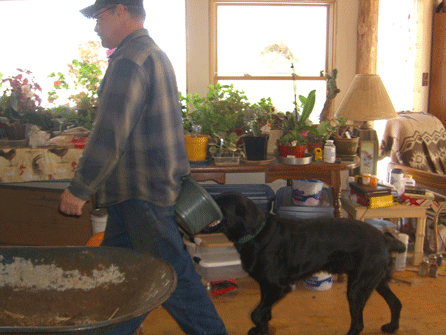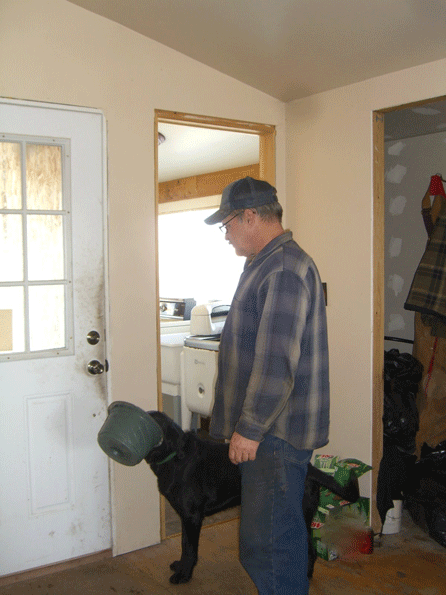 Readers' Questions:
Recipe for pecan butter and purchasing saltpeter
I need a recipe for canned pecan butter and where can I purchase saltpeter?
Charlene McGallagher
Irvington, Alabama
I have never had enough pecans, or peanuts even, to make butter, and also don't have a recipe for it. Do any readers have any help here?
You can usually find saltpeter at larger stores that carry hunting and sporting goods, where the jerky spices are located. If not, try sausage-making supply houses, such as Harvest Essentials, or even your local butcher. I'm assuming you're going to make some cured meat; you might look for Prague powder, which contains saltpeter. — Jackie
Milking goats
How many milking goats do you have? I know you talk about spreading out your breeding season so I know you have more than one.
Margie
Palmer, Alaska
We presently have two does, Buffy and Fawn, who have freshened before, and this year we will have two of our triplet doelings freshening, Jewel and Onyx. We also have two doelings that we didn't breed this winter, to get more size on them, Dusty (Buffy's daughter) and Strawberry, the Boer daughter of our new buck. We try to keep our herd small and manageable, yet always improving. We DO love our goats! — Jackie
Vacuum jar sealer
I am looking for a nonelectric hand pumped vacuum jar sealer. Can you help?
Ruby Baker
Leesville, South Carolina

I've read about folks using hand vacuum pumps from auto parts stores. (You can buy one that's used for testing vacuum lines for about $40.) I think this would work fine for you. — Jackie
Canned pickled eggs
Do you can pickled eggs and is it safe to do so? I have been looking for a recipe for canned pickled eggs and everywhere I look it says that they are dangerous and it is not advisable to do. If it can, do you know of a good recipe?
Joe Spearman
Cameron, Oklahoma
I'm bringing you a recipe from my new canning book that's worked for a hundred years or more:
18 whole, hard-boiled, peeled eggs
1 1/2 quarts white vinegar
2 tsp. salt
1 Tbsp. whole allspice
1 Tbsp mixed pickling spices
Mix vinegar and spices in a large pot and bring to a boil. Pack whole, peeled, hard-boiled eggs into hot, sterilized wide mouthed jar, leaving 1/2 inch of headspace. Ladle boiling pickling solution over eggs, leaving 1/2 inch of headspace. Remove air bubbles. Wipe rim of jar clean; place hot, previously simmered lid on jar, and screw down ring firmly tight. Process for 25 minutes in a boiling water bath canner. NEVER leave unsealed pickled eggs out at room temperature. You risk danger from botulism and other bacterial diseases. — Jackie
Canning soup with cabbage
My granny used to can vegetable soup with cabbage in it, do you happen to have a recipe for that? She would also put pinto beans in it.
Tonya Bowles
Paoli, Indiana
Recipes are personal, and I'm sure your Granny developed her own to suit her taste and used foods she had available. You'll have to experiment a little until you get a soup that tastes "just like Granny's." Most soup bases start with a base, such as beef or ham broth, with vegetables added. In this case, probably corn, potatoes, tomatoes, cabbage, and pintos. Add seasonings as you like and give it a taste test. When you get it "right," just make up a big batch but don't cook it thoroughly; just bring it to a good boil. When you can it, fill your jars, leaving 1″ of headspace, then process it in a pressure canner at 10 pounds, for the length of time required for any one ingredient in your soup. (If you live at an altitude over 1,000 feet, consult your canning book for instructions on raising your pressure, if necessary.) Good eating! — Jackie
A few questions
Thank you for answering ALL our questions. A few more…
1. How long will it take pasta products to go rancid? How should we be storing them?
2. Have read that tomato plants with blooms/small tomatoes on them will not do as well when planted in the garden. True/False?
3. Why should you "blanch" veggies before drying? Can we get away with not doing it?
4. Can you make your own self-rising flour? If so, how?
5. Can you make your own dehydrated shortening? How?
Jan Eylar
Savannah, Missouri
It takes pasta products years before they get rancid. Whole wheat pasta will go rancid long before white flour pastas, though. I've stored pasta noodles for more than six years without any special treatment and had them taste like just-bought.
Tomato plants in nursery packs (6, 4, 12 packs) that are blooming are too small to be producing fruit, so when they are stressed by not only being root-bound, but also replanted in the garden, they are set back so much that they usually never "get up to speed" like plants that were just "babies" without having blooms or fruit. It's much better to plant non-blooming and non-fruiting tomato seedlings. One exception, though, is raising or buying larger, potted (in large pots) tomatoes with blooms/fruit on them. I've planted some of my indoor winter tomatoes in the garden and they never seemed to know they were moved. They kept on producing tomatoes with no hesitation.
You should blanch vegetables before freezing to stop enzyme action that ripens them further. Sometimes you can "get away" without blanching them, but most of the time the veggies will not taste as good as if you spent a few more minutes blanching them before freezing or drying.
Self rising flour is simply flour with baking powder and salt added to it. Yes, you can easily make your own. Here's a basic recipe. You can double or otherwise increase your batch, as you wish.
For 1 cup self-rising flour use:
1 cup all-purpose flour
1 1/4 teaspoon baking powder
a pinch of salt.
No, you can't make your own shortening powder at home. — Jackie
Drying peas on the vine
Last year I allowed my purple hull peas to dry on the vine and the bugs sure did a lot of damage to them. So I was wondering if I could pull them off the vine when ripe and let them dry in the sun under a screen?
Challis Moffitt
Ramseur, North Carolina

Yes, you can, provided that the seeds are mature and relatively dry to start with. If not, the pods will likely mold and the seeds wither inside. If they're mature and quite dry to start with, you'll have dry seeds and no bug diner! — Jackie