Monday, March 5th, 2012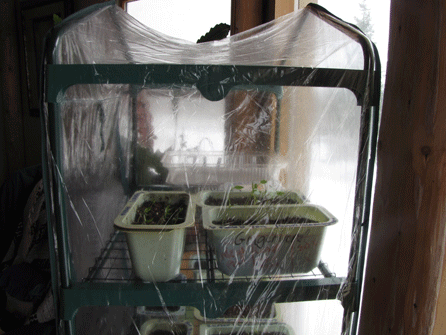 I was wondering how my little cheap indoor plastic greenhouse would work — both to grow tender plants and to keep Mittens out of them. I have to report success on both fronts. The greenhouse is by our south-facing windows, fairly close to our wood stove, in our living room. So the plants get lots of warmth and sunlight too. The pepper seedlings are growing like mad. I have to turn the trays every two days as they do tend to lean toward the window. But that's no biggie and they are looking very stocky and nice.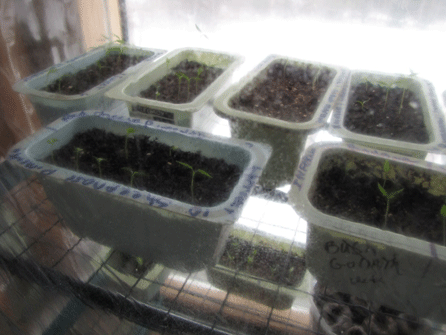 I managed to swing another kitchen cabinet last week with a check a friend gave me for boarding her donkey over winter. Boy, does the kitchen look great! I have two more base cabinets to buy, one 30 inch and one corner and I'll have TWO of three walls done with bases. All that enclosed storage room. It's so exciting!
I would like to get at least the base cabinets in before our first homesteading seminar in May so I have less congestion in the kitchen. But we'll see how the cash flow goes between now and then. I'm excited about doing the seminars as it's something totally new for us here and I think folks are really going to enjoy learning and doing. — Jackie