While Will was sawing more boards for the barn, I seeded in the newly-cleared acreage
We "wasted" a day going down to Minneapolis yesterday to buy a new-to-us car. Our trusty old Taurus wagon was finally declared unrepairable, so we needed to find a dependable gas-friendly car to drive. We have our '90 Festiva for a runabout but it isn't trustworthy yet to drive far from home. But we do love its 40 mpg, plus! Our new car is a '01 Subaru Outback. It's a high-mileage car but is very clean and we hope it'll be a good addition to our family.
Today, Will was anxiously wanting to get started on sawing the final boards for the center of the hay loft in the new barn and rain was in the forecast. While he got started on that, I loaded up the 12-volt seed spreader that we'd borrowed from my oldest son, Bill, whom we visited on our way home from the Cities yesterday. Boy, does that ever make seeding a larger plot easier than using the old hand-cranked lawn seeder! We want to get it seeded in so the pasture can be growing while we are finishing fencing the 40 acres. The fencing is coming along well, so far, with one side finished, one side with two wires on it, and one side with one wire.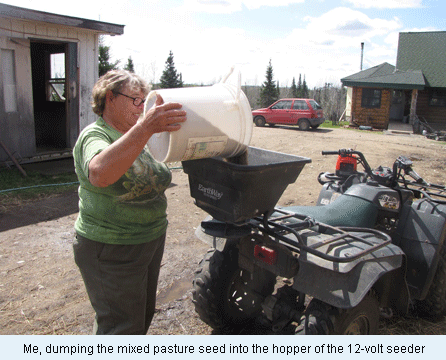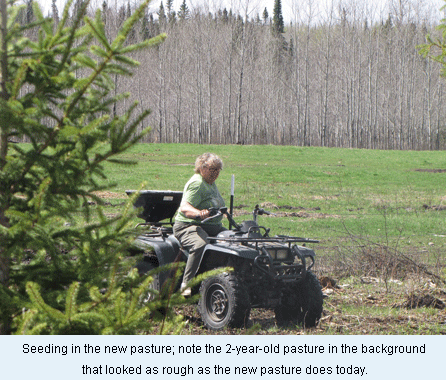 The asparagus is up and guess what we're having for supper? I can hardly wait! That first meal of fresh asparagus is wonderful.