Wednesday, November 21st, 2012
My oldest son, Bill, brought his quartered buck up Friday night and we spent the weekend cutting and processing the venison. His wife, Kelly, wanted mostly stewing meat and burger as he'd already cut steaks from the backstrap to freeze. So we sat around the kitchen table visiting and turning pieces of deer into kitchen-ready, tasty meat. It was a lot of work but it was fun, too! It would have been more fun but for the fact that Kelly was suffering from a sinus infection and both grandkids were down sick with a stomach flu! I finally told Bill to head for home Sunday afternoon and I finished up the canning as he was feeling guilty for leaving his sick wife to care for two sick children. He did have a box full of cooled venison stewing meat to take home and now there are more than 30 pints sitting on the counter, ready to box up for later. It was a very productive weekend!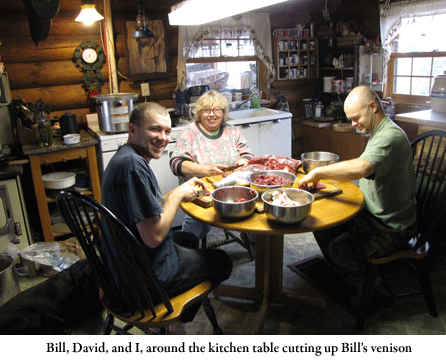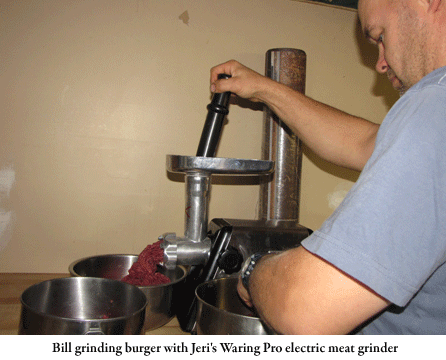 Now I've got to tackle David's deer, hanging in the shade in our new barn. As soon as I get off the computer, I'm heading down there. Sigh. It'd be nice if there were three of us cutting up that one. But little by little, I'll get it done and canned up. What a nice lot of meat! I can taste the stew, barbecue, pot pies, and other great foods, right now.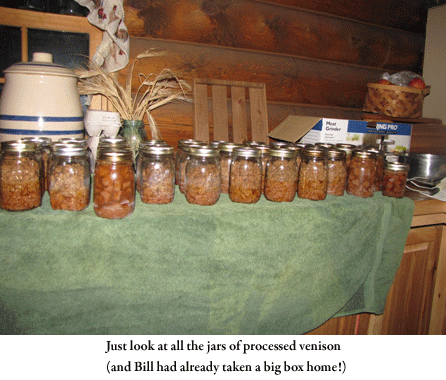 Oh, one thing I learned. I misplaced my small meat grinder and borrowed my friend Jeri's electric grinder. What a difference that makes! It grinds the meat so quickly that it's fun. I'm putting it on my wish list for sure. I won't get rid of my hand grinders, but I really NEED one of those. At a hundred dollars, it isn't exactly cheap, but as much meat as we grind every year, it would sure save our wrists and make the job go so much faster. The grinder is a Waring Pro and Jeri got it at our local L & M Fleet Supply farm store. I'm sure they're available nearly everywhere if you'd be interested in picking up one for yourself.