Happy Thanksgiving to all of our extended BHM family!
I hope the holiday brings joy and plenty of good homestead eats. Thanksgiving should also inspire us to count our many blessings. And even those of you who are having a difficult time right now always have plenty of things to be thankful for. I've found that simply starting to count them up when I'm struggling sure cheers me up!
I'm sure some of you were wondering what Will was doing while Bill, David, and I were cutting up Bill's deer and canning it. He was putting up the windcharger that his son, Don, had found curbside in Alaska. Don worked it over, electrically, and found it did, indeed, charge. So Will built a pipe tower, and got a set of new blades and $160 worth of wire to wire it to our charge controller in the basement. David helped him get the mast up through the brackets Will had made and through the roof. On Sunday, with some help, Will went up on the roof of the storage barn (with a safety harness on!) and wired the charger and bolted it onto the mast. Then later, David helped him raise the mast so it was 40 feet above ground. We all waited for it to turn in the 15 mph breeze. No turning! Then the wind blew harder. No turning! Can you hear us sigh?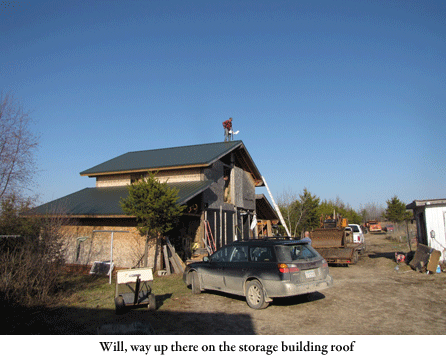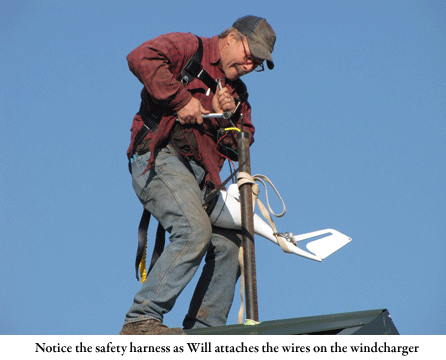 So yesterday, the mast was lowered and Will went up on the roof again, disconnected the charger, and lowered it by rope to the ground. Last night he took it apart and found that the bearings did go around but bound when shifted downward as would happen when the blades tried to turn.
Today, I was in Virginia and ordered the two necessary bearings from Motion Industries. They'll be here Monday or Tuesday, so we'll again give it a whirl. (No pun intended!)
You see, things don't always go perfectly for us, just like it doesn't for you. But we keep on trying and usually we can make things work. We ARE trying to get more "free juice" to our battery bank so we can run our generator less and we don't have the cash to buy the best — or new. So we make do with what we can get hold of.
Enjoy your family on Thanksgiving and be thankful we all have each other!