What do you do when you need something and don't have the money?
You improvise. Or do without. Will needed wheel weights for the back wheels of the big Oliver tractor. But iron wheel weights cost about $400 each and you need two. Not an option. So he scratched on his pad a bit then came up with these nifty weights. The base is an old, cast-off 16-inch tire with a piece of plywood tacked on the bottom to hold in the cement. He put a piece of 4-inch pvc pipe through the plywood so there was a hole for the tractor axle and threaded 4 bolts through holes in the plywood. These bolts will bolt through the holes in the wheels of the tractor tires, just like commercial wheel weights are fastened. Blocks of wood held the tires solidly in place once the bolts were inserted. Pieces of concrete re-bar wedge the tire wide open so it will hold plenty of heavy cement. More re-bar was bent and wired in place to strengthen the pour.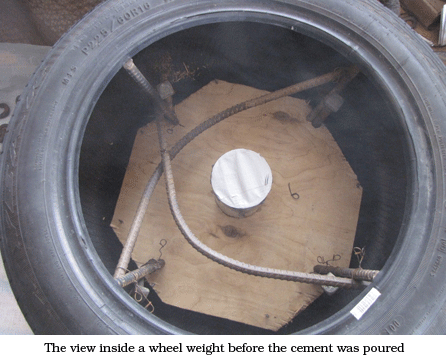 Each wheel weight took three 80-pound sacks of QuiKrete and nearly a wheelbarrow full of fist-sized rocks. Because it's still freezing at night, Will worked in the entryway. (Yep, it DID make a big mess, but it's on plastic … mostly.) He stuffed the cement and rocks in by hand, making very sure there were no air pockets. Once each tire was full, he inserted a heavy eyebolt. Both the bolts and eyebolts were left over from some of the power poles we used on the barn. The eyebolts are so when the weights are cured he can use the tractor bucket to help lift and put the weights into place. They weigh more than 400 pounds each so you can't just lift them up!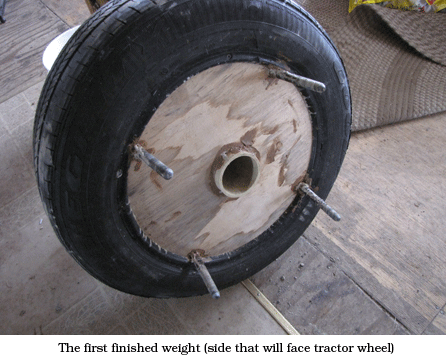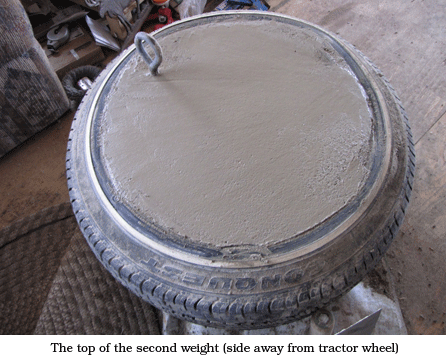 With these new wheel weights, the tractor will have much more traction and be much less prone to getting stuck.
I talked to my son, Bill, last night and he said his father-in-law's tractor had come with homemade weights just like this … 30 years ago, and they're still fine. So we are happy with our "homesteader" wheel weights at a cost of about $20 for the pair. — Jackie