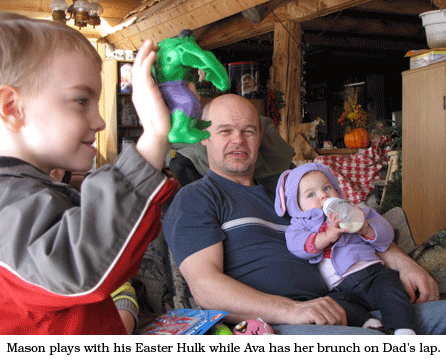 I baked up a big smoked half ham from one of our pigs for Easter dinner. Our son and daughter-in-law, Bill and Kelly, along with our grandchildren, Mason and Ava were at our place for dinner. My sister Sue and her son Sean also joined us, so along with Will, David, and I we had a real nice visit and meal. Nearly all of our meal came from the homestead including caramelized baked squash slices, two pies, and Will's favorite cheesecake, of course.
As our stored potatoes are still holding up very well, I also made a big batch of potatoes au gratin and we scarfed down mustard bean pickles and other goodies with our meal. We still had nearly two feet of snow in our yard, so we didn't have an Easter egg hunt here. Bill and Kelly held one for the kids at home before coming. They DID love the huge green emu egg!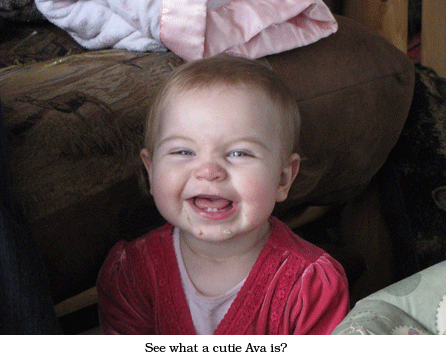 We had so much fun watching Mason and Ava playing and Ava eating chocolate and cookies. But today it's back to the old grind. I am continuing to plant seeds indoors and getting ready to transplant our first tomatoes, which now have three sets of leaves. I was sure tickled when I went to our local nursery, The Watering Can, and found that Dianne was stocking and selling bags of Pro-Mix! I've used it for years and years and have found no better seed starting and growing medium. I did weaken and try a small bag of Jiffy-Mix seed starting medium this spring and found that they haven't improved it a bit. It is SO hard to get to it absorb water! It takes me half an hour to dampen one small container. What a pain.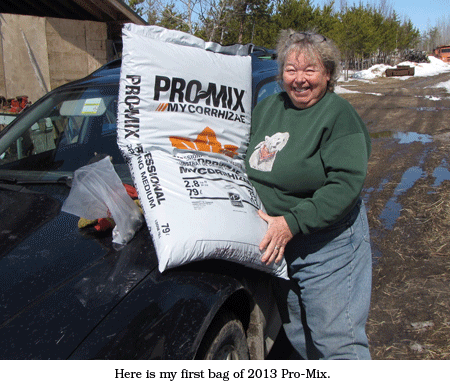 I also trialed a small bag of Miracle Gro seed starting medium. A few years back, we tried it and were really disappointed in the results — yellow spindly plants and poor germination. This year, they have changed the formula and I can say that they did a good job. (Don't make a mistake and use POTTING soil!) Even worse is the cheap, very dense and heavy "top soil" or "potting soil" that is wet peat moss. It is too acid and dense and seedlings just won't grow in it.
Our snow is continuing to melt and I'm truly thankful. I'll be so glad to get into the dirt and even pull dead debris out of my flower beds. Whew, winter has been long.
By the way, any of you who live in northern Minnesota might want to stop up in Mt. Iron for the Earth Fest on April 6th. Will and I will be manning the Backwoods Home booth at this show and we'd love to visit with you! Stop by and say hi! — Jackie