What do you do when it's nasty (again!) outside?
You work inside. I think the snow's going away. It's sure sloppy/nasty outdoors and there's water everywhere. We even saw geese today so they're hoping for water to land in soon. The rivers are starting to flow free in spots so at least they do have some water. The beaver ponds are still frozen solid with a little water on top.
Will's working at setting big stones into mortar behind the wood stove. Judging by the cussing out there, it's not going so hot. I have confidence in him though but I AM smart enough to stay out of the way unless called. The dog and cat are upstairs holding their ears shut. It's hard to hold the big stones in place until the mortar dries.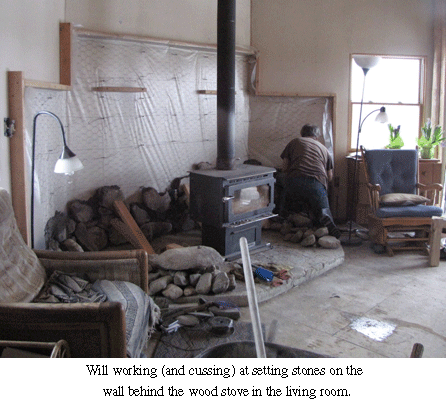 We just got another kitchen cabinet with some "windfall" money that showed up unexpectedly. So that gives us a complete "L" of base cabinets. It looks so good I'm all excited; the finished job will look great! — Jackie