Q and A: velvet beans and tomato cages
Velvet beans
Will velvet beans cross with Louisiana Purple Pod and Rattlesnake pole (green) beans?
Name withheld
Velvet beans are Mucuna pruriens where Louisiana Purple Pods are Phaseolus vulgaris, or common bean like the Rattlesnake bean. So the velvet beans will not cross but your Louisiana Purple Pods and Rattlesnakes might. — Jackie
Tomato cages
We will soon be ready to plant this year's tomato plants. One of the problems that we have each year is that the store-bought inverted-cone tomato towers will not support the healthiest plants. They topple. We are hoping that you may have seen a better design.
Todd SeCoy
Beatty, Oregon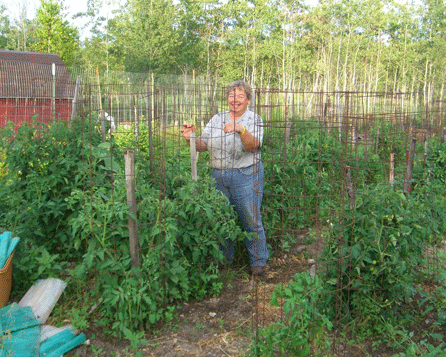 Oh yeah! If you check out the current issue of the magazine, there's a big article on tomatoes and in that article I detail the tomato cages my husband, Will, made for our garden from concrete re-enforcing wire (photo above). Basically they're cylinders about 18 inches in diameter and the full height of the wire. I stake the tomatoes first with either steel T posts or good sharpened wooden stakes then slip a cage over each tomato plant. As they grow, I tuck the branches out through the squares in the wire. This fully supports the tomato plants. I grow varieties that are 6-7 feet high every year so those wimpy store cones wouldn't do a thing. — Jackie